The wine geeks over at our WineLovers Discussion Group this week are digging into a deeply rooted topic: "Which variety best reflects vine age?"
This question, of course, leads directly to a couple of potentially contentious follow-up questions, such as, "Do old vines really make better wines?" and "Why or why not?"
Order Mother's Day Gifts Now for On-Time Delivery + Special Offer
Because you love her … Treat Mom to handcrafted wines delivered right to her door with a fun and unique gift from The California Wine Club.
Special offer: Send three delicious months of wine with their Premier Series and they will pay for the shipping. Just $115. Save $39. Simply use coupon code SHIPFREE15.
Order Now for On-Time Delivery
1-800-777-4443 www.cawineclub.com
My opinion, based on tastings of wonderful California Zins and old-style field blends from ancient vineyards, and a few impressive samples of ancient-vine Shiraz at the "cellar door" in Australia, persuade me that yes, old vines do; and that Zin and Shiraz are among contenders for the championship in Tom Hill's provocative query.
Click to read the full discussion on WLDG, and if you'd like to join the conversation, you're warmly welcome; it's simplest to use Facebook with our "Social Login" button to contribute.
Meanwhile, the discussion prompted me to resurrect an eight-year-old 30 Second Wine Advisor on a related topic, which I hope you'll enjoy: How old are old vines?
Old vines, vieilles vignes or alte Reben: Ancient vines are billed as a plus, but what exactly does "old vines" mean, and why are they supposed to be so good?
It is one of the generally accepted truths of wine appreciation that grapes grown on very old vines – gnarled and thick-trunked and deeply rooted – make exceptional wine.
It might surprise you to learn, though, that there's no legal definition of the term. Producers are free to publish "old vines" on the label of any wine, with no penalty other than perhaps the scorn of consumers who catch on to cases of abuse.
In general, many producers voluntarily limit the term to vines with at least 35 years of age, although this is by no means hard and fast. In California, where "old vines" most often attaches to truly ancient Zinfandel, Petite Sirah and other old classic varieties, it's not uncommon to see vine ages of 80 to 100 years or even older. In Australia, the Tahbilk winery still makes a Shiraz from vines planted in 1860; and Champagne's house of Bollinger boasts a tiny plot of pre-phylloxera vines dating back to the 1800s.
At the other end of the time spectrum, the fruit from very young wines isn't considered ideal for top-notch wine, and in France and other European wine regions, wine laws typically forbid the use of grapes from vines before their third to fifth year. For the next two or three decades, vines are thought of as "adult" and their fruit may be used freely, although even then, many producers use only their older wines for the property's top wines, reserving the fruit of the young vines for less pricey "second labels."
After 40 or 50 years, though, grape vines – like people, perhaps – start to slow down physically even as their "wisdom" grows. Very old vines produce relatively little fruit, to the point where growers – particularly corporate owners focused on the balance sheet – consider ripping out the under-performing old vines and replacing them with younger, more vigorous plants that will make more wine.
What's more, the experts don't even fully agree on what mechanism enhances old-vines fruit. One widely accepted hypothesis holds that the roots of ancient vines have reached so deep (sometimes 30 feet or more) that they are unusually effective at contributing trace elements of terroir – the minerality of the soil – to the wine.
Others suggest that the declining vitality of older vines simply reduces the yield of grapes, concentrating the vine's efforts into relatively few grapes of commensurately great flavor and intensity.
And, as in almost every debate on any topic, you'll find a few nay-sayers who insist that old vines don't make better wine at all. They argue that vigorous young plants naturally produce a more fruity, flavorful beverage than sickly, leafless geriatric vines. (In fairness, it should be noted that old-vines wines tend to be mineral-driven, earthy wines, intense but not fruit-forward, so those who love "fruit bombs" may want to steer clear.)
Today's Sponsor:
Order Mother's Day Gifts Now for On-Time Delivery + Special Offer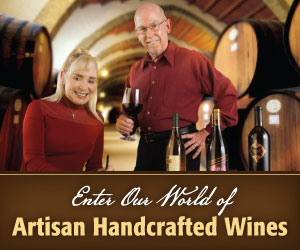 Because you love her! Treat Mom to handcrafted wines delivered right to her door with a fun and unique gift from The California Wine Club.
Special offer: Send three delicious months of wine with their Premier Series and they will pay for the shipping.
Just $115. Save $39.
Simply use coupon code SHIPFREE15.
Order Now for On-Time Delivery
The cost of shipping for a 3-month gift in most U.S. states is $39. Shipping on us offer cannot be combined with any other promotion or discount nor applied to previously placed orders. Some restrictions and exclusions may apply. Offer expires 06/30/2015.
1-800-777-4443 www.cawineclub.com
Today's Tasting Report
For today's tasting report, let's pull the cork from another first-rate contender in this month's WineLovers' Wine Focus on white, pink and lighter reds from Italy.
Michele Chiarlo 2011 "Le Orme" Barbera d'Asti Superiore ($16.99)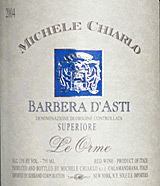 Dark reddish-purple shading to garnet, then clear at the edge. Good tart-cherry aromas and a hint of dried cherries on the nose. Mouth-watering flavors, dry and tart red fruit that follows the nose, cherries and a touch of tart cranberry, shaped with zippy, cleansing acidity. Good balance and food-friendly acidity with appropriate 13.5% alcohol make for a first-rate table wine. U.S. importer: Kobrand Corp., NYC. (April 15, 2015)
FOOD MATCH: The iconic pairings, as with its Tuscan neighbors, remain beef and tomato-based pasta dishes; as a (somewhat) lighter red, it's also good with grilled chicken. Don't push it aside with cheese-based dishes, though, or our choice, a savory wild-mushroom pasta with plenty of grated Grana Padano cheese.
WHEN TO DRINK: It's delicious now, especially with food, and Barbera in general is not an ager, so it would be prudent to drink up this 2011 soon. Still, it is showing so well that I don't expect it to go around the bend in the next year or two.
VALUE: This is an excellent table wine, and I'm content with this local price. If you have the option to shop around, however, Wine-Searcher.com reports a $15 average U.S. retail price, with some vendors offering it as low as $11. (Don't even look at the prices that wine lovers pay in Italy.)
WEB LINKS Michele Chiarlo's Web pages are available in six languages. Here's a link to the home page in English. They're also active (in Italian) on social media including Facebook, Twitter, Flickr and YouTube. Their Facebook page is here. For more info in English, this link goes to importer Kobrand's Michele Chiarlo page.
FIND THIS WINE ONLINE:
Find vendors and check prices for Michele Chiarlo "Le Orme" Barbera d'Asti on Wine-Searcher.com.
We hope you'll "Like" us on Facebook!
If you use Facebook, we'd be delighted to have you "Like" our WineLovers Facebook Page. This way you can get Facebook notifications when there's a new The 30 Second Wine Advisor issue or a topic of particular interest on the WineLovers Discussion Group (WLDG).
If you're a Facebook user, you can also now join our forum with a single click! All you need to do is visit the forum and click the "Social Login" link at upper right.
Talk About Wine Online
If you have questions, comments or ideas to share about today's article or wine in general, you're always welcome to drop by our online WineLovers Discussion Group, the Internet's first and still the most civil online community. To find our forums, click:
http://www.wineloverspage.com/forum/village
Discussions are open for public viewing, but you must register to post. If you're a Facebook user, you can also now join our forum with a single click! All you need to do is visit the forum and click the "Social Login" link at upper right.
We use only your name and Email to identify you and make no other claim on your Facebook information or privacy. However, if you prefer not to use Facebook, contact me at wine@wineloverspage.com for information about registration.
Subscriptions and Administrivia
Unsubscribe:
We're sorry if you must leave us, but simply click the "unsubscribe"
link at the bottom of your Email edition to be instantly removed from the mailing list.
Change address:
The quickest and easiest way to change your Email address is simply to register anew, using the link below. If you are keeping your old address but no longer wish to get the Wine Advisor there, click the unsubscribe link below to take it off our list; if you are closing the mailbox, you needn't take any action, as our system will delete your old address as soon as the mail to your old address starts to "bounce."
Subscribe to this weekly E-letter (free)
WineLoversPage.com RSS Feed (free):
http://feeds.feedburner.com/wineloverspage/tzva
Sponsorship Opportunities:
For information, E-mail wine@wineloverspage.com