Would you pour alcohol on a burn? Nope! I want to yell "OW!" just from thinking about this.
So who'd want to drink wine with hot-and-spicy food, which pretty much amounts to the same thing? That's silly, right?
But wait! I love the flavor of fiery fare. I'm no food wimp. Fiery American barbecue sauces with peppery dry rubs! Mexican chile-laced wonders; the warming cuisines of India, Vietnam, Korea, Thailand: I love 'em all. Just the other night I had to argue with the hostess of a local Thai eatery who wanted to talk me down from a four-pepper order. I thought she gave in, but the dish came out pretty mild, so I expect she sneakily got her way.
Obviously I'm a wine lover, too, and I deeply believe that wine was made to go with food. Italians famously say that "a meal without wine is like a day without sunshine," and I'd certainly agree that a wine well-matched to what's on the table creates a synergy that brings added enjoyment to both the food and the wine.

Accordingly, I never give up. Whenever I make a fiery ethnic dish at home, I'm tempted to try – or re-try – some new wine-matching approach, hoping to unlock the secret of the perfect match.
But no matter how much I deny it, I get the same result every time I follow a taste of hot-and-spicy food with a gulp of table wine. OW! It may actually taste good. The flavors may sing, if the wine-style and variety match is right. But alcohol can hurt when you pour it on a burn.
(Aside: Yes, I know. The "burn" from capsaicin, the active ingredient in hot chile peppers, is not physically the same as a burn injury. No matter how hard it hurts, it's not going to damage flesh. But that's not meaningful when you're jumping up and down in pain.)
Quickly told, here are a few rules I've worked out for maximizing the enjoyment while holding down the burn:
* Avoid very high-alcohol wines. Save your big 16% Zins and New World Shiraz for another day. Hold your 18-20% Ports and Sherries for cheese, nuts and dried fruit. Look instead for the traditional table wines in the European style. Plenty of food-friendly table wines, red, pink and white, that fall in the traditional 11% to 12.5% alcohol range can pair well with the flavors without boosting the burn. Some Rieslings, particularly quality bottlings from Germany's Rhine and Mosel, will come in at 8% to 10%, at which point you'll barely notice a burn. Moscato d'Asti from Italy may go as low as 4% to 5%, at which point some states don't even consider it to be wine.
* A touch of sweetness may help. The aforementioned Moscato d'Asti is low-alcohol and toothache-sweet. It's a myth that all Rieslings are sweet, but many do have at least a touch of residual sugar. I'm not up on the chemistry, but experience tells me that a slightly sweet wine makes a more mellow partner than a bone-dry wine when the food is very hot.
* Make it bubbly. Something about the carbonation in sparkling wine (and beer, too) seems to serve to "scrub" the palate of painfully hot food; then it bounces back with pleasant fruit and generally moderate alcohol. More often than not, when I want a wine to enjoy with a spicy ethnic dish, I'll go for a sparkler. Probably not a pricey Champagne, whose subtlety might be lost in the match; but this is a fine place to bring out your Spanish Cava, New World sparkling wines or, perhaps my favorite for this purpose, inexpensive Italian Prosecco.
Prosecco isn't the fanciest of sparkling wines. It's not even made by the classic methode champenoise; its bubbles develop not in the bottle but a vat. But by and large, I find the best quality-for-value for cheap bubbly in Prosecco, which is usually balanced, fresh, and wins for its simple, fresh and pleasant flavor.
Today's featured wine, Indigenous 2014 Prosecco Brut, comes from a line of Italian wines selected and produced in Italy by the excellent wine maker Giorgio Rivetti for Indigenous Selections LLC, an importer based in Fort Lauderdale, Fla. It's well worth seeking out this sparkler and Rivetti's other Indigenous wines, too. Check this importer's page for a complete list.
Today's Sponsor:
12 Under $12 with $1 Shipping!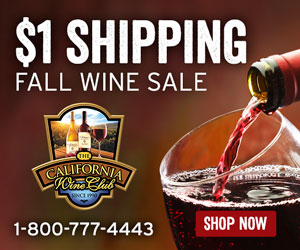 During The California Wine Club's $1 Shipping Fall Wine Sale, you can stock up on award-winning, handcrafted wines at everyday prices. Plus, you'll save up to $36 in shipping on every case.
See 12 artisan wines, each priced under $12.
No membership is required to take advantage of the savings.
$1 Shipping Fall Wine Sale ends Sept. 30, 2015. Some restrictions apply. Must be 21+ to order.
1-800-777-4443 www.cawineclub.com
Today's Tasting Report
Giorgio Rivetti 2014 "Indigenous" Prosecco Brut ($14.99)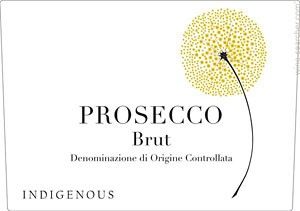 Very light straw color with a faint greenish hue; pours up with a frothy mousse, but the bubbles fall back fast. Prickly carbonation remains on the tongue, though, with simple, crisp aromas and flavors of apple and pear shaped by pleasantly tart, food-friendly acidity and light (11.5%) alcohol. It's no high-end Champagne, that's for sure, but it doesn't pretend to be. It's Prosecco, and that's my pick for relatively affordable bubbly that goes very well at the dinner table. U.S. importer: Indigenous Selections LLC, Fort Lauderdale, Fla.; "Selected by Giorgio Rivetti" (Aug. 20, 2015)
FOOD MATCH: Like its pricier bubbly brothers, Prosecco fares well with a range of food, and its prickly fizz seems to welcome pairing with hot-and-spicy dishes. It was fine with a medium-hot Cajun-style saute of okra, tomatoes, garlic and the Creole "holy trinity" of onions, green peppers and celery.
WHEN TO DRINK: I like Prosecco when it's young and fresh, best drunk within a year or two of the vintage.
VALUE: I can't really complain about the middle teens, especially for this quality fizz, but I'd like it even better closer to $10.
WEB LINKS You can download a fact sheet on the Indigenous Prosecco here. For more information on the Indigenous Wines project, click this link.
FIND THIS WINE ONLINE:
I was surprised to find relatively few vendors for Indigenous Prosecco Brut on Wine-Searcher.com. Take a look at this short list, though, in case one of these vendors is in your area or will ship to you. For more, this Wine-Searcher link will return a longer list of merchants carrying other Indigenous Selections wines.
Also, the importer's website offers this U.S. map where you can click each state for information about regional distributors who can refer you to retail sources.
Prosecco in general is widely available. For a wide variety of options across a broad price range, page down past the Prosecco article to find this extensive list on Wine-Searcher.com.
We hope you'll "Like" us on Facebook!
If you use Facebook, we'd be delighted to have you "Like" our WineLovers Facebook Page. This way you can get Facebook notifications when there's a new The 30 Second Wine Advisor issue or a topic of particular interest on the WineLovers Discussion Group (WLDG).
If you're a Facebook user, you can also now join our forum with a single click! All you need to do is visit the forum and click the "Social Login" link at upper right.
Talk About Wine Online
If you have questions, comments or ideas to share about today's article or wine in general, you're always welcome to drop by our online WineLovers Discussion Group, the Internet's first and still the most civil online community. To find our forums, click:
Discussions are open for public viewing, but you must register to post. If you're a Facebook user, you can also now join our forum with a single click! All you need to do is visit the forum and click the "Social Login" link at upper right.
We use only your name and Email to identify you and make no other claim on your Facebook information or privacy. However, if you prefer not to use Facebook, contact me at wine@wineloverspage.com for information about registration.
Subscriptions and Administrivia

Unsubscribe:
We're sorry if you must leave us, but simply click the "unsubscribe" link at the bottom of your Email edition to be instantly removed from the mailing list.
Change address:
The quickest and easiest way to change your Email address is simply to register anew, using the link below. If you are keeping your old address but no longer wish to get the Wine Advisor there, click the unsubscribe link below to take it off our list; if you are closing the mailbox, you needn't take any action, as our system will delete your old address as soon as the mail to your old address starts to "bounce."
Subscribe to this weekly E-letter (free)
WineLoversPage.com RSS Feed (free):
http://feeds.feedburner.com/wineloverspage/tzva
Sponsorship Opportunities:
For information, E-mail wine@wineloverspage.com