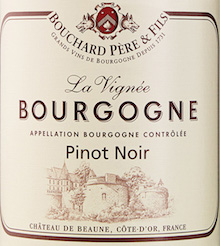 Clear ruby color, with bright reddish-purple glints against the light. Simple but fresh aromas, a gentle touch of black cherry and a hint of "tomato skin," that pleasant, tangy character that I often find in subtle-style Pinot Noirs. Mouth-watering and refreshing, simple cherry-berry fruit shaped by snappy acidity that lingers; stony minerality and a pleasant whiff of freshly ground black pepper when you swish the wine in your mouth. A simple wine, not to be mistaken for a high-end Burgundy, but it shows decent Bourgogne Pinot character at an introductory level for a fair price. U.S. importer: Henriot Inc., NYC. (Oct. 7, 2015)
FOOD MATCH: Beef is the classic match with Burgundy, from burgers to rare steaks to good roast beef. But it makes a surprising match with wild salmon, too, and meatlessly with mushrooms, which are perhaps its ideal pairing. It was very good indeed with a simple pasta dinner of mezzi rigatoni with an intense mushroom and garlic sauce, topped with grated Grana Padano cheese.
WHEN TO DRINK: Bourgogne will keep and, even at this simple level of wines sourced from grapes throughout the region, may evolve in a good cellar with surprising grace. Still, this wine is meant to be drunk up within three to five years from the vintage, and that's a prudent practice.
VALUE: Wine-Searcher.com returns $20 median U.S. retail, which is just about what I paid. It's fair in the current market, but I do miss the days when a simple Bourgogne Pinot Noir could be had for half this price.
WEB LINKS Click this link for the Bouchard Père & Fils home page.
FIND THIS WINE ONLINE:
Locate vendors and find prices for Bouchard Bourgogne Pinot Noir on Wine-Searcher.com.
To find Bouchard's wines around the world, use this form on the Bouchard web page.