Yesterday was Thanksgiving Day, a time when many Americans give thanks for a good life by enjoying food and drink.
We were right there with them, marking the feast with not one but two festive gatherings. Yet it wasn't really a "wine-geek" day for me, and that has something to do with my morning-after thoughts about wine and food and community with friends.
At midday, I poured wine (and non-alcoholic beverages, too) from liter-size bottles at a midday community dinner where the wines du jour were chosen more with economy and togetherness in mind than any connoisseurish expectations. The wines tasted good, and everyone enjoyed them.
Later in the day, we took wine to a smaller gathering of friends, folks who enjoy wine but whose lives don't necessarily orbit around wine. I brought a decent but distinctly "affordable" French Pinot (Domaine de Bachellery 2013 Pays d'Oc, featured below) to enjoy with friends and food.
I've done some past Thanksgivings and other holidays in the wine-geek way, digging down to pay out more than I'd normally consider, feeling that a special bottle made sense for the celebratory occasion. I'm not saying this is not a legitimate choice, either.
But this time around, as I looked back over well over 30 years as a wine writer and wine enthusiast, I realized that my best and happiest wine memories – those for which I'm most thankful – are all about the good people I've met through wine, and hardly at all, except in a very secondary way, about the fermented grape juice in the bottles.
I'm thankful that my years writing about food and wine have almost exactly coincided with the age of the personal computer, because, as a very early adopter of wine online – call it "social media" a generation before that term was invented – I've been able to share my interest in wine and my community of wine lovers not just in my neighborhood or city but around the world.
I can't even begin to count the friends I've made – online, and often then in the real world – through the old CompuServe Wine Forum starting in 1985, my initial version of WineLoversPage.com (then Robin Garr's Wine Bargain Page) in 1993, the Wine Lovers Discussion Group starting in 1995, the 30 Second Wine Advisor beginning in 1999 (and that includes you!), and our Facebook Page since 2009.
Without this social media, my visits to wine regions throughout the U.S., Europe and Down Under would never have been the same. It's been a special joy to arrive in a new wine country for the first time and to be greeted with welcoming smiles by friends with whom I'd already enjoyed talk of wine – and, often, deeper things – through the marvels of the computer and modem. Wine is good in the tasting room. Wine is far better around a friend's dinner table.
To celebrate, and to give thanks for the friends I've made and the wine people I've gotten to know through 30 years of evolving online social media, I'd like to invite you to share your favorite wine of yesterday's Thanksgiving feast (or the wine you had with dinner most recently, if you're one of my many friends outside the U.S.).
There's no need to write a fancy tasting note, although you're welcome to do so. But simply posting a friendly hello and the name of the wine you enjoyed is plenty.
Take your choice of posting on Facebook or our Forum.
* Post your wine as a reply on our WineLovers Facebook page at this link:
www.facebook.com/WineLoversPg/posts/965671130173576
* Post your comment to this conversation on our WineLovers Discussion Group (click the "Social Login" button at the top of the page to log in).
http://forums.wineloverspage.com/viewtopic.php?f=3&t=54911
I look forward to seeing you in our wine social media. Please tell us about your wines of the day!
Today's Sponsor:
Black Friday Means Red for You!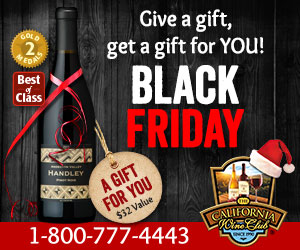 For every holiday gift of award-winning, handcrafted wine you order today, The California Wine Club will give YOU a bottle of delicious Anderson Valley Pinot Noir (A $32 value).
Minimum 2-month gift purchase required to qualify for gift bottle. Offer expires at 11:59 PM PST, November 28, 2015.
See Holiday Gifts
Holiday wine gifts include award-winning, handcrafted artisan wines plus an insider's look into each featured winery with their guide, Uncorked®. Share the passion of artisan wineries by giving delicious deliveries of their award-winning, handcrafted wines. It's the cure for the common gift.
About The California Wine Club:
California is home to thousands of small family wineries handcrafting extraordinary wine in quantities too limited to be found in local stores or shops. Since 1990 it has been our mission to help these artisan wineries introduce their award-winning wines to wine lovers across the US.
Learn more.
www.cawineclub.com 1-800-777-4443
Today's Tasting Report
Domaine de Bachellery 2013 Pays d'Oc Pinot Noir ($11.99)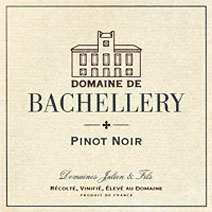 Clear, dark ruby. Red fruit and apple aromas and a whiff of spices; ripe and juicy, plums and cherries and tart, snappy acidity in the flavor, with a touch of oak and a back note of soft tannins. Rather simple, not a great deal of Pinot character, but it's a decent, versatile table red that shows Pinot Noir's easy affinity for a wide variety of foods. Modest 12.5% enhances its simple grace at the dinner table. U.S. importer: Johns Island Imports, Edwardsville, Ill. (Sept. 12, 2015 and Nov. 26, 2015)
FOOD MATCH: At a Thanksgiving Day dinner, it showed the versatility of Pinot by pairing effortlessly with both light and dark turkey meat and a delicious variety of side dishes. Another bottle served with a more everyday dinner went very well with both the mushrooms and cheese components of a dish crafted to match: fettuccine with mushrooms in Parmigiano cream.
WHEN TO DRINK: While this bottle isn't intended for long-term cellaring, its balance and Pinot's nature – ably assisted by a sturdy modern metal screw cap – should keep it safe for several years under good, cool-temperature cellar conditions.
VALUE: Wine-Searcher.com's free search option returns only one hit on Domaine de Bachellery Pays d'Oc Pinot Noir, but its estimated $11 U.S. retail confirms my assessment that $12 is a fair value for this everyday but drinkable Pinot.
WEB LINKS Here's Domaine de Bachellery's English-language page on its Pinot Noir. Click the tiny flag link if you'd like to see it in the original French.
FIND THIS WINE ONLINE:
As noted, Wine-Searcher.com's free service finds only a single U.S. vendor for Domaine de Bachellery Pays d'Oc Pinot Noir.
U.S. importer Johns Island Imports has a contact form at this link, and might be able to offer information about retailers near you.
If you'd like to try other, likely similar, Pinot Noirs from Languedoc's Pays d'Oc, Wine-Searcher.com offers vendor and price information about dozens of options at this link.
We hope you'll "Like" us on Facebook!
If you use Facebook, we'd be delighted to have you "Like" our WineLovers Facebook Page. This way you can get Facebook notifications when there's a new The 30 Second Wine Advisor issue or a topic of particular interest on the WineLovers Discussion Group (WLDG).
If you're a Facebook user, you can also now join our forum with a single click! All you need to do is visit the forum and click the "Social Login" link at upper right.
Talk About Wine Online
If you have questions, comments or ideas to share about today's article or wine in general, you're always welcome to drop by our online WineLovers Discussion Group, the Internet's first and still the most civil online community. To find our forums, click:
Discussions are open for public viewing, but you must register to post. If you're a Facebook user, you can also now join our forum with a single click! All you need to do is visit the forum and click the "Social Login" link at upper right.
We use only your name and Email to identify you and make no other claim on your Facebook information or privacy. However, if you prefer not to use Facebook, contact me at wine@wineloverspage.com for information about registration.
Subscriptions and Administrivia
Unsubscribe:
We're sorry if you must leave us, but simply click the "unsubscribe" link at the bottom of your Email edition to be instantly removed from the mailing list.
Change address:
The quickest and easiest way to change your Email address is simply to register anew, using the link below. If you are keeping your old address but no longer wish to get the Wine Advisor there, click the unsubscribe link below to take it off our list; if you are closing the mailbox, you needn't take any action, as our system will delete your old address as soon as the mail to your old address starts to "bounce."
Subscribe to this weekly E-letter (free)
WineLoversPage.com RSS Feed (free):
http://feeds.feedburner.com/wineloverspage/tzva
Sponsorship Opportunities:
For information, E-mail wine@wineloverspage.com