Nouveau Beaujolais? Does anyone even remember that stuff? It's been almost a decade since I wrote that the long-running trend's star was fading, and it hadn't even crossed my mind for years.
So imagine my surprise when I walked into my neighborhood wine shop the other day and spotted a display rack full of Nouveau in Georges Duboeuf's familiar flower-labeled bottle.
I declined to take advantage of that opportunity, but wait! What's this? A stack of bottles in the adjoining shelf were Beaujolais Nouveau too, from Domaine Rochette, but they bore the label of importer Alain Junguenet's Wines of France on their more subtle and dignified labels.
At 13 bucks, I couldn't resist, even if I am pretty much over Nouveau. It was a worthwhile investment, too.
It was about as good a Nouveau as I've ever tried, fruity and exuberant while clean and balanced, without the odd vinegary or "banana" scents that bedevil the genre. It's still Nouveau, though, and not something that would be likely to hold my attention all year. Still, I enjoyed it, and I'm glad I ran across it.
While we're talking about decent red wines at accessible prices, let's talk about that rare and pleasant thing, a very good wine of excellent value for less than $10. Caposaldo 2014 Chianti is just such a wine, jumping out at you from the shelf with its bright-orange label, and catching your attention with its $8.99 price tag.
It's a simple, generic Chianti, although its modern mix of grapes (three-quarters Sangiovese with splashes of Cabernet Sauvignon and Merlot and a dash of Malvasia) could qualify it as a mini-"Super Tuscan" if you want to play that game. Most important, it passes the taste test, not overly complex or elegant but clearly Chianti, with a fresh, bright aroma and flavor of ripe black cherries and dried fruit over hints of aromatic cedar.
It's definitely worth this price and more; if you like simple Chianti as an everyday dinner wine it would be worth buying by the case. And happily, it's going to be a lot easier to find than Junguenet's Domaine Rochette Nouveau. You'll find my tasting notes on both wines below.
Today's Sponsor:
Spread joy!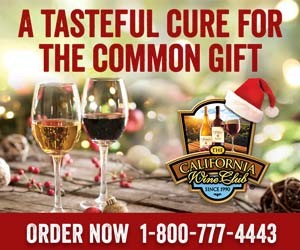 The California Wine Club makes it easy to give artisan wine gifts.  We travel the dusty back roads of California wine country, seeking out the small, often family-run wineries that handcraft wine in such small quantities that they just can't get distribution in stores.  We choose the best of their award-winning bottles and share them with wine lovers.  We include the story behind the wines, tasting notes and winery family recipes in every shipment–it is as close as you can get to visiting the winery without leaving your home.  These small wineries are thrilled to know that their wines are being loved by people who appreciate the time, effort and passion they put in to them.  And every sip helps support them, and all the people who help make the wine possible.  Give holiday gifts that mean more, to them, and to you. 
See Holiday Gifts
Every holiday gift includes beautifully hand-wrapped bottles, an elegant wine stopper and a $25 wine credit.
About The California Wine Club
Since 1990 it has been The California Wine Club's mission to help small, artisan wineries introduce their award-winning wines to wine lovers across the U.S. Learn more.
www.cawineclub.com 1-800-777-4443
The perfect wine-geek holiday gift
I've been recommending my friends Steve and Deborah De Long's Wine Grape Varietal Table for years. One of the most innovative wine-enthusiast notions I've seen yet, it mimics the familiar periodic table of the elements to categorize a world of wine grape varieties. A wine reference disguised as a fine-art print, it's a great gift for a wine-loving friend – or yourself – and makes a fun wall display for cellar or study or tasting room. Click here to order them now.
The De Longs also produce stunning, quality poster-size wine maps of France, Italy and other regions for $14.95 to $29.95. Click here to view and order any of the De Long wine maps.
Today's Tasting Reports
Domaine Rochette 2016 Beaujolais Villages Nouveau ($12.99)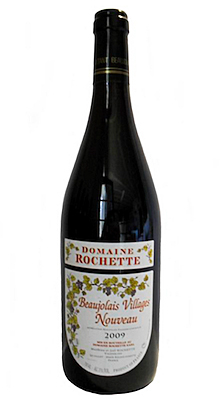 Dark reddish-purple with a clear garnet edge. The aroma is exuberantly fruity, as you would expect from a Nouveau, but it's a fresh, clean fruit – juicy, ripe strawberries and tart black plums – in an aroma and flavor that's indisputably "grapey," but we're talking about European-style Gamay grapes here, not your grandmother's Concord. Abundant fruit pours over on the palate, too, crisp and freshly acidic, 13% alcohol, with a fresh, ripe and palate-cleansing finish that lasts and lasts. U.S. importer: Wines of France Inc., Mountainside, N.J.; Alain Junguenet Selections. (Dec. 7, 2016)
FOOD MATCH: Fine sipped as an aperitif or in any setting where a light, fruity red will serve: Burgers, red-sauced pasta, pizza, cheese. We enjoyed it with fresh, homemade cream of tomato soup and thin-sliced Parmigiano-Reggiano.
WHEN TO DRINK: Soon. Maybe not before New Year's, as the old wisdom suggested, but Beaujolais Nouveau is made to enjoy, not to cellar away.
VALUE:
My local price is on par with the $13 U.S. average retail listed by Wine-Searcher.com for the few U.S. vendors carrying this Nouveau this year. If you can find it, it's the rare Nouveau that legitimately commands a mid-teens price.
WEB LINK
Domaine Rochette showcases its Beaujolais, including the Noveau, in this brief page in French and English. Browse through the site for more about the winery and its wines.
FIND THIS WINE ONLINE:
The production run for Domaine Rochette 2016 Beaujolais Villages Nouveau was apparently limited, with only a couple of U.S. vendors.
Try this link, though, for a broader selection of Beaujolais wines from Domaine Rochette. Also, Alain Junguenet's portfolio is widely distributed, so it might be worth contacting the importer to ask about retailers near you who handle these wines.
Caposaldo 2014 Chianti ($8.99)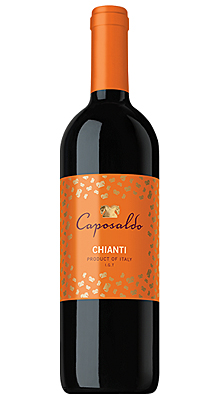 Dark reddish-purple with a clear edge, showing bright ruby glints against the light. Abundant black-cherry aromas, a touch of fresh cherry and more obvious dried fruit. It's fresh and bright on the palate, tart cherries and a hint of something like cedar wood, all framed with zippy acidity, moderate 12.5% alcohol, and just a hint of soft, fuzzy tannins. Fresh fruit and subtle aromatic cedar persist in a long finish. It's not the most complex wine in the world, but it would be hard to find a Chianti of better value for well under 10 bucks. A blend of the traditional Sangiovese (75%) with the not-so-traditional Cabernet Sauvignon and Merlot (10% each), and Malvasia (5%). U.S. importer: Kobrand Corp., NYC. (Nov. 27, 2016)
FOOD MATCH: The importer suggests traditional Italian-American family fare, pizza and pasta with tomato sauce or chicken or eggplant Parmigiana. We went with another iconic Italian family dish, fennel-scented sausages with sauteed green peppers and onions, and it made a fine match.
WHEN TO DRINK: There's no rush to drink it over the next year or three, assuming cool storage on its side, but it's not intended for long aging and certainly won't gain value with time.
VALUE:
For a change, my local price was close to the lower end of the $8 to $14 range of prices reported by U.S. retailers on Wine-Searcher.com. At this price it's a no-brainer to pick up a bottle or several if you can find it.
WEB LINK
Click this link for a fairly detailed fact sheet on this vintage from importer Kobrand.
FIND THIS WINE ONLINE:
Check prices and find vendors for Caposaldo Chianti on Wine-Searcher.com.
If you can't find a local vendor or one that will ship to you there, you might check in with Kobrand, the importer, to locate distributors near you.
Social Media
If you use Facebook, we'd be delighted to have you "Like" our WineLovers Facebook Page. This way you can get Facebook notifications when there's a new The 30 Second Wine Advisor issue or a topic of particular interest on the WineLovers Discussion Group (WLDG).
If you're a Facebook user, you can join our forum with a single click! All you need to do is visit the forum and click the "Social Login" link at upper right.
Finally, I welcome social media connections, but if I won't recognize your name, I suggest that you contact me via Email to wine@wineloverspage.com to let me know that you've requested a connection.
Connect with Robin Garr on LinkedIn
Talk About Wine Online
If you have questions, comments or ideas to share about today's article or wine in general, you're always welcome to drop by our online WineLovers Discussion Group, the Internet's first and still the most civil online community. To find our forums, click:
Discussions are open for public viewing, but you must register to post. If you're a Facebook user, you can also now join our forum with a single click! All you need to do is visit the forum and click the "Social Login" link at upper right.
We use only your name and Email to identify you and make no other claim on your Facebook information or privacy. However, if you prefer not to use Facebook, contact me at wine@wineloverspage.com for information about registration.
Subscriptions and Administrivia
Unsubscribe:
We're sorry if you must leave us, but simply click the "unsubscribe" link at the bottom of your Email edition to be instantly removed from the mailing list.
Change address:
The quickest and easiest way to change your Email address is simply to register anew, using the link below. If you are keeping your old address but no longer wish to get the Wine Advisor there, click the unsubscribe link below to take it off our list; if you are closing the mailbox, you needn't take any action, as our system will delete your old address as soon as the mail to your old address starts to "bounce."
Subscribe to this weekly E-letter (free)
Sponsorship Opportunities:
For information, E-mail wine@wineloverspage.com