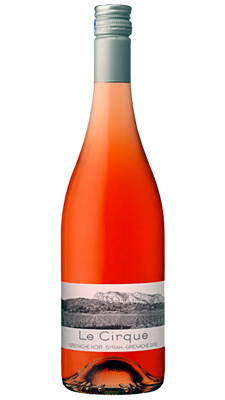 Clear, bright salmon pink, a very pretty blend of Grenache Noir (40%), Mourvèdre (40%), and Syrah (20%). Strawberries and raspberries and fresh green herbs on the nose; red berries and a whiff of watermelon on the palate, nicely balanced by crisp, fresh but not overwhelming acidity. It's nearly dry, with 13% alcohol and a touch of fresh-fruit sweetness that could be a hint of sugar or just fresh, ripe fruit. U.S. importer: Hand Picked Selections, Warrenton, Va. (June 22, 2017)
FOOD MATCH: The winery suggests enjoying it on its own or with charcuterie, seafood, or fruit-based desserts. It made a great match for us with a summery asparagus risotto.
WHEN TO DRINK: The wine's good balance and sturdy metal screwcap will hold it for a few years, but rosé is almost always at its best when it's young and fresh. I'd enjoy this 2016 now, then watch for the following year's vintage.
VALUE:
My local price is a few bucks above the $11 U.S. average retail reported by Wine-Searcher.com, but I'd be happy with this good, refreshing rosé at the middle teens or below.
WEB LINK
Here is a winery fact sheet on the Le Cirque Côtes Catalanes Rosé.
FIND THIS WINE ONLINE:
Check prices and find vendors for Le Cirque Côtes Catalanes Rosé on Wine-Searcher.com.