Do most people think wine tastes better if they believe it costs more? This hypothesis seems obvious enough to declare it so without extensive additional study.
$1 Shipping Harvest Wine Sale!
You are invited to shop The California Wine Club's Harvest Wine Sale. Stock up with savings of up to 67% on award-winning, handcrafted wines priced as low as $7.99, and get $1 shipping on every case! Read more below, or click to shop now!
Just in case you were in any doubt, though, researchers at the business school INSEAD (the international Business School for the World) and the University of Bonn in Germany seem to have verified the obvious. Thanks to an extensive series of tests involving volunteers who squeezed into MRI machines and sipped wine through tubes while having their brain function scanned, researchers found a clear connection: Test subjects judged wine as tasting better when they were told it cost more.
According to an article about the study in Time magazine on Aug. 16, a total of 30 people each tasted three different wine samples while lying in the MRI. The tastes were divided into 108 tiny samples of just 1.25 milliliters each – less than one standard glass of wine in all – over a 90-minute period.
Before each taste test, Time writer Amanda MacMillan wrote, each subject was told how much the bottle cost: either 3€, 6€ or 18€ per bottle. In fact, all the wines really came from the same bottle, a 12€ ($14) red wine.
To no one's great surprise, subjects tended to rate the samples that they thought were more expensive as better tasting than the "cheaper" samples. However, this effect was limited in that a very low-quality wine with a high price still won't be perceived as equivalent to a very good wine with a lower price.
What does this imply for wine lovers? According to Time – and I strongly agree – The best way to evaluate wine – or chocolate, coffee or any type of food or beverage that varies widely in price and quality – is to sample it before you know the cost. Hilke Plassmann, associate professor of marketing at INSEAD and a co-author of the study, added, "If you want to get at your enjoyment of the product itself, then a blind consumption is best."
As a longtime advocate of affordable wines of good value – what we call quality-price ratio or "QPR" – I'm delighted to have this further assurance that wine doesn't have to be expensive to taste good. Note well, though, that as we've also said all along, critical tasting matters in our efforts to find the good-value wines that don't break our budget. This week I report on two very good, affordable whites. You'll find my tasting notes below.
Want to read more about this study? For the Time magazine report, click this link. If you'd like to dive into the primary sources, you'll find the full study online at Nature.com's Scientific Reports: "How context alters value: The brain's valuation and affective regulation system link price cues to experienced taste pleasantness."
Today's Sponsor:
$1 Shipping Harvest Wine Sale!
You are invited to shop The California Wine Club's Harvest Wine Sale. Stock up with savings of up to 67% on award-winning, handcrafted wines priced as low as $7.99. Plus get $1 shipping on every case or half case purchase. Shop early for best selection. Be sure to check out the Close Out category for the best values.
Shop now!
Harvest Wine Sale ends on September 30, 2017. Half, full and/or mixed cases all ship via ground for $1.
About The California Wine Club
There are thousands of small family wineries handcrafting extraordinary wine in quantities too limited to be found in local stores or shops. In 1990 The California Wine Club Founders Bruce and Pam Boring discovered that these winemaking families were the most passionate in the wine world and that their wines were the hidden gems of wine country! Together Bruce and Pam embarked on a journey to help these artisan wineries introduce their exquisite wines to the world. Learn more.
www.cawineclub.com 1-800-777-4443
Today's Tasting Reports
Famille Perrin 2016 Côtes du Rhône Blanc Réserve ($11.99)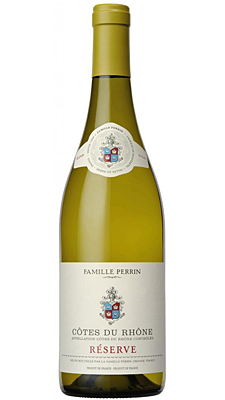 Transparent straw color with a brassy hue. The floral and honeyed scent of Viognier dominates the aroma, as it typically does even when it's a relatively small percentage of the blend (with Grenache Blanc, Marsanne, and Roussanne). Delicious citrus flavors, tangerine and a hint of lemon-lime, are primary in the crisp, mouth-watering flavor, lingering with an edge of intriguing "stony" minerality in a very long finish. 13% alcohol. U.S. importer: Vineyard Brands, Birmingham, Ala. (Aug. 21, 2017)
FOOD MATCH: The winery suggests serving it with Mediterranean dishes and fish, delicate or spicy dishes (perhaps scented with saffron), grilled fish, or bouillabaisse. We found it a great match with farfalle pasta topped with a sauce reminiscent of French onion soup, deeply browned onions and garlic stirred into a Gruyère-based Mornay sauce.
WHEN TO DRINK: It's clean and fresh with plenty of flavor. The sturdy metal screw cap will preserve it, but still, it's good to drink it up young and move on to the next vintage.
VALUE:
My price is right on Wine-Searcher.com's $12 average retail, and it's a good value at that price. You can find it for much less in some regions, though, so shop around if you can.
WEB LINK
Famille Perrin's website is available in French, German, English, Japanese and Chinese Click here for a fact sheet on the Côtes du Rhône Blanc Réserve in English.
Here's an importer's tech sheet on the the Côtes du Rhône Blanc Réserve.
FIND THIS WINE ONLINE:
Find vendors and compare prices for Famille Perrin Côtes du Rhône Blanc Réserve on Wine-Searcher.com.
Alamos 2015 Salta Torrontés ($9.99)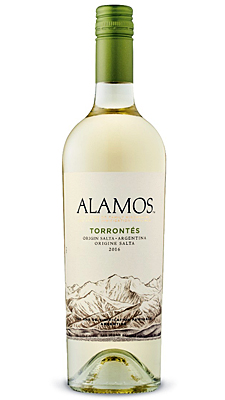 Light, transparent straw color with a faint greenish hue. Delicious citric aroma blends mandarin oranges and white grapefruit, which carry over on the palate in a flavor impression so vibrant and fruity that it almost seems sweet, but crisp, zippy fresh-fruit acidity holds it in balance. A touch of stone fruit and faint peach-pit bitterness join citrus in a very long finish. A claimed 13% alcohol level adds a little body, but it's not out of line for a white. U.S. importer: Alamos USA, Hayward, Calif. (Aug. 23, 2017)
FOOD MATCH: The back label suggests spicy empanadas or grilled fish. We enjoyed it with linguine in linguine with a light sauce of free-range eggs briefly cooked in garlic sauteed in butter.
WHEN TO DRINK: These ripe, juicy and fresh flavors call for early drinking, but its sturdy metal screw cap should protect it over the short term. Drink up over the next year or two.
VALUE:
it's a fine value at this local price that matches Wine-Searcher.com's $10 average retail; if you can find it for a couple of bucks less, better still.
WEB LINK
The winery offers this fact sheet on the Torrontés in English on its website.
FIND THIS WINE ONLINE:
Find vendors and compare prices for Alamos Salta Torrontés on Wine-Searcher.com.
Wine Forum and Social Media
If you have questions, comments or ideas to share about today's article or wine in general, you're always welcome to drop by our online WineLovers Discussion Group, the Internet's first and most civil online community.
Discussions are open for public viewing, but you must register to post. If you're a Facebook user, you can join our forum with a single click! All you need to do is visit the forum and click "Social Login" at upper right.
We'd also be delighted to have you "Like" our WineLovers Facebook Page. This way you can get Facebook notifications when there's a new The 30 Second Wine Advisor issue or a topic of particular interest on the WineLovers Discussion Group (WLDG).
Subscriptions and Administrivia
Unsubscribe:
We're sorry if you must leave us, but simply click the "unsubscribe" link at the bottom of your Email edition to be instantly removed from the mailing list.
Change address:
The quickest and easiest way to change your email address is simply to unsubscribe from your old address and register again from the new one: Subscribe to The 30 Second Wine Advisor (free).
Read 18 years of past articles in the Wine Advisor Archives.
Sponsorship Opportunities:
For information, email Robin Garr at wine@wineloverspage.com