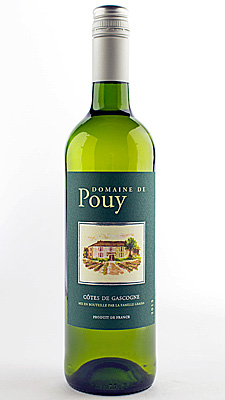 Clear, bright straw color, with a marked melon aroma, a mix of musky cantaloupe and more subtle honeydew. Fresh and tart flavors carry over the melon character and add a bright squirt of lemon. Medium-bodied, its texture becomes more evident as the wine warms in the glass, and a hint of pleasant peach-pit bitterness joins in on a very long finish. Its rather light 10.5 percent alcohol makes it an easy sipper. It's fine now but will become even more appealing as spring returns and warms into summer. U.S. importer: Domaine Select Wine & Spirits LLC (DSWS), NYC. (Feb. 21, 2018)
FOOD MATCH: The back label declares it a perfect aperitif, good with salads, seafood, fish, tapas and, generically, "Asian food." It was fine with the slightly sweet flavor of mini crab cakes.
WHEN TO DRINK: It's not a wine for aging. Enjoy it while it's young and fresh, then move on to newer vintages. Don't fret, though: The sturdy metal screwcap will keep it from going around the bend before you get a chance to drink it.
VALUE:
Wine-Searcher.com's average retail price is $10, but it's available at many vendors for $8 or less; it was $7.99 here. It's hard to find a better wine for single-digit prices in today's market. Remarkably, I paid the same toll for the 2006 edition of this wine more than a decade ago, so it's been a real hedge against inflation.
WEB LINK
Here's a fact sheet on Domaine du Pouy from distributor Domaine Select.
FIND THIS WINE ONLINE:
Check prices and locate vendors for Domaine de Pouy 2016 Côtes de Gascogne on Wine-Searcher.com.