Can it be only a coincidence that the nation's first coffee-infused red wine rolls out to a waiting nation on April Fool's Day?
Despite the sad old joke about coffee and wine producing a wakeful drunk, this rumor appears to be true, at least according to the Modesto Bee, home-town newspaper of giant E. & J. Gallo. Gallo's Apothic label of modest California reds will adorn the coming bottles of Apothic Brew, a secret-recipe blend of Lodi-grown Petite Sirah, Teroldego, Cabernet Sauvignon, Zinfandel and more, all "infused" with a shot of cold-brew coffee.
"Red wine is often described with words related to coffee, like roasted or mocha or nutty. So Apothic Brew takes it one step further," Bee reporter Marijke Rowland wrote in the paper's Biz Beat business section on Wednesday.
Rowland described the brew as "a subtle, yet flavorful concoction that isn't overpowering in either direction." Her newsroom colleagues, "who were more than happy to sample the wine in the middle of a workday," offered generally positive opinions ranging from "it's awesome" to "it's not bad, really not bad," with mellow coffee flavor perceptible in a mild wine with a smooth finish, less tart or acidic than some red wines.
"Still, those hoping to substitute their favorite energy drink with the wine might be a tad disappointed," Rowland observed. "One glass of Apothic Brew only has about the same amount of caffeine as regular cup of decaf coffee. So, you know, not a bunch."
Cosmopolitan reporter Danielle Tullo, in a glowing March 14 report, exulted of the new brew, "It's like coffee and wine had a baby!"
Queried Tullo: "Would you rather: Only ever drink wine again or only ever drink coffee again? That's probably the hardest question of all time — and good news! Now you never have to choose, because thanks to the heroes at Apothic Wine, we now live in a world where coffee-infused red wine exists. … I had the chance to try it with an early taste test, and oh my God, the stuff is good. I've had my fair share of gimmick booze (hi, blue wine and hard cold brew), but the Apothic Brew is as good as your go-to red wine."
So there you have it. I've got to tell you that I'm not sure I'll try this stuff. It's not the coffee-and-wine mix, which actually sounds like it could be appealing. It's the Apothic thing. In my continuing quest for inexpensive wines of good value – a quest that's been accelerated this month in our Wine Focus: How low can you go? – I've actually tried Apothic's wines, but to be honest, they didn't ring my chimes with their well-made but personally unappealing industrial style, overly sweet, with oaky vanilla and, yes, black coffee notes riding over simple fruit. Not my glass of wine.
But wait! Why buy a blend of coffee and wine when we can make our own? Explore the concept, using quality ingredients! I tore off to the kitchen and whipped up a glass of cold-brew coffee, using Illy espresso from Trieste, fine-ground. Then I grabbed a bottle of Mas de la Devèze 2013 Côtes Catalanes Malice Rouge, a spicy, berry-scented Southwestern France Grenache-Syrah blend from California Wine Club's International Series.
Just like a medieval apothecary (see what I did there?) I mixed, poured, tested proportions, until I came up with a blend of one part coffee to three parts wine that felt about right. I swirled. I swiffed. I tasted. I thought. And I'm going to say "Meh." In fairness, the blend isn't terrible. To tell you the truth, I'm sipping it as I type. But the whole in this case is less than the sum of its parts. It's very good coffee. It's very good wine. The mix errs toward dark and muddy, tannic and dull. The ingredients just don't meet and mingle. I won't do this again. And I don't see myself buying any Apothic Brew.
How about you? Does cold-brew coffee-infused red wine ring your chimes? Tell us what you think in our WineLovers Discussion Group or our WineLovers Facebook Page!
THE Sale You've Been Waiting For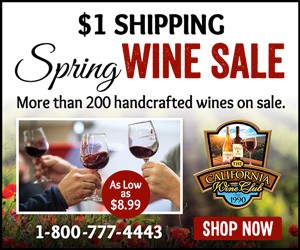 Handcrafted, artisan Cabernets, Merlots, Pinot Noirs, Chardonnays and more are on sale now for as low as $8.99. You are invited to shop The California Wine Club's $1 Shipping Spring Wine Sale. Membership is not required to take advantage of the savings.
You can save up to 60% on every bottle of small-batch wine, plus save up to $38 in shipping on every case. More than 200 artisan wines are on sale, and every bottle is backed by their Love It guarantee.
Take an extra 10% off already discounted wine prices with promo code EXTRA10.
Don't wait! The sale ends on March 31, 2018.
Shop Now
About The California Wine Club
There are thousands of small family wineries handcrafting extraordinary wine in quantities too limited to be found in local stores or shops. In 1990 wine club founders Bruce and Pam Boring discovered that these winemaking families were the most passionate in the wine world and that their wines were the hidden gems of wine country! Together Bruce and Pam embarked on a journey to help these artisan wineries introduce their exquisite wines to the world. Learn more.
www.cawineclub.com 1-800-777-4443
Today's Tasting Reports
We're enjoying our month-long exploration into good-value, low-price wines generally under $10 (or the equivalent in Euros, Pounds Sterling, Yen and such) in Wine Focus: How low can you go? Here are my reports on three more good cheap wines, including two French reds and an excellent white from Italy's lake country. See below, also, for links to buying information on another half-dozen good cheap wines that I've enjoyed recently.
Laroque 2016 Cité de Carcassonne Cabernet Franc ($9.99)
Dark purple, almost black at the center, shading to a bright garnet edge. Subtle red berries, cranberries and an earthy touch of tree bark in the aroma. The palate echoes the nose, dry and tart, red berries and earthy notes built on a framework of fresh acidity, 13% alcohol, and soft, astringent tannins. U.S. importer: Aquitaine Wine USA, LLC, Berkeley, Calif. (March 7, 2018)
FOOD MATCH:
The back label suggests enjoying it alone or with Mediterranean cuisine, pasta, lamb, chicken, pizzas and hamburgers, and the importer's website recommends tagines, "oriental" dishes, pastas, poultry, barbecue, red meat and cheese plates. We enjoyed it with a rich meatloaf and simple grilled chicken.
WHEN TO DRINK: This modest wine isn't a candidate for long-term cellaring, but there's no rush to enjoy it. Drink over the next few years, then watch for a more recent vintage.
VALUE:
My local price came in a dollar less than Wine-Searcher.com's $11 average retail, but it remains a very good value in the $10 range.
WEB LINK
Here's a detailed winery fact sheet (PDF format) on the Laroque 2016Cabernet Franc.
FIND THIS WINE ONLINE:
Find vendors and compare prices for Laroque Cité de Carcassonne Cabernet Franc on Wine-Searcher.com.
Pasini San Giovanni 2011 "Il Lugana" Lugana ($4.99)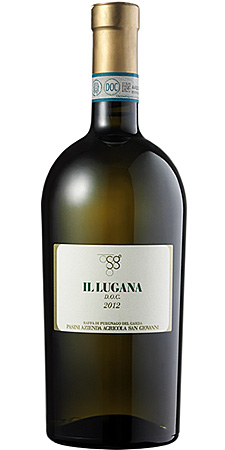 Clear, bright gold, with rather full aromatics of honey and beeswax over white flowers and a whiff of figs and pears. Full-bodied and richly textured, but firm, tart acidity keeps it from seeming unctuous. Simple white fruit joins the aroma elements on the palate with 13% alcohol, softening to a hint of meyer lemon and a whiff of pecans in a very long finish. U.S. importer: A.I. Selections, NYC. (March 9, 2018)
FOOD MATCH: The winery website suggests enjoying the wine on its own or serving with white meats or fish and seafood. We enjoyed it with roasted asparagus topped with Parmigiano and a cheesy, smoky artisanal grits in lieu of polenta.
WHEN TO DRINK: Lugana can age very well for a modest white – I've enjoyed amazingly good ones more than 30 years old kept under perfect storage conditions at Lugana wineries near Lake Lugano. But hints of oxidation combined with the closeout price suggest that this bottle is nearing the end of its useful life.
VALUE:
A bought this older vintage at a local closeout for a fraction of Wine-Searcher.com's $81 average retail. Frankly, newer vintages of this excellent white would still be a bargain at the regular price.
WEB LINK
Here's a fact sheet in English on the winery website.
FIND THIS WINE ONLINE:
Locate vendors and check prices for Pasini San Giovanni 2011 "Il Lugana" on Wine-Searcher.com.
Olivier Cuilleras Domaine La Guintrandy 2015 Saínt-Léger Vin de France ($7.99)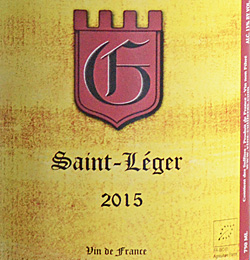 Dark reddish purple with a thin, clear garnet edge. Rustic, raspberries and a fresh, clean loamy note on the nose and palate. Mouth-filling and ripe, red berries and plums framed by bright acidity and firm tannins that linger into a long, mouth-watering finish. The label claims 13% alcohol, and I'm pretty sure it's not under-estimating. U.S. importer: Vanguard Wines LLC, Columbus, Ohio. (March 7, 2018)
FOOD MATCH: This rustic red is a natural with beef, burgers, pasta with meat sauces and the like. We enjoyed it with both an intensely flavored meat loaf and white chicken meat in gravy.
WHEN TO DRINK: Now through 2020, perhaps a few more years under good cellar conditions.
VALUE:
Wine-Searcher.com doesn't list prices or vendors for this close-out bottling, but it's a great value for eight bucks if you can find it at a local retailer.
WEB LINK
Here's a backgrounder in English on the Domaine La Guintrandy property and wines.
FIND THIS WINE ONLINE:
Unfortunately Wine-Searcher.com has no listings for this close-out label, but you can Check this Wine-Searcher link to browse a wide variety of inexpensive, frequently appealing Vin de France reds.
More affordable wines
Want tips to more good, inexpensive wines? Here are Wine-Searcher links to vendors and prices for a bunch more wines for $10 or less that I've told you about during the past few months. Please tell us about your favorites!
Wine Forum and Social Media
If you have questions, comments or ideas to share about today's article or wine in general, you're always welcome to drop by our online WineLovers Discussion Group, the Internet's first and most civil online community.
Discussions are open for public viewing, but you must register to post. If you're a Facebook user, you can join our forum with a single click! All you need to do is visit the forum and click "Social Login" at upper right.
We'd also be delighted to have you "Like" our WineLovers Facebook Page. This way you can get Facebook notifications when there's a new The 30 Second Wine Advisor issue or a topic of particular interest on the WineLovers Discussion Group (WLDG).
Subscriptions and Administrivia
Unsubscribe:
We're sorry if you must leave us, but simply click the "unsubscribe" link at the bottom of your Email edition to be instantly removed from the mailing list.
Change address:
The quickest and easiest way to change your email address is simply to unsubscribe from your old address and register again from the new one: Subscribe to The 30 Second Wine Advisor (free).
Read nearly 20 years of past articles in the Wine Advisor Archives.
Sponsorship Opportunities:
For information, email Robin Garr at wine@wineloverspage.com