Cleto Chiarli 2016 Lambrusco Grasparossa di Castelvetro Secco Vigneto Enrico Cialdini ($13.99)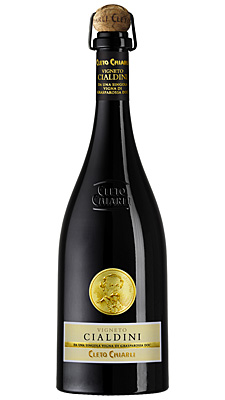 This fine, artisanal Lambrusco is made from Lambrusco Grasparossa di Castelvetro grapes. Dark purple, it pours with a frothy mousse that falls back fast. Fruity aromas of plums and prunes on the nose carry over intact on the palate with a fizzy mouthfeel. It's bone-dry, in pleasing contrast with sweet mass-market Lambruscos, and a distinct but not unpleasant tannic bitterness lingers with notes of dried plums. Light 11% alcohol makes for easy quaffing. U.S. importer: Cleto Chiarli USA, Napa, Calif. (April 26, 2018)
FOOD MATCH: It would be good with tomato-sauced pasta and its region's iconic prosciutto. Good with spicy fare, it was a treat with a light dinner of uova in purgatorio, the Italian version on the Middle Eastern shakshuka, eggs poached in a spicy tomato sauce.
WHEN TO DRINK: Even artisanal Lambrusco is not a wine meant to last. Drink up, and watch for the next vintage.
VALUE:
My local price matches Wine-Searcher.com's $14 average retail. It's well worth a mid-teens price to discover the artisanal side of a wine that's usually defined by its mass-market producers.
WEB LINK
Here's the producer's fact sheet on the Cleto Chiarli Vigneto Enrico Cialdini
FIND THIS WINE ONLINE:
Find vendors and compare prices for Cleto Chiarli Vigneto Enrico Cialdini on Wine-Searcher.com.
You can also find distributors in most states of the U.S. via this page from Dalla Terra Winery Direct.
Finally, learn more about Lambrusco Grasparossa, and browse dozens of links to vendors for this dry, fizzy Lambrusco from Emilia-Romagna.