Whatever you think about climate change, and regardless of what you think causes it, one thing is sure: Wild weather is threatening the state of world wine as we know it.
"Extreme weather across many wine regions in 2017 may be more than a blip," Chris Mercer, a writer for the British wine magazine Decanter, reported last week in an article headlined Extreme weather becoming the new normal – study.
"Weather has become more volatile and more extreme in the past 36 years," Mercer wrote, quoting a recent report from the European Academies' Science Advisory Council (EASAC). EASAC's report warned that wildfires, droughts and flooding are becoming more common around the world, affecting wine regions globally, "due to man-made climate change."
Over on this side of the Atlantic, CNN's Ivana Kotosová examined the cost impact of weather-battered vineyards in a report this week, Cheap wine is about to get a lot more expensive.
Global wine production slumped to its lowest level in 60 years in 2017, she reported, citing data from the International Organisation of Vine and Wine. "The most recent harvest produced 25 billion liters of wine, a decrease from 26.7 billion in 2016 and 27.6 billion in 2015. The decline was driven by weak harvests in key markets including Europe and South Africa."
As a result of increased demand from the shrunken supply, according to the European Commission, the wholesale price of basic wine in Italy has skyrocketed 74 percent over the previous year. Wholesale prices are up 45 percent in Spain and over 10 percent in France.
It's the same the whole world over, Kotosová reported: "Other regions had problems, too. Wildfires destroyed or tainted some of the harvest in California, and drought harmed vineyards in South Africa."
Ultimately, we consumers will pay the toll. "Analysts said that producers, dealers and retailers will absorb some of the price hikes, but consumers will end up paying more – especially for cheaper bottles."
It's only getting worse. As many of us wonder what happened to spring in much of the Northern Hemisphere this year. Decanter writer Andrew Jefford found a clue in last year's hard April frosts in Europe, which were due to "a disorderly polar vortex, caused in turn by warming oceans. Such frosts may therefore become a regular feature of European springs of the future, at a time when milder winters provoke ever earlier budburst. This would be a catastrophic combination for wine-growers."

(The Wine Advisor continues below this message from our friends at The California Wine Club.)
Today's Sponsor:
Be The Favorite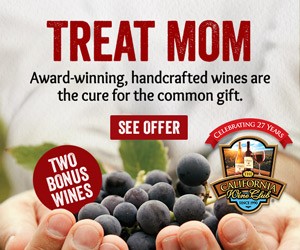 The California Wine Club will include two bonus bottles of handcrafted wine when you treat Mom to a gift membership. Each month, she'll receive two award-winning wines and discover a different artisan winery. Send as many gift months as you wish. Gifts also include a $25 wine credit.
See Offer
This offer expires June 30, 2018.
About The California Wine Club
There are thousands of small family wineries handcrafting extraordinary wine in quantities too limited to be found in local stores or shops. In 1990 The California Wine Club Founders Bruce and Pam Boring discovered that these winemaking families were the most passionate in the wine world and that their wines were the hidden gems of wine country! Together Bruce and Pam embarked on a journey to help these artisan wineries introduce their exquisite wines to the world. Learn More.
www.cawineclub.com 1-800-777-4443
Wild weather threatens wine
(Continued)
"Apologies for the phrasing," Jefford wrote earlier this year, "but 2017 must be regarded as one of the most disaster-strewn years the wine world has endured since the onset of phylloxera. It would be imprudent not to prepare for more of the same. Or worse."
I've been worrying about this since at least the early years of this century. As I wrote, and not for the first time, in October 2006, "It's mighty hard to be a wine lover in the 2000s and not suspect that something chaotic is going on with Earth's climate. Wine, after all, as an agricultural product that's highly sensitive to the weather, makes a sensitive barometer for climate change. Hot summers foster quick and complete ripeness in the fruit, which translates to more sugar. Sugar turns to alcohol, thanks to the magic of fermentation, in the finished dry wine. And it can hardly pass without notice that the past 10 to 15 years in most of the world's temperate zones have seen a progression of record-hot summers unmatched through the 20th century, and an undeniable trend toward more alcoholic wines."
That was a dozen years ago, and things have only gotten worse.
Today's Tasting Reports
Cleto Chiarli 2016 Lambrusco Grasparossa di Castelvetro Secco Vigneto Enrico Cialdini ($13.99)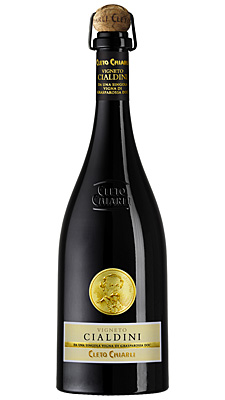 This fine, artisanal Lambrusco is made from Lambrusco Grasparossa di Castelvetro grapes. Dark purple, it pours with a frothy mousse that falls back fast. Fruity aromas of plums and prunes on the nose carry over intact on the palate with a fizzy mouthfeel. It's bone-dry, in pleasing contrast with sweet mass-market Lambruscos, and a distinct but not unpleasant tannic bitterness lingers with notes of dried plums. Light 11% alcohol makes for easy quaffing. U.S. importer: Cleto Chiarli USA, Napa, Calif. (April 26, 2018)
FOOD MATCH: It would be good with tomato-sauced pasta and its region's iconic prosciutto. Good with spicy fare, it was a treat with a light dinner of uova in purgatorio, the Italian version on the Middle Eastern shakshuka, eggs poached in a spicy tomato sauce.
WHEN TO DRINK: Even artisanal Lambrusco is not a wine meant to last. Drink up, and watch for the next vintage.
VALUE:
My local price matches Wine-Searcher.com's $14 average retail. It's well worth a mid-teens price to discover the artisanal side of a wine that's usually defined by its mass-market producers.
WEB LINK
Here's the producer's fact sheet on the Cleto Chiarli Vigneto Enrico Cialdini
FIND THIS WINE ONLINE:
Find vendors and compare prices for Cleto Chiarli Vigneto Enrico Cialdini on Wine-Searcher.com.
You can also find distributors in most states of the U.S. via this page from Dalla Terra Winery Direct.
Finally, learn more about Lambrusco Grasparossa, and browse dozens of links to vendors for this dry, fizzy Lambrusco from Emilia-Romagna.
Marchese di Barolo 2014 "Maraia" Barbera del Monferrato ($13.99)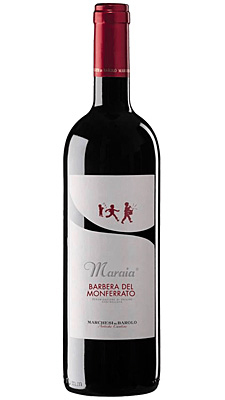 Clear dark purple, this 100 percent Barbera shows garnet glints against the light. Scents of fresh red cherries, blackberries and dried cherries plus a light whiff of smoke carry over on the palate with bright, tart fruit shaped by crisp acidity and soft, fuzzy tannins, with a moderate 13% alcohol. Cherry-berry notes and zippy acidity linger in a very long finish. U.S. importer: Frederick Wildman & Sons Ltd., NYC. (April 21, 2018)
FOOD MATCH: Great with juicy sausages; the importer suggests "pasta with red sauce and light meats" or on its own.
WHEN TO DRINK: There's no real rush to drink it, but it's not a candidate for long-term cellaring either. Enjoy over the next few years, assuming you have a cool place to store the bottle on its side.
VALUE:
My local price is just over Wine-Searcher.com's $13 average retail. It's a fine value in the lower teens.
WEB LINK
Here's the importer's fact sheet on Marchese di Barolo "Maraia" Barbera del Monferrato.
FIND THIS WINE ONLINE:
Find vendors and compare prices for Marchese di Barolo "Maraia" Barbera del Monferrato on Wine-Searcher.com.
Here's a long list of links to vendors for other wines from Barbera del Monferrato, as well as information about the region.
More affordable wines
Want tips to more good, inexpensive wines? Here are Wine-Searcher links to vendors and prices for a bunch more wines for $10 or less that I've told you about during the past few months. Please tell us about your favorites!
Wine Forum and Social Media
If you have questions, comments or ideas to share about today's article or wine in general, you're always welcome to drop by our online WineLovers Discussion Group, the Internet's first and most civil online community.
Discussions are open for public viewing, but you must register to post. If you're a Facebook user, you can join our forum with a single click! All you need to do is visit the forum and click "Social Login" at upper right.
We'd also be delighted to have you "Like" our WineLovers Facebook Page. This way you can get Facebook notifications when there's a new The 30 Second Wine Advisor issue or a topic of particular interest on the WineLovers Discussion Group (WLDG).
Subscriptions and Administrivia
Unsubscribe:
We're sorry if you must leave us, but simply click the "unsubscribe" link at the bottom of your Email edition to be instantly removed from the mailing list.
Change address:
The quickest and easiest way to change your email address is simply to unsubscribe from your old address and register again from the new one: Subscribe to The 30 Second Wine Advisor (free).
Archives:
Read nearly 20 years of past articles in the Wine Advisor Archives.
Sponsorship Opportunities:
For information, email Robin Garr at wine@wineloverspage.com