What wine goes with pizza? Many people will say Chianti, and I'm on that team. The happy reds of Tuscany are favorites.
Others will call for beer, and that's an easy choice, too.
But is that all there is? I'm going to answer that question with a firm "No."
A while back (okay, it was Jan. 8, 2002), I proposed beer as the most appropriate beverage with pizza. It became one of the first Wine Advisor editions that went viral, thanks to massive pushback from wine lovers like you who told me that I was nuts.
I didn't give in immediately, but over time I've come to accept the conventional wisdom. While I'm still happy with the cleansing, cooling quaff of a good craft beer or respected import alongside a sizzling, cheesy slice, I'm now much more likely to pull a wine cork (or twist a screw cap) when pizza is on the table.
What's more, it doesn't have to be Chianti (even though it often is). The world of wines is open for our pizza-noshing enjoyment. Still, even if pizza has become thoroughly Americanized, its deep roots in Italian culinary culture make Italian wine feel right. So with a basic tomato-and-cheese pie with traditional toppings, if I don't open a Chianti or similar Tuscan Sangiovese, I might look to Italian reds of similar profile. Montepulciano d'Abruzzo, for instance.
Or even, maybe … are you ready to celebrate the simple goodness of pizza with a higher-end red? Why not uncork a Vino Nobile or even a Brunello? Hint: If you try this, consider an artisanal pie. Matching these noble Italians with Pizza Hut or Papa J just seems wrong.
How about a Lambrusco? I'd steer clear of the once popular, still available Riunite and other cheap, sweet mass-market brands; but smaller, higher-quality producers are showing up these days, and their off-dry flavor and effervescent fizz can make a great match with pizza. Stumped for a brand? Try one of the goodies listed at the bottom of this Lambrusco info page.
Speaking of bubbles, just about any fizzy wine makes an easy food match, and pizza is no exception. If you want to keep it Italian, Prosecco is both available and affordable. Or even elevate your pie with real Champagne.
Finally, consider the toppings. If your tastes in pizza go beyond the standard tomato sauce and cheese, follow standard wine-matching principles and choose your wine to go with whatever's on top of the pie. If you must add pineapple, for instance, your choice suggests a Riesling, ideally, or perhaps an oaky, buttery Chardonnay.
We matched both a classic Margherita pizza and an offbeat Greek-accented pie with Kalamata olives, artichokes and feta cheese last night. Both went very well with a southern French favorite from Provence, Mas de Gourgonnier 2016 Les Baux de Provence. You'll find my tasting notes below.
What's your favorite wine-with-pizza match? Drop in on our WineLovers Discussion Group forum or our WineLovers Facebook Page and let us know!
Today's Sponsor:
The Wine Sale You've Been Waiting For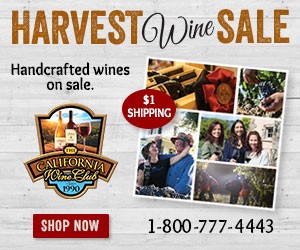 Save up to 65% off winery retail on handcrafted wines, plus, save up to $38 in shipping on every case and half case with $1 shipping.
You are invited to shop The California Wine Club's Harvest Wine Sale. Membership is not required to take advantage of the savings.
Stock up on handcrafted, artisan Cabernets, Merlots, Pinot Noirs, Chardonnays and more on sale now for as low as $8.99.
More than 200 artisan wines are on sale, and every bottle is backed by their Love It guarantee.
Sale ends September 30, 2018. Enjoy $1 ground shipping on all half and full cases to most states. Some restrictions may apply. Shop Now!
About The California Wine Club
There are thousands of small family wineries handcrafting extraordinary wine in quantities too limited to be found in local stores or shops. In 1990 The California Wine Club Founders Bruce and Pam Boring discovered that these winemaking families were the most passionate in the wine world and that their wines were the hidden gems of wine country! Together Bruce and Pam embarked on a journey to help these artisan wineries introduce their exquisite wines to the world. Learn more.
www.cawineclub.com 1-800-777-4443
Today's Tasting Reports
Mas de Gourgonnier 2016 Les Baux de Provence ($17.99)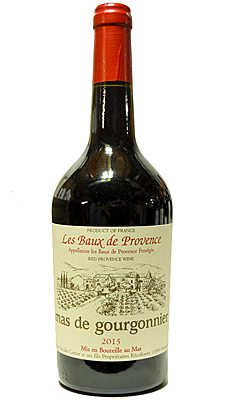 This Provence red is made with organically grown Cabernet Sauvignon (32%), Grenache (31%), Syrah (22%) and Carignan (15%) grapes. The Cabernet, a bit surprisingly for a Provence red, has been bumped up from a minor player to a major component in this vintage. The wine is fairly dark reddish-purple in color, shading to a clear edge. Delicious but not overbearing mixed-fruit aromas bring black plums, cherries and red berries to the table, carrying over on the palate in juicy, tart fruit shaped by crisp acidity and a soft edge of astringent tannins that work with modest 13% alcohol to keep it food-friendly. U.S. importers: Vintner Select, Mason, Ohio, and Skurnik Wines & Spirits, NYC. (Oct. 6, 2016)
FOOD MATCH: Steaks and burgers or grilled chicken would be fine with this natural red, as would be bean and cheese dishes. It was fine with pizza, too, both a classic Margherita and a more offbeat Greek pie with artichokes and feta.
WHEN TO DRINK: It should keep for a few years on its side at cool temperature, but I like to drink up Provence wines in this happy, easy style within three or four years of the vintage, then look for newer models.
VALUE:
My local $18 tab was within reach above Wine-Searcher.com's $16 U.S. average retail. It's certainly a fine value in the middle teens, and even more so if ou can catch up with the retailers offering it for $12 to $15 on Wine-Searcher.com.
WEB LINK
Importer Skurnik Wines & Spirits offers this detailed fact sheet for 2016 Mas de Gourgonnier.
FIND THIS WINE ONLINE:
Find vendors and check prices for Mas de Gourgonnier Les Baux de Provence on Wine-Searcher.com.
More affordable wines
Want tips to more good, inexpensive wines? Here are Wine-Searcher links to vendors and prices for a bunch more wines for $10 or less that I've told you about during the past few months. Please tell us about your favorites!
Wine Forum and Social Media
If you have questions, comments or ideas to share about today's article or wine in general, you're always welcome to drop by our online WineLovers Discussion Group, the Internet's first and most civil online community.
Discussions are open for public viewing, but you must register to post. If you're a Facebook user, you can join our forum with a single click! All you need to do is visit the forum and click "Social Login" at upper right.
We'd also be delighted to have you visit and "Like" our WineLovers Facebook Page. This way you can get Facebook notifications when there's a new The 30 Second Wine Advisor issue or a topic of particular interest on the WineLovers Discussion Group (WLDG).
Subscriptions and Administrivia
Unsubscribe:
We're sorry if you must leave us, but simply click the "unsubscribe" link at the bottom of your Email edition to be instantly removed from the mailing list.
Change address:
The quickest and easiest way to change your email address is simply to unsubscribe from your old address and register again from the new one: Subscribe to The 30 Second Wine Advisor (free).
Archives:
Read nearly 20 years of past articles in the Wine Advisor Archives.
Sponsorship Opportunities:
For information, email Robin Garr at wine@wineloverspage.com