I'm sure most of us are watching with horror and sadness as California has been ravaged by wildfires in recent years.
Even outside California, wine lovers may have started taking the fires more personally when the gigantic Tubbs Fire ripped through the wine areas in Napa and Sonoma counties in October 2017, burning more than 5,000 structures over 37,000 acres. Worse still, 22 lives were lost in what was then the most destructive wildfire in California history, until this year's Camp Fire, near Oroville far north of the wine country, surpassed it this month.
Incredibly, across California the fires are even worse this year. As of this past Wednesday, 1,822,364 acres had burned in 7,899 separate wildfires in California so far this year, according to the National Interagency Fire Center.
Scientists point to climate change in the form of hotter, drier temperatures as a primary culprit in the increasing toll; there's no question that the spread of residential and commercial development into unoccupied land shares some of the blame.
There is no way to sugar-coat this: Wildfires are horrific. They are frightening, dangerous, sometimes deadly. They are hard and costly to fight, and they leave a trail of devastation, and it takes a long time to recover.
Napa and Sonoma are still healing, The San Francisco Chronicle reported in a feature story last month, but the community's response to recovery has been a shining light.
"Last October's horrific wildfires in Sonoma and Napa counties made one thing abundantly clear: The worst of times brings out the best in people," food, wine and beer expert Janet Fletcher wrote in the Chronicle story.
"Within hours, locals had mobilized to feed and house their traumatized neighbors, launching a tidal wave of grassroots philanthropy," Fletcher wrote. "From the No Pay Café, born on the second night of the fire, to free yoga classes, efforts continue to help fire victims get back on their feet."
One year later, communities are rebounding, but at different paces. "Some replacement homes are rising; other plans are hamstrung by insurance shortfalls or labor shortages. Emotions are still raw, with residents on edge until this year's fire season passes. … Despite the optimism and outpouring of support, many folks are still struggling." Read Fletcher's full article here.
Meanwhile, on Napa's Mount Veeder, the Cates family, whose Segassia Vineyard and winery were ravaged by the Tubbs fire, are still recovering, still grieving, but they have also found a way to live out the old saying, "When life gives you lemons, make lemonade."

(The Wine Advisor continues below this message from our friends at The California Wine Club.)
Today's Sponsor:
Black Friday starts now:
Save on Wine Gifts
Save with The California Wine Club's Cyber Gift Sale: Give three months (or more) of delicious deliveries of handcrafted wine, and they'll add on an extra month on the club. $59 value. Shop Now.
When quality matters, give gifts from The California Wine Club. Each gift month will bring two award-winning, handcrafted wines from one of California's best small wineries. A different winery is featured every month.
Plus, holiday gifts come with:
Beautifully hand-wrapped bottles.
A $25 Wine Credit.
A VIP winery tour and tasting invitation.
Uncorked®, our guide to the featured winery.
See Cyber Gift Sale.
Cyber Gift Sale ends at 11:59 p.m., PST, Nov. 30, 2018.
About The California Wine Club:
California is home to thousands of small family wineries handcrafting extraordinary wine in quantities too limited to be found in local stores or shops. Since 1990 it has been our mission to help these artisan wineries introduce their award-winning wines to wine lovers across the U.S. Learn more.
www.cawineclub.com 1-800-777-4443

When life gives you lemons …
(Continued)
National Public Radio's The Salt blog visited the Cateses last month. "My wife can't even watch the news – it singes us to the core," winery owner and retired cardiologist Chris Cates told The Salt's Kelsey Ogletree.
His son, Andrew Cates, who operates Segassia and lives on the property, lost his home in the blaze. Not all of the vines were lost, but it will take 10 to 15 years for the vineyard's full production to be restored.
But out of the ashes came a touching story, a story about making lemonade.
The headline gives a hint to the story: Father-Son Duo Turns Ruined Grapes Into Tasty Aid For Napa Fire Victims.
Although many winery structures burned and the winery's irrigation equipment was destroyed by the fire, only about 40 percent of the vines were destroyed. The rest of grapes could not be used for winemaking because of "smoke taint," the harsh, burnt flavor that the surviving grapes would impart to wine; but they could still be harvested.
Why harvest grapes that can't be used for wine? The Cateses had a plan, based on an innovative technique that they were already using to reduce food waste by making use of the 5 percent of grapes left unharvested on the vines every year: They turned the leftover wine grapes into raisins in an effort to reduce food waste, a crunchy, antioxidant-packed snack they called RayZyns.
"They decided to try their method with the smoke-tainted grapes," The Salt reported. "When dehydrated into RayZyns, the smoke-tainted cabernet grapes tasted fine – quite good, in fact, with no smoky notes – and contained the antioxidants of a glass of wine, but in concentrated, edible form."
Early this year, they launched Rescue RayZyns, offering both regular and dark chocolate-coated varieties of the nonalcoholic seeded wine raisin. One dollar from every online purchase is split between the Napa Valley Community Disaster Relief Fund and the Food Recovery Network, an organization devoted to fighting food waste.
The Cateses sell Rescue RayZyns online and in wine shops around the country; their regular RayZyns are sold at Costco and handed out to passengers on several airlines. "But father and son say they measure success not in profit, but in the impact they've been able to make on their community and in advancing the way people think about food waste," The Salt reported.
"If you think about things in the midst of hardship, you can do a lot of good," says Chris Cates, "but you have to think about them in a different way."
Want Rescue RayZyns? You can buy them at this link, at 20 percent off on a Black Friday sale through Monday, Nov. 26, using code BLKFRI2018 at checkout. (This is not an ad, and I don't get a commission. I just think it's a good lemonade-out-of-lemons thing, and I want you to know about it.)
Today's Tasting Reports
Jean-Claude Boisset 2016 Bourgogne Pinot Noir "Les Ursulines" ($17.99)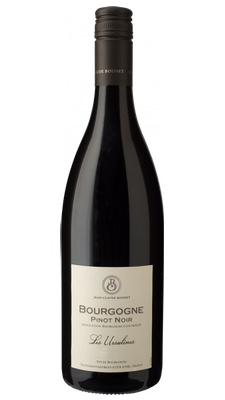 Clear ruby color, shading to a clear edge. Subtle, clean red berry aromas lead into a fresh, acidic flavor that mirrors the nose, brisk and long. Label claims 11-14% alcohol. U.S. importer: Boisset America, St. Helena, Calif. (Nov. 22, 2018)
FOOD MATCH: Beef is its natural partner, but it would be fine also with cheese-based dishes or grilled chicken, duck, or for a Thanksgiving feast, roast turkey.
WHEN TO DRINK: The winery declares it ready to drink and recommends holding it for no more than seven years past the vintage.
VALUE:
This entry wine into Burgundy is well valued in the upper teens. Wine-Searcher.com calculates a $19 average U.S. retail.
WEB LINK
Here's a winery fact sheet on this wine in English.
FIND THIS WINE ONLINE:
Find vendors and compare prices for Boisset Bourgogne Pinot Noir "Les Ursulines" on Wine-Searcher.com.
Domaine Laroche 2016 Chablis "Saint Martin" ($21.99)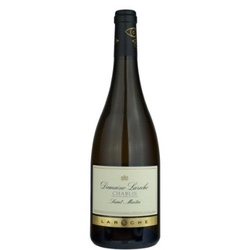 Clear gold, pale and transparent. Fresh, tart apple aromas and a whiff of white wildflowers. Mouth-filling, elegant apple and pear flavors give way to chalky minerality, framed by crisp, palate-cleansing acidity and moderate 12% alcohol. U.S. importer: Wilson Daniels LLC, St. Helena, Calif. (Nov. 22, 2018)
FOOD MATCH: The winery suggests it as an aperitif or with seafood, prawns or fish. You can't go wrong with turkey breast meat.
WHEN TO DRINK: Chablis can age and evolve, but good cellar conditions are required. The sturdy metal screw cap assures a clean wine, but I wouldn't recommend this modest wine for long-term aging. Drink over the next few years.
VALUE:
It's a fine value for young Chablis in the lower $20s; Wine-Searcher.com shows a $23 average U.S. retail.
WEB LINK
The winery offers only brief info sheet on Domaine Laroche "Saint Martin," but you can click around to find a lot more information about the winery. For a more detailed information page, visit this link at importer Wilson Daniels.
FIND THIS WINE ONLINE:
Check prices and locate vendors for Domaine Laroche Chablis "Saint Martin" on Wine-Searcher.com.
More affordable wines
Want tips to more good, inexpensive wines? Here are Wine-Searcher links to vendors and prices for a bunch more wines for $10 or less that I've told you about during the past few months. Please tell us about your favorites!
Wine Forum and Social Media
If you have questions, comments or ideas to share about today's article or wine in general, you're always welcome to drop by our online WineLovers Discussion Group, the Internet's first and most civil online community.
Discussions are open for public viewing, but you must register to post. If you're a Facebook user, you can join our forum with a single click! All you need to do is visit the forum and click "Social Login" at upper right.
We'd also be delighted to have you visit and "Like" our WineLovers Facebook Page. This way you can get Facebook notifications when there's a new The 30 Second Wine Advisor issue or a topic of particular interest on the WineLovers Discussion Group (WLDG).
Subscriptions and Administrivia
Unsubscribe:
We're sorry if you must leave us, but simply click the "unsubscribe" link at the bottom of your Email edition to be instantly removed from the mailing list.
Change address:
The quickest and easiest way to change your email address is simply to unsubscribe from your old address and register again from the new one: Subscribe to The 30 Second Wine Advisor (free).
Archives:
Read nearly 20 years of past articles in the Wine Advisor Archives.
Sponsorship Opportunities:
For information, email Robin Garr at wine@wineloverspage.com