Are you planning to uncork a bottle of sparkling wine to hail the arrival of 2023? If so, you won't be alone. According to market statistics, sparkling wine is the most popular choice for U.S. celebrations on New Year's Eve. An estimated 29% of all Americans will enjoy a glass or more to celebrate the New Year.
And I'm pretty sure that quite a few of them will be a little nervous about popping that cork. Some might say that this aversion is based on sound thinking. "The popping of a Champagne cork is actually quite dangerous," warns Union des Maisons de Champagne. "The pressure inside a Champagne bottle can launch a cork at a speed of 13 metres per second — fast enough to hit the eye from a distance of one metre in less than 1/10 of a second. Which is slightly faster than the full 1/10 of a second it takes for the human eye to blink in defence."
Whoa! And that's coming from a French trade association that's in the business of encouraging people to drink Champagne. No way do they want to discourage you. But they do want you to be careful.
So what's a thirsty New Year's Eve party-goer to do? The good news is that there's a safe and stylish way to get that cork out so gently and quietly that the cork won't fly across the room: You can keep it safely in your hand!
What's more, it's not just for safety's sake that you don't want that cork to go flying: If you're opening a pricey Champagne – and bear in mind that some prize bottles go up to $4,000 or $5,000 – you don't want to waste a drop. Even if you're going with a budget bubbly, it's still better to keep the wine in the bottle or your glass than splashed on the floor.
So what's the trick? It's really simple. Start by ensuring that the bottle is well chilled with at least a few hours in the refrigerator. This reduces the gas pressure in the bottle. Then, handle the bottle gently as you prepare to open it. Mumm Napa Brut Prestige, maker of the wine reviewed today, offers this advice:
Whether it's a swanky soiree or just an informal gathering with friends, it's time to pop that bottle …

• Never point the bottle toward yourself or others.
• First, remove the foil and then untwist the wire hood, keeping one thumb over the top of the hood to prevent the cork from moving.
• Then, with a good grip, wrap the palm of one hand around the cork, and with the other hand, hold the bottom of the bottle and twist the bottle from there.
• Twisting the bottle instead of the cork gives you more control and leads to an easy and classy opening. ​
• As a note, never try to pry the cork free or use a corkscrew.
If you'd like even more details, the folks at Union des Maisons de Champagne can fill you in. Their article, Uncorking a Bottle of Champagne, goes into considerable detail (in English) on opening the bottle and serving it with style.
Try it with your New Year's Eve bottle … and if you're looking for an excellent California sparkling wine in the celebratory-yet-affordable $20 range, I can confidently recommend Mumm Napa Brut Prestige, a California sparkling wine made by a leading French Champagne firm in the methode traditionnelle (traditional method) that imparts carbonation through additional fermentation in each individual bottle. You'll find my tasting notes below.
Support The Wine Advisor:
"Buy me a glass of wine"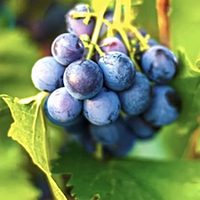 Hi, everyone! As many of you know, I don't accept free wine or other gratuities from the industry, so small donations and a select group of carefully chosen advertisers make this publication possible. Now you can lend a hand directly and cheaply: Buy me a glass of wine for just $5 to chip in on our expenses. Every ten contributions adds up to $50, enough to buy wine for review in at least two editions of The 30 Second Wine Advisor. Click to learn more!

Today's Tasting Report
Mumm Napa NV Brut Prestige ($19.99)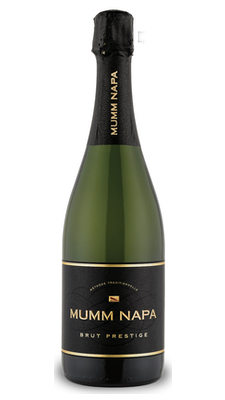 Labeled "methode traditionnelle," Mumm Napa Brut Prestige is made with a typical French Champagne blend of 45% Chardonnay and 45% Pinot Noir, plus smaller amounts of Pinot Gris and Pinot Meunier. Clear, light gold color, it pours out with a mound of white foam that falls back quickly to reveal small, lasting bubbles. Given a little time to warm in the glass, it unveils delicious, subtle scents of pears and peaches. Carbonation yields a creamy, nearly dry mouthfeel, with white fruit consistent with the nose and good, crisp acidity for balance. 12.5% alcohol. (Dec. 28, 2022)
FOOD MATCH: Assuming you aren't drinking it on its own in a celebration or as an aperitif, the producer suggests pairing it with hors d'oeuvres like crab cakes or smoked salmon; fresh green salads, or grilled chicken
and vegetables. We tried it with an Italian pasta dish, spaghetti cacio e pepe, and found the wine's acidity and carbonation did a good job of cutting through the cheesy pasta dish.
WHEN TO DRINK: Drink up, the producer says. It's not a wine meant for aging.
VALUE:
Wine-Searcher.com's $20 average U.S. retail matches my local price, which seems fair for this quality California sparkler from a French maker, although Wine-Searcher.com finds some shops offering it for $15 or less. It sells for $24 plus shipping at the winery.
WEB LINK:
For extensive information about Mumm Napa Brut Prestige, follow this winery link.
FIND THIS WINE ONLINE:
Check prices and find vendors for Mumm Napa Brut Prestige on Wine-Searcher.com.
Read more about Mumm Napa at this Wine-Searcher link and view listings for other wines from this producer.
Today's Sponsor: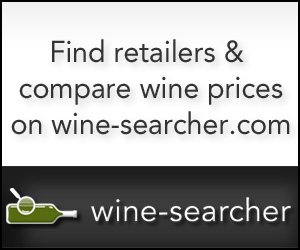 Explore Wine-Searcher
Wine-Searcher.com is the place to go online if you want to find where to buy a particular wine that interests you. What's more, Wine-Searcher.com offers so much more. It's well worth a visit just to discover its many features, including its popular list of the world's Top 10 Best Value Wines.
Good wines we've tried under $10.99!
Want tips to still more good, inexpensive wines? Here are Wine-Searcher links to vendors and prices for a bunch more wines for $10.99 or less that I've told you about in recent years. In some cases the prices may have risen over the $10.99 mark since I reviewed them, but they should still be excellent bargains. Please tell us about your favorites!
Sponsor the Wine Advisor.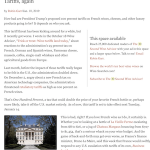 We appreciate your support
Support The 30 Second Wine Advisor and help us pay the rent while reaching 25,000 dedicated readers with your sponsorship message in this space, at the top of this E-letter, and on our social media. If you're an established business in wine, food, and similar ventures, there's no better way to focus your message toward an audience that comes here for just those topics. See our Sponsorship Page, or email Robin Garr for more information.
Wine Forum and Social Media
If you have questions, comments or ideas to share about today's article or wine in general, you're always welcome to drop by our online WineLovers Discussion Group, the Internet's first and most civil online community.
Discussions are open for public viewing, but you must register to post. If you're a Facebook user, you can join our forum with a single click! All you need to do is visit the forum and click "Social Login" at upper right.
We'd also be delighted to have you visit and "like" our WineLovers Facebook Page. This way you can get Facebook notifications when there's a new The 30 Second Wine Advisor issue or a topic of particular interest on the WineLovers Discussion Group (WLDG).