If you miss the days when you could stop by your local wine shop and pick up a nice bottle of Bordeaux or a good Napa Cabernet blend to enjoy for dinner, I have four words for you: "Castillon Côtes de Bordeaux."
It's been many years since I've felt that I can justify the price of most of the classified growths and other sought-after Bordeaux, or the top ranks of California North Coast Cabernet blends. Critical acclaim and market pressure for these high-end bottles has put them way out of my reach, and perhaps yours too.
Not to mention the reality that, even if you're willing to pay the toll, these top labels generally require years of cellaring before they're ready to enjoy. They're not intended to be served with burgers for dinner tonight or enjoyed on a Saturday evening with Netflix. Sure, you can do it – and some people actually do – but you're wasting the potential that justifies that elevated price.
So what's a thrifty wine lover to do? My instinctive response is probably typical. Turn the other way and go looking for good-value wines from other parts of the world. Not Bordeaux or Burgundy but the Southern Rhône, Provence, Beaujolais, Languedoc, and more. Not Barolo but affordable bottles from Abruzzo, Valpolicella, and the lower-price (but still delicious) reaches of Tuscany. Not the Loire but South Africa; and on to the New World with Argentina, Chile, Australia, New Zealand, and of course, the rest of California, other states of the U.S. and Canada.
There's a world of affordable wine out there, and I should know: I've been tasting it, and talking about it, for quite a few years.
But let's hold on a minute: These are choices based on avoidance. Before we put Bordeaux in our rear-view mirror, let's ask a simple question: What do everyday folks in Bordeaux and across the rest of France drink with their everday meals? I can tell you this for sure: It's not Château Petrus Pomerol at a cool $5,291 for a bottle on average.
Nope. They stop by the wine shop and pick up a good, ready-to-drink and affordable Bordeaux from one of the region's 5,660 producers that hasn't gained the kind of notoriety that drives price. They pick up a chateau-bottled wine from, for example, Blaye, Bordeaux Clairet, Bordeaux Superieur, Cadillac, Canon-Fronsac, Cerons, Côtes de Bordeaux, Côtes de Bourg, Cremant de Bordeaux, Entre-deux-Mers, or any of the other Bordeaux sub-regions that don't command nosebleed prices and don't require years of cellaring before you enjoy it with dinner.
I'd be happy with a wine from any of those regions, but we're here to talk about Castillon Côtes de Bordeaux today. It's been one of my favorites for affordable, good-quality Bordeaux for a long time, even through a subtle name change: Until 2009 the wines of the region were labeled Côtes de Castillon; now it's Castillon Côtes de Bordeaux, one of four regions that sit together in the Côtes (hillsides) of Bordeaux on the far eastern, inland edge of Bordeaux.
Like the great, expensive classified Bordeaux wines of the Médoc, these wines are made from some combination of the region's historic grapes: Cabernet Sauvignon, Cabernet Franc, and Merlot, some also adding Malbec and Petit Verdot.
Unlike most of those high-end Bordeaux (and Napa trophies) in which Cabernet Sauvignon dominates, Castillon Côtes de Bordeaux features predominantly Merlot. That's not a bad thing: Merlot, in my opinion, shines as a player in the Bordeaux blend where it adds delicious, approachable black-fruit flavors, even if I find it less appealing on its own.
Today's featured wine, Château German Castillon Côtes de Bordeaux, a product of the Bordeaux producer Domaines Alain Aubert, is typical of its region. It's 70% Merlot, structured with the addition of 20% Cabernet Sauvignon, and 10% Cabernet Franc.
Enjoy it with a touch of French history: According to the producer's website, Château German, planted in the 18th century, was the theater of major events during the French Revolution in 1789. The Girondins deputies – Pétion, Buzet and Barbaroux – sentenced by the revolutionary regime, took refuge at Château German where they died defending their liberty.
Hold these martyred deputies in mind, if you like, as you enjoy a taste of Château German Castillon Côtes de Bordeaux or any other affordable, drinkable, everyday Bordeaux with your dinner some time soon.
You'll find my tasting report below.
Support The Wine Advisor:
"Buy me a glass of wine"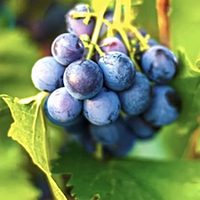 Hi, everyone! As many of you know, I don't accept free wine or other gratuities from the industry, so small donations and a select group of carefully chosen advertisers make this publication possible. Now you can lend a hand directly and cheaply: Buy me a glass of wine for just $5 to chip in on our expenses. Every ten contributions adds up to $50, enough to buy wine for review in at least two editions of The 30 Second Wine Advisor. Click to learn more!
Today's Tasting Report
Château German 2018 Castillon Côtes de Bordeaux ($12.99)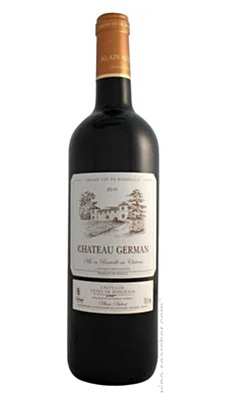 A typical Bordeaux Right Bank blend of 70% Merlot, 20% Cabernet Sauvignon, and 10% Cabernet Franc, Château German Castillon Côtes de Bordeaux is on the soft and easy-sipping side, but it offers a delicious taste of Right Bank Bordeaux fruit for an appealing price. Dark garnet in color with a thin rosy edge, it offers up juicy black fruit – plums and cherries – that carry over on the palate with plenty of mouth-watering fresh-fruit acidity for structure. Soft, gently astringent tannins join black fruit in a long, clean finish. 13.5% alcohol. U.S. importer: Cutting Edge Selections Inc., Cincinnati. (March 30, 2023)
FOOD MATCH:
Wine-Searcher suggests a traditional Bordeaux match with beef or venison. We found a more earthy match for this rustic table wine with Field Roast fennel and garlic sausages with fresh fennel, mushrooms, onions, and garlic in a fresh tomato sauce over polenta.
WHEN TO DRINK:
It's ready now and won't likely improve with cellaring, but it should be safe to keep around for a few more years.
VALUE:
Wine-Searcher.com lists it at $18 average U.S. retail price, and it would be a fine bargain in the under $20 range. My local $13 sale price makes it a load-up-the-trunk bargain.
WEB LINK:
Here's an English-language fact sheet from the producers of Château German.
FIND THIS WINE ONLINE:
Check prices and find vendors for Château German Castillon Côtes de Bordeaux on Wine-Searcher.com.
Browse Wine-Searcher for the wines of Domaines Alain Aubert, producers of Château German.
Follow this Wine-Searcher link to learn more about Castillon Côtes de Bordeaux and browse listings for dozens of other wines from the region.
Today's Sponsor: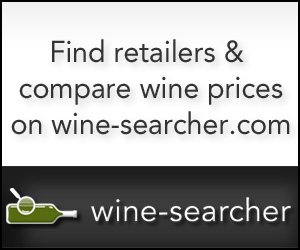 Explore Wine-Searcher
Wine-Searcher.com is the place to go online if you want to find where to buy a particular wine that interests you. What's more, Wine-Searcher.com offers so much more. It's well worth a visit just to discover its many features, including its popular list of the world's Top 10 Best Value Wines.
Good wines we've tried under $10.99!
Want tips to still more good, inexpensive wines? Here are Wine-Searcher links to vendors and prices for a bunch more wines for $10.99 or less that I've told you about in recent years. In some cases the prices may have risen over the $10.99 mark since I reviewed them, but they should still be excellent bargains. Please tell us about your favorites!
Sponsor the Wine Advisor.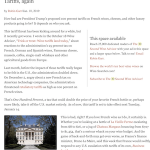 We appreciate your support
Support The 30 Second Wine Advisor and help us pay the rent while reaching 25,000 dedicated readers with your sponsorship message in this space, at the top of this E-letter, and on our social media. If you're an established business in wine, food, and similar ventures, there's no better way to focus your message toward an audience that comes here for just those topics. See our Sponsorship Page, or email Robin Garr for more information.
Wine Forum and Social Media
If you have questions, comments or ideas to share about today's article or wine in general, you're always welcome to drop by our online WineLovers Discussion Group, the Internet's first and most civil online community.
Discussions are open for public viewing, but you must register to post. If you're a Facebook user, you can join our forum with a single click! All you need to do is visit the forum and click "Social Login" at upper right.
We'd also be delighted to have you visit and "like" our WineLovers Facebook Page. This way you can get Facebook notifications when there's a new The 30 Second Wine Advisor issue or a topic of particular interest on the WineLovers Discussion Group (WLDG).