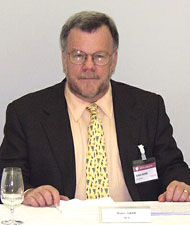 Robin Garr brings to WineLoversPage.com a combination of experience in journalism, wine appreciation and online community-building. A lifelong metro journalist, he was a working newspaper reporter for more than 25 years, winning many journalism awards including a share of the Pulitzer Prize at The Louisville Courier-Journal in 1989.
A wine lover since his first visit to the Napa Valley in the 1960s, he wrote a weekly wine column at The Louisville Times and Courier-Journal from 1980-1990. He has written about wine for many publications ranging from The New York Times to airline and other special-interest magazines, including a regular wine feature appearing in Louisville Magazine. He appeared as "The Classical Connoisseur" on National Public Radio's Radio Catskill as a regular commentator on food and wine. He has also written extensively about food and restaurants. He was an organizing wine judge at the Kentucky State Fair and has participated in its judging over two decades; he has also judged wines at Italy's Banco d'Assagio at Torgiano, the Sydney International Wine Competition, Vino Ljubljana in Slovenia, Vinitaly, the Indiana State Fair and the Maryland Wine Festival.
Robin has been involved in wine appreciation online since the mid-1980s, serving as a manager of CompuServe's Wine Forum for nearly a decade before the evolution of the World Wide Web. He created WineLoversPage.com (then titled Robin Garr's Wine Bargain Page) in 1994 as one of the first independent wine-education Websites, and has presided over its growth into the largest, most popular and most highly awarded wine destination on the Internet. He began its Wine Lovers' Discussion Group (WLDG), the first Web-based interactive wine-appreciation community, in 1996; and he launched the popular E-mail newsletter, The 30 Second Wine Advisor, at the start of 1999.
Throughout this period, in writing for print and online publications, he has held firm to two core principles: He works to make wine accessible to a wide range of readers, from beginners to experts and wine professionals; and he buys all the wines he reviews on the Wine Lovers' Page at his own expense, rating them both with and without food and presenting the results in simple, straightforward terms without snobbery or "winespeak," adhering to the basic principle, "Straight talk in plain English about fine wine."
Social Media
Robin welcomes social media connections, but suggests that you contact him with a private message to let him know who you are.
Connect with Robin Garr on LinkedIn