Ten Special Italian Wines from 2004
Article and photos © by Tom Hyland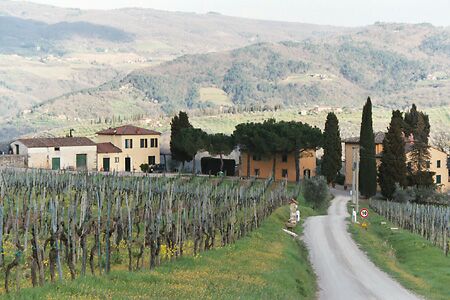 Panzanello Estate, Panzano in Chianti (photo by Tom Hyland)
I'm quite a lucky guy, considering that I get to travel to Italy several times per year to taste new releases from all around the country. In 2004, I made it over there a record seven times (I told you I was a lucky guy), being able to preview new releases of Barolo, Barbaresco, Brunello and dozens of other wine types. I even served as a wine judge in Siena in October at a wonderful event organized to promote the wines of Tuscany.
Of course, there were plenty of wines I tasted that were not in the same lofty price ranges as the previously mentioned wines. I enjoyed so many fine examples of Soave as well as Greco di Tufo and Fiano di Avellino (the latter two from Campania) along with some delicious examples of Valpolicella. In fact, these were often my favorite wines as I love finding excellent wines that don't cost a lot. There were many great bottlings of 2001 Barbaresco and 1999 Brunello I was fortunate enough to sample, but the more humble wines seem to stay in my memory so much longer. Maybe it's the value of the wines or maybe it's the fact that these wines were enjoyed with meals. Whatever the reason, it's another reason I love the simple wines produced in every region throughout Italy.
This leads me to a short list of 10 wines that were among the most memorable I tasted in 2004. This is not a Top 10 list; there are enough of those and I probably couldn't decide which 10 wines were the best. But this is a list of wines that were quite special and I think deserve to be promoted to let the public know what the heart and soul of Italian viticulture is all about.
FRIULI
2003 MARCO FELLUGA MOLAMATTA
White wines are usually the story here and one of the finest I tasted in 2004 was from Marco Felluga, one of the most recognized of the region's producers. Yet for all the excellence of these wines, the estate is underrated (the Livio Felluga estate, owned by Marco's cousin Livio is far better known). Maybe that will change with the 2003 Molamatta, a blend of local grapes Tocai Friulano, Ribolla Gialla and Pinot Bianco. This has a gorgeous aroma of pear, lemon rind and golden apples and has great richness on the palate and beautiful texture. There is lively acidity in the finish and this can hold for 3-5 years (as with many of the finest whites of Friuli) or accompany risotto with asparagus or grilled swordfish tonight! ($35)
CAMPANIA
VILLA RAIANO 2003 GRECO DI TUFO
I always enjoy Greco di Tufo, the dry white with a touch of almond from Campania's Avellino province, but never have I had so many notable examples as from the 2003 vintage. Mastroberardino and Terradora also made first-rate Greco last year, but my favorite is from this small producer. Lovely flavors of lemon rind, quince and almond and remarkable richness enhance this wine. There is also a nice touch of minerality in the finish. Try this with clams, shrimp or other shellfish tonight or over the next 2-3 years. ($22)
CAMPANIA
FONTANAVECCHIA 2001 GRAVE MORA
The most famous red wine of Campania is Taurasi, made primarily from the Aglianico grape in the province of Avellino. Another province that grows this grape is Benevento, where the finest examples are known as Aglianico del Taburno. Fontanavecchia is one of the great producers here, but I'd bet that few people outside of Italy know this name. The Grave Mora is a special bottling of Aglianico del Taburno that oozes gorgeous chocolate covered cherry fruit (a trademark of the Aglianico grape) along with tasty plum fruit and aromas of myrtle and iris. The wine is big and ripe, but it is not a fruit bomb as it is well balanced with lively acidity and subtle spice. You could try to pair this with lamb, but do yourself a favor and cellar this for 12-15 years - it's got that much staying power! ($40)
SICILY
DUCA DI SALAPARUTA 2001 DUCA ENRICO
Duca di Salaparuta is best known as the producer of Corvo Bianco and Rosso, two well-made value wines from Sicily. These wines are pleasant, but give you no idea that this estate also makes several world-class red wines. My favorite is the Duca Enrico, a 100% Nero d'Avola and the 2001 is excellent. Nero d'Avola is the most famous indigenous varietal of Sicily and its exotic tobacco and chocolate flavors only add to its appeal. While some examples of Nero d'Avola over do this or emphasize too much new oak, the Duca Enrico gets it right. Here all the flavors are seamlessly woven to create a rich, spicy red with layers of flavor and subtle spice. Above all the tannins are polished and the wine is elegant on the palate and in the finish. I can think of dozens of food partners with this wine; roast veal and pork tenderloin would be my first choices. ($35)
LOMBARDIA
NINO NEGRI 2001 VALTELLINA SUPERIORE INFERNO "MAZER"
The red wines of Valtellina in far northern Lombardia near the Swiss border are among the least recognized in all of Italy. These wines are made from Nebbiolo - the same grape that yields the sublime Barolo and Barbaresco of Piedmont - but here the wines are lighter, though just as spicy and earthy. This wine has cherry, sage, caramel and fig flavors along with subtle herbal notes in the finish. Try this with risotto with mushrooms, pasta with bolognese sauce or roast veal. At $18 retail, this is an excellent value.
SARDINIA
2002 CARIGNANO DEL SULCIS "GROTTA ROSA"
Another excellent value, this spicy red from the island of Sardinia is made from the Carignano grape. Similar to Carignane of France with its soft tannins, this grape also features lively acidity and notable spice. For a wine priced in the mid-teens, this has wonderful complexity and depth of flavor (delicious cherry fruit and hints of tobacco and sage) and would be ideal with grilled lamb chops, pasta with sausage or stews. ($16)
VENETO
2003 COFFELE SOAVE CLASSICO "CA VISCO"
Located in the heart of the old town of Soave, Coffele is the "little winery that could." The endearing Chiara Coffele and her brother/winemaker Alberto have done wonderful things over the last decade to make this producer into an estate that always delivers flavorful, complex offerings of Soave that are truly representative of what this wonderful wine type can be when done right. The "Ca Visco" bottling is richer than their regular Soave Classico and features flavors of lemon, pear, chamomile and pomegranate. This has lovely texture and would be a fine partner to risotto with vegetables or lighter seafood (trout would be a great match). This should drink well for another 3-5 years. ($18)
VENETO
2000 IGINO ACCORDINI AMARONE "LE BESSOLE"
It seems you can have your Amarone two ways these days. One is a modern style with deep purple color, super ripe fruit and the influence of small French oak barrels. The other is the traditional style that has more of an earthy, rustic character to it. There is room for both styles, but I definitely prefer the latter as too many of the modern offerings of Amarone are more in the style of a Syrah, while the oak is usually too dominant.
A producer that continues to craft traditionally styled Amarone is Igino Accordini. The amiable Guido Accordini is the winemaker and his 2000 regular bottling (labeled as "Le Bessole") is a classic Amarone with flavors of raspberry and plum with a hint of raisiny character. This is rich and ripe, but not a monster; rather it is beautifully balanced and in a word, delicious. Pair this with duck, roast pork, stews or veal chop and enjoy this lovely wine over the next 7-10 years. ($50)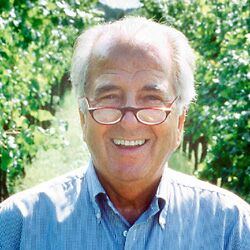 Marco Felluga (photo courtesy of Marco Felluga)
TOSCANA
2001 PANZANELLO CHIANTI CLASSICO RISERVA
There are literally hundreds of red Tuscan wines I could have chosen, but I have selected this wine as it represents a
wonderful value
from a producer that has risen to the top of the quality pyramid in Chianti over the past few vintages. Andrea Sommaruga produces wines that display great purity of the cherry fruit of Sangiovese with lively acidity, characteristic spice and textbook earthiness. 2001 was an outstanding vintage in Chianti Classico and this wine combines ripeness, great intensity and balance. This wine will age for 7-10 years; if you prefer to drink this tonight, try it with pastas with marinara sauce, steak or leg of lamb. ($24)
TOSCANA
1997 ROCCA DI MONTEGROSSI VIN SANTO
Of all the wonderful examples of Vin Santo I have tried over the past two years, this is the finest. Marco Ricasoli-Firidolfi has made a great version of this classic Tuscan dessert wine which is made by drying grapes for several months in a small room and them fermenting and aging them in small barrels for 4-5 years. This is rich and lush with delicious caramel, butterscotch and pear flavors and has a touch of nuttiness in the finish. Though moderately sweet, it finishes clean, thanks to vibrant acidity. For all its exotic flavors and intensity, this is elegant and finesseful. Enjoy this over the next 10-12 years with a simple dessert such as pound cake or cookies (please don't dunk the cookies in the wine!) or by itself. ($35 per half bottle)

January 2005
To contact Tom Hyland, visit his Website at http://www.northshorewine.com
or write him at tnapawine@aol.com

Back to Tom Hyland's Italian Wines
<!- Page Contents End Here ->