The Best Italian Wines of 2006
Article and photos © by Tom Hyland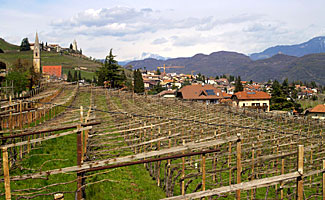 The town of Tramin surrounded by vineyards. This is where the finest examples of Gewurztraminer in Italy originate.
One of the joys of Italian wine is the endless variety of styles from regions throughout the country. There are literally thousands of wine types from north to south, so while it's next to impossible to try even a small percentage of them, I did my best during four trips to Italy last year. Here is a brief list of the best wines - or, perhaps better said, my favorite wines - from Italy in 2006.
WHITES
PINOT GRIGIO
This is usually not one of my favorite wines from Italy, as too may versions offer little fruit with very high acidity. As many consumers only ask that Pinot Grigio be a simple quaffer, why would most producers bother making anything special from this grape?
Luckily a few producers do including Livio Felluga, Gradis'ciutta and Villa Russiz. Each of these producers released an excellent Pinot Grigio this past year, but for me the finest was the 2004 Alois Lageder "Benefizium Porer". Lageder is one of the most thoughtful and precise producers in Alto Adige, the mountainous northern region that is home to many excellent botttlings of Pinot Grigio (as well as Pinot Bianco, Sauvignon and other whites) and he produces a very fine regular bottling of Pinot Grigio. The Benefezium Porer bottling however is from a spectacular hillside estate that yields grapes with great concentration and lively acidity. Lageder treats this wine with great care and even gives the wine a small period of time in oak, unusual for this grape. This is a serious Pinot Grigio with beautiful apple pear and kiwi fruit aromas, while the wine has a lovely creaminess on the palate. This is a delicious Pinot Grigio now and it should drink well for another two to three years. Don't serve this too cold or you will miss out on some of the beautiful flavors in this wine! Best of all, this is an excellent value at $18!
SOAVE
Now is a great time for Soave lovers (I consider myself one of the biggest fans of this underappreciated white wine), as there are so many wonderful examples available from a good number of producers. It also doesn't hurt when you consider the fact that the last two vintages (2004 and 2005) were excellent with deep fruit concentration and lively acidity. I tasted so many excellent examples this year so my vote goes to the bottling that combines character with a great price. The 2005 Ca'Rugate Soave Classico "Monte Fiorentine" is an exceptional Soave that has wonderful richness of fruit backed by a beautifully structured finish with striking acidity. In a word, this is delicious! This is a superb value at $18- don't miss it! (By the way, if you don't want to take my word for it, consider the fact that Gambero Rosso, Italy's most influential wine publication awarded this wine a Tre Bicchieri rating - their highest!
SAUVIGNON BLANC
I love Sauvignon Blanc (usually referred to as simply Sauvignon in Italy), especially those that emphasize the herbal, grassy characteristics of the grape. Generally, these flavors emerge in grapes grown in cool climates, with the neighboring regions of Alto Adige and Friuli offering the perfect areas for this grape.
Two bottlings of Sauvignon Blanc - one from Friuli and one from Alto Adige - stood out for me in 2006. The 2004 Russiz Superiore from Marco Felluga from estate vineyards in Collio in Friuli is a textbook Sauvignon with flavors of pear, lime and melon and assertive herbal flavors (sage, rosemary). This is not for everyone, but if you love a richly flavored, striking style of Sauvignon Blanc, this is not to be missed.
The 2004 Colternzio "Lafoa" is a stunning Sauvignon that has intense aromas of yellow pepper, green beans and banana and has incredible fruit persistence. The acidity is striking and there is a great deal of spice. This is classic Sauvignon Blanc and one of Italy's finest. Enjoy this over the next 5-7 years.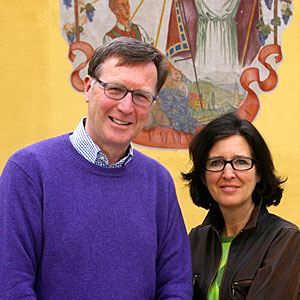 Werner and Elena Walch from Alto Adige made one of the best examples of Gewurztraminer from the 2005 vintage.
GEWURZTRAMINER
This is one of my favorite white wines (ok, it is my favorite) and there is only one area in Italy that works wonders with this grape; that region is Alto Adige. There are a few districts here that yield complex examples of Gewurztraminer, but it is the zone in and around the town of Tramin - where the grape originated - that is the epicenter for the finest bottlings in Alto Adige. Three examples over the past few years have realized the gorgeous spice and beautiful texture this grape offers and these three producers have once again made classic examples from the 2005 vintage. They are: Cantina Tramin "Nussbaumer", the J. Hofstatter "Koblenhof" and the Elena Walch "Kastelaz". All three of these are first-rate offerings that while a touch lighter than the outstanding 2004s, have even more vibrant acidity in 2005, while offering impressive fruit concentration. You'll never find a better food match with Thai food than one of these three offerings!
GRECO DI TUFO and FIANO DI AVELLINO
I've listed these two Campanian whites together as they are the classic whites of this region. The 2005 Feudi di San Gregorio Greco di Tufo "Cutizzi" is a beautiful white wine with gorgeous aromas of Meyer lemon, white flowers and white peach. Medium-full, this has beautiful texture and a distinctive finish with a nice earthy touch. The 2005 Terredora Fiano di Avellino "Terre di Dora" is one of the finest wines I have had from this estate. This is a first-rate Fiano with exotic aromas of kiwi, guava and green apples with a lengthy, beautifully structured finish. Here is a white that works ideally with seafood such as grouper or halibut or is rich enough to stand up to veal or pork.
FIANO (Outside Avellino)
One of Campania's greatest producers is Luigi Maffini, located in the province of Salerno, south of Naples. All of the wines from this largely unknown producer have great fruit intensity with vibrant acidity and display beautiful balance. My favorite wine from this estate this year was the 2005 Kratos, a 100% Fiano. This is aged only in stainless steel, yet displays wonderful texture with intriguing aromas of banana, golden apple and peony with beautiful flavors of saffron and ginger in the finish. The finish is quite long and while this is a different style of Fiano than those from Avellino, this is just as wonderful. As impressive a white as I tried this year from Italy- high praise, indeed!
REDS
CHIANTI CLASSICO
Many estates released their 2004 Chianti Classico during this past year- what a vintage! The wines display excellent fruit persistence, lively acidity and beautiful structure; 2004 is an outstanding vintage, clearly one of the three best of the past decade, along with 1999 and 2001. I tasted a number of excellent bottlings of Chianti Classico from 2004 and for me the best was the Casa Emma, which just shines with delicious cherry fruit that is balanced with pinpoint acidity and just the right amount of oak. Given that Carlo Ferrini is the winemaker, the elegance and character of this wine is no surprise. This is so wonderful to drink now (especially with veal), but it will offer pleasure for another 2-3 years and perhaps longer.
BARBERA
I have a love/hate relationship with Barbera (especially Barbera d'Asti) in Italy. I love the rich black fruit and supple tannins, but I don't like the way so many producers use so much new oak to cover up that fruit. These latter examples are too international in style and have lost their identity for me. That said, there were some exceptional examples of Barbera d'Asti I tasted this past year and I'll list three as among the finest. They are the 2004 Vietti "Scarrone Vigne Vecchie", the 2003 Braida di Giacomo Bologna "Bricco delll'Uccellone and the 2003 Tenuta Garetto "Fava". All display tremendous depth of fruit with rich, but not too much oak and have great persistence of fruit in the finish. The Braida offering is remarkably elegant for the terribly hot 2003 vintage, while the Garetto has delicious fruit and exemplary structure. The Vietti (which has not been released as of this writing) is simply a stunning wine and one of the most complete examples of Barbera I have ever tasted. This is as rich as any big red you can think of (Napa Valley Cabernet Sauvignon, Barossa Shiraz, Barolo, Brunello di Montalcino) and has a finish that goes on forever. This should be at its best in 10-12 years, which is unusual for Barbera. This is an expensive wine, but if you want to experience what a great producer can do with Barbera, don't miss this one!
BOLGHERI RED
Bolgheri, located on Tuscany's western coast, has become one of the country's most exciting wine districts over the past two decades. Here winemakers tend to focus on varieties such as Cabernet Sauvignon and Merlot, as well as the traditional Sangiovese. The wines offer up plenty of ripe fruit and spice as well as good natural acidity, thanks to the local moderate climate. Wines such as Sassicaia and Ornellaia have made this area world-famous, but the best Bolgheri red I tried this past year was from Le Macchiole, a superb estate. Their 2001 Paleo, which is 100% Cabernet Franc, is a remarkable wine that offers deeply concentrated black cherry fruit and plenty of textbook pepper nuances backed by a lengthy finish with proper tannins and oak. What I like about this wine is its power, yet overall balance - this is anything but an overripe Super Tuscan! Quite young, this needs time and will be at its best in 10-12 years. At $85-90, this is not inexpensive, yet given the pricing of other reds from Bolgheri and given the outstanding quality of this effort, the price is fair.
BRUNELLO DI MONTALCINO
This past year saw the release of the excellent bottlings of Brunello di Montalcino from the splendid 2001 vintage, a years that was rated 4 out of a possible 5 stars by the Brunello Consorzio. This is a year that was heavenly for the area's growers and the wines have great fruit concentration as well as beautiful structure for 12-20 years of cellaring, depending on the producer.
Thus I don't have one top Brunello for the year, but several. From the restraint and elegance of Il Poggione and Col d'Orcia to the power of the Casanuova Delle Cerbaie and the Caparzo "La Casa", the 2001 bottlings of Brunello di Montalcino represent many of the finest wines released in Italy in 2006. Buy these wines now (they are in the $60-$75 range), as they are the finest examples of Brunello you will find until the release of the 2004s, which will not happen until 2009.
For a complete report on the 2001 Brunello di Montalcino offerings, subscribe to my newsletter, Guide to Italian Wines. The new Winter 2006/2007 issue has tasting notes on the above wines as well as another 25 offerings of 2001 Brunello. Contact me at the email address below for subscription information.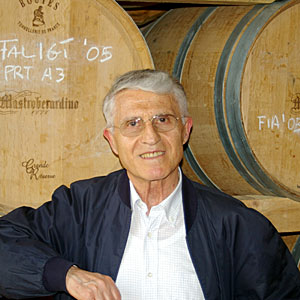 Antonio Mastroberardino, patriarch of the Mastroberardino estate in Campania.
CAMPANIAN RED
The finest red I tasted from Campania this year was the 2001 Naturalis Historia from Mastroberardino, arguably this region's most celebrated producer and certainly its most historically influenced. Mastroberardino started producing this wine in the 1990s, as a more modern alternative to its famed Taurasi, one of Italy's most sublime and longest-lived reds. The idea behind the Naturalis Historia (the name comes from a famous first century A.D. text by Roman historian Pliny the Elder) was to both update and restore the tradition of a glorious Campanian red wine with a blend of Aglianico and Piedirosso. While these two grapes are allowed in Taurasi, Campania's only DOCG red, Mastroberardino as well as several other local prodcuers, use only Aglianico for their Taurasi. So Antonio Mastroberardino, patriarch of this esteemed family estate, created this wine to fashion a new offering from traditional grapes, a nice way of maintaning their dedication to the ancient varietals of the area.
The 2001 is a stunning example of what Mastroberardino is trying to establish with Naturalis Historia. The Aglianico contributes black cherry and chocolate flavors as well as youthful tannins, while the Piedirosso enhances this wine with cranberry and black raspberry fruit along with vibrant acidity that rounds out the wine and improves the overall balance. 2001 was a superb vintage for red wines throughout Italy and the richness and structure of this offering is first-rate. An interesting comparison now is to taste this wine alongside the producer's 2001 Taurasi. Both wines will age beautifully - from 12-15 years for the Naturalis Historia to 15-20 years for the Taurasi - so the decision as to which is the better wine is difficult. Today I opt for the former offering, though I might prefer the Taurasi in another decade. What a problem to have! (The Naturalis Historia by the way is retail priced at $65, quite a reasonable amount for one of Italy's finest red wines. The 2001 Taurasi is $41, an even more remarkable price for this quality.)
NERO D'AVOLA
Nero d'Avola, Sicily's signature red grape, has become a huge success over the past decade, as there are dozens of producers making excellent examples, often at reasonable prices. It was a difficult decision to single out one Nero d'Avola this year, but for me the 2004 Santa Cecilia from Planeta was the finest I enjoyed over the past twelve months. This estate never fails to deliver on richness and varietal character with any of its wines and this is always one of its best offerings. The color is bright purple and the lovely aromas are of licorice, plum and cherry. Medium-full, this has great depth of fruit from the first taste until the finish and is backed by lively acidity and elegant tannins. This is so good now, but it wil be at its best in 7-10 years. Try this with lamb, pork roast or game for a great wine and food pairing!
December, 2006
To contact Tom Hyland, visit his Website at http://www.northshorewine.com
or write him at thwinewriter@comcast.net

Back to Tom Hyland's Italian Wines
<!- Page Contents End Here ->