Super Italian Wines at Gala Italia 2008
Article and photos © by Tom Hyland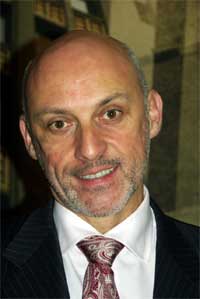 Carlo Casavecchia, winemaker, Duca di Salaparuta, Sicily. Photo © 2008 by Tom Hyland
February in New York City usually doesn't offer much promise for me (even though I do love Manhattan!), but this year proved different as I attended an excellent event called Gala Italia at the Marriott Marquis. Sponsored by the Italian Trade Commission and the office of the Italian Wine and Food Institute, the Gala combines a walk around tasting of several hundred Italian wines in all price ranges with seminars and several other happenings (in this case, an exhibit of the work of Leonardo daVinci as well as a display of Maseratis and Vespa scooters- something for everyone!). And if that wasn't enough, several of New York City's finest Italian restaurants, such as Barolo, Maremma and San Domenico served up small helpings of their fare.
The walk around tasting featured the latest releases from some of Italy's best estates from virutally every region, with some of the stellar names being Feudi di San Gregorio from Campania, Ruffino and Rocca della Macie from Tuscany and Duca di Salaparuta and Planeta from Sicily. Excellent sparkling wines from Mionetto (Prosecco) and outstanding grappas from Nonino in Friuli rounded out this impressive tasting.
For me however, the two seminars preceding the tasting were the focal point. The first was on Super Tuscans, an endlessly fascinating subject. The question for me about Super Tuscans is not so much "What are these wines all about?" but "Why do producers make them in the first place?" Aren't the Tuscans proud enough of the traditional wines they make?
Of course, marketing being as important a factor as it is these days in the wine industry, these wines are virtually a necessity. If a producer of very good Chianti Classico that sells for $15-18 can also release a Super Tuscan - let's say a blend of Sangiovese, Merlot and Cabernet Sauvignon - that is a fuller, more intense wine and sell it for $40-50, why wouldn't he? No doubt the producer will garner more press - good and bad (sometimes bad press is better than no press!) - and certainly the more expensive wine will bring more attention to the lesser-priced wine, which should result in more sales for this latter wine. So it's usually a good thing, at least for the producers.
But for the consumers, it is often a very different story. As there are no rules to the production of Super Tuscans -which is why they are not labeled as D.O.C. or D.O.C.G. wines - as in Chianti Classico, Vino Nobile di Montepulciano or Brunello di Montalcino, anything goes. A producer can use whatever mix of grapes he prefers, can age the wine as long as he likes and can charge whatever he thinks he should. Of course, price is a sensitive thing and in the long run, the market will determine the proper price for a particular wine; indeed the market will often determine if there is even a need for a certain wine. But long-term or not, there are just too many Super Tuscans in the $50-75 range that just aren't worth the money.
Unfortunately, this tasting proved that point much too well. But instead of dealing on the negatives, let me say that the group of wines selected for the seminar did display the wide range of products in this category. There were wines from producers in Chianti Classico, some in Montalcino and others still from the Maremma. Some were dominant in Cabernet Sauvignon others primarily Sangiovese, while Syrah was a part of some blends. Super Tuscan as a term takes in a lot, so we were presented a nice array of this category.
There were a few wines I liked, such as Modus from Ruffino, a well-known producer of Chianti Classico. This blend of Sangiovese, Merlot and Cabernet Sauvignon is one of the more subtle Super Tuscans, as the winery has never aimed at making this a powerhouse of a wine, preferring elegance as their direction. Other Super Tuscans may have more strength (as well as a higher price), but many estates could learn from the style of Ruffino with Modus. Americans may like ripe wines, but they want balanced wines as well and judging by the remarks of the people sitting near me at this seminar, elegance was not a common theme of these wines.
Also impressive was the "Milanni" from Guicciardini Strozzi, a blend of 60% Sangiovese, 30% Cabernet Sauvignon and 10% Merlot (this wine was from the outstanding 2001 vintage). This is a very consistent, reliable producer (they make one of the most impressive bottlings of Vernaccia di San Gimignano, Tuscany's best-known dry white) and the Milanni has ripe fruit and rich tannins with everything blending together seamlessly for a wine that should age well for another decade. This is a nice direction for a Super Tuscan!
After a delicious luncheon that featured osso buco, the second seminar focused on Italian wines from the 2003 vintage. Though the 2003 vintage was hardly great, as an oppressive heat wave engulfed virtually every wine region in the country, yielding wines of higher than normal alcohol and lower than normal acidity, there were some excellent wines produced that year. This seminar was of much greater interest to me, basically because we had a nice cross section of wines from Amarone to Barolo. It was also a better seminar in my mind, as the wines across the board were of more consistent quality than the Super Tuscans.
We were treated to a 2003 Brunello di Montalcino from Castello Romitorio, a highly underrated producer. While this was not their best vintage, it did offer excellent depth of fruit and very good complexity. As with any Brunello, this needs some time in the bottle and in this instance, will be at its best in another 7-10 years.
A trio of Amarones from 2003 was a nice highlight of this tasting with the Bolla being my favorite. Displaying distinctive spice with good ripeness, this is an Amarone meant for consumption over the next 5-7 years and would be especially good with fuller game or beef stew. While other producers make flashier bottlings of Amarone, Bolla still aims for a style that is crafted for the table and not for high scores in wine publications.
The best wine of this seminar was hardly a surprise. The Duca Enrico from Duca di Salaparuta in Sicily is usually among the finest Italian red wines from any given vintage and the 2003 is certainly no exception. This is 100% Nero d'Avola (initially produced from the 1984 vintage, this was the first pure Nero d'Avola from Sicily) with excellent concentration and rich, complex aromas of beautiful maraschino cherry with subtle vanilla tones from small oak barrels (very nice use of wood here) with a mid-palate that offered layers of flavor. Despite a finish that was slightly short (this is typical from a hot vintage such as 2003), this is a first-rate wine that is simply delicious and will drink well over the next 7-10 years with just about any red meat (roast lamb would be ideal).
I spoke with winemaker Carlo Casavecchia after the event and complimented him on this wine, while asking him a few questions about the red wines of Sicily. He is proud of this wine, but believes that some of his fellow winemakers on the island use too many international varieties, such as Cabernet Sauvignon and Merlot, to blend with Nero d'Avola. Casavecchia believes that the best bottlings of Nero d'Avola should be made exclusively from this grape; to that end, he sources grapes from plantings near Gela on the southern coast of Sicily, an area which yields Nero d'Avola grapes that have more power than some areas further north or west.
Some final thoughts on the Gala Italia. To put together an event such as this with seminars for several hundred people, followed by a huge walk-around tasting combined with food stations, exhibits of art and automobiles and even a fashion show, takes an enormous amount of work. The Italian Trade Commission in New York City under the leadership of Augusto Marchini did an excellent job with this and assembled a nice mix of journalists and trade people for the day.
Special thanks go out to Dr. Lucio Caputo, the president of the Italian Wine and Food Institute, who runs this event every year. Caputo, who is also the president of the International Trade Center of New York, a company dedicated to the promtotion of Italian wine and food products in the United States, is a tireless worker. I've met him before at VinItaly, the huge wine fair held every year in Verona, and he is constantly working the crowd, getting journalists to attend special tastings or meals to learn more about Italian wines and foods. I'd say he would make a great politician, but I don't want to insult him! Gala Italia is his dream and he continues to organize an excellent day of education on Italian wine and food.
February 2008
To contact Tom Hyland, visit his Website, "Learn Italian Wines," www.learnitalianwines.com or write him at thwinewriter@comcast.net