Two Grand Italian Restaurants - American style
Article and photos © by Tom Hyland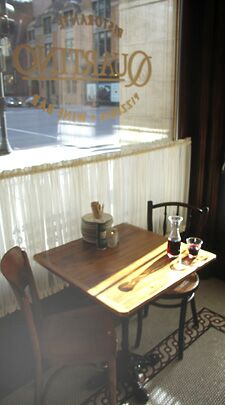 Quartino, located in Chicago, is one of the best new Italian restaurants in the country. (Photo courtesy of Quartino Resturant.)
During my travels to Italy, I dine at many memorable eateries, from simple - but excellent - trattorie to some of the most elegant ristoranti. In a few months, I'll write about some of these places, but today's article deals with two outstanding Italian restaurants in America that I've dined at recently. One is in New York City, the other in Chicago; and while they different approaches to Italian food, both offer a first-rate dining experience.
---
Babbo Ristorante
110 Waverly Place, New York City
(212) 777-0303
Babbo Ristorante in New York City is by now one of the most famous Italian restaurants in America. Much of that has to do with the owners, Joseph Bastianich and Mario Batali. Bastianich is the son of famed Italian chef Lidia Bastianich and he has taken his love of Italian food to great heights as he co-owns (at latest count) a dozen Italian restaurants in New York City, several of which, including Lupa and Esca, he owns with Batali. Bastianich is also the proprietor of a tremendously successful eponymous winery in the Friuli region in Italy (the Vespa Bianco, a blend of local white grapes, has been among the finest white wines in Italy for the past half-decade) and he has recently begun producing wine in the Maremma district in Tuscany.
Batali is one of the best-known Italian chefs in the country and while his ebullient personality and eclectic dress (especially his shoes) make him a recognizable figure, it is his stunning work with foodstuffs from all over Italy that has given him an almost cult status. His work at Babbo is amazing and he never ceases to amaze the diner.
I had dinner for the first time at Babbo on a Tuesday night this past November, and the place was packed. Every table was full and the bar was populated with 20- and 30-somethings enjoying an impromptu meal, as these were customers that couldn't get a reservation, but just had to dine there that night. As I was talking with Bastianich, Jennifer Aniston passed by and sat at her table just a few feet away. No one said anything or made a commotion - that's the kind of place Babbo is! "Yes, we get a lot of celebrities," Bastianich told me. "It's good for business." (He told me that was the second time Aniston had dined there in the last week.)
There are so many wonderful choices off the regular menu, and each displays the creativity and imagination of Batali and sometimes, his sense of humor as well. The calamari "Sicilian Lifeguard" style (actually there are no Sicilian lifeguards!) is quite tangy with a blend of ingredients including currants, capers and chilies.
My favorite dish was pumpkin ravioli in a half-moon shape ("luna") with sage. Once the plates were set down, the waiter came over with a grater and what I assumed to be an Italian cheese for topping on the pasta. But no, he was grating an amaretto cookie! It turns out that amaretto is used for topping a similar dish in the Veneto region and Batali has adapted that dish for a wonderful primi. Incredibly flavorful, yet light, like many dishes here, this is a must at $17.
I could go on about the food for a long time, but I'd be repeating myself with words like "great," "inspired" and "remarkable." Rabbit, quail and duck receive heavenly treatment and even a simple grilled pork chop is memorable, as is the service, which is smart and highly professional.
The wine program here is one of the finest in the country. Headed by David Lynch, who co-wrote the outstanding book, Vino Italiano with Bastianich (truly a modern-day bible of Italian wines), the selections from every region in Italy are astonishing. Friuli, Tuscany and Piemonte are especially strong; and Lynch and Bastianich have done their homework, as they concentrate on smaller estates, often from lesser known, but highly respected wine districts. There are also several carefully chosen wines available by the glass. Ask Lynch for help, as he is thorough in his knowledge and quite personable, always making the diner feel at ease.
One final note. The Babbo website (www.babbonyc.com) is a must read! Along with the menu and wine selections from the restaurant, the site also has features on special ingredients, articles on assorted wine regions of Italy along with tips on travel in Italy. Check out the website; it's one of the best of its kind!
---
Quartino
626 N. State Street, Chicago
(312) 698-5000
At Quartino in Chicago, the approach differs, but the result is no less satisfying for the diner. This new restaurant (opened in December 2005) is a combination wine bar and trattoria that is fun and extremely reasonably priced. If that makes you think the food might be ordinary, think again. The wide-ranging Italian cuisine from chef John Coletta is dazzling.
Located on North State Street, Quartino has a simple but charming dining room with small tables as befits the trattoria theme. There is also a handsome bar and next to that about a dozen small bar tables where patrons can enjoy a simple appetizer or even a whole meal along with a glass or two of Italian wine.
The concept here is small plates of Italian food, akin to a tapas restaurant for Spanish food. Cold small plates (spuntini freddi) coast only $4, while the hot small plates (spuntini caldi) are only $6, with bruschette costing only $4. Prices for the specialties of the house (read small entrees) are only $12.
The best place to start is with salumi, most of which are made in-house. The mortadella is incredibly light, while the duck prosciutto and bresaola are richer and just as delicious. Try a small piece of cheese such as Taleggio or Parmigiano Reggiano along with a selection of three wonderful types of olives and you'll be off to a fine start, wondering how good the remainder of your meal will be.
There are dozens of splendid choices here, from the small plates and salads to pastas and even carpaccio and risotto. There's not enough room here to talk about all the selections, so I'll mention a few highlights. For the cold small plates, try the Sicilian caponata, a delicious eggplant salad with olives, capers and tomatoes, or the calamari salad with sliced lemons, garlic and extra virgin olive oil. For the hot small plates, the polenta fries with red bell pepper salsa are a delight, while the roasted baby octopus (served with braised escarole, red chili and extra virgin olive oil) is so good, you'll want another helping, as my dining partners and I did.
Don't miss the grappa cured salmon, which comes with sweet and sour cucumbers. This is remarkably light and flavorful salmon that has none of the earthiness of many similar dishes found elsewhere. I mentioned how sweet and delectable this salmon was to chef Coletta who told me, "Most salmon is filled with mercury; this one's filled with grappa!" Even more remarkable about this dish is the price - an unbelievable $8!
For $7, six pastas are available, of which my favorite is the gnocchi with potato dumplings, arugula and pesto, while the risotto with Tuscan sausage, tomatoes and peas (also $7) is sublime. Finally, a great way to finish the meal is the crispy duck leg with spiced cherries for $12. Tender and rich, the meat just melts in your mouth. I'm pretty partial to duck and this is one of my favorite preparations anywhere!
A few words about John Coletta. Though not as famous or highly visible as many great chefs, Coletta is easily in their league. A veteran Chicago chef (he established the wonderful Caliterra restaurant a few years back), Coletta has been at the top of his game for some time; about a decade ago he represented the United States in the Culinary Olympics. Where some chefs at this point in their career might have turned to a small, exclusive eatery with a highly eclectic menu, it's nice to see Coletta turn his attention and unlimited talent to his love of Italian food.
I've known Coletta for several years and spoke with him several times during the period this restaurant was getting its plans together. He made several trips to various regions in Italy for research and his hard work shows. Though reasonably priced, this is very special food. You'd think you were in Italy when you taste the offerings here, as this food has spice, character and soul. No faux-Italian food here - this is the real thing!
The name Quartino refers to the size of the glass of wine you can order (about 8 ounces). There are nine white and nine red selections available by the quartino (as well as half-liter or full liter size) and some of the choices, including a Bosco Montepulciano d'Abruzzo and Ca'Bianca Barbera d'Asti, are very good. Somewhat surprisingly, even an Est! Est!! Est!!!, a modest dry white from Lazio, is selling very briskly. When a restaurant can accomplish that, you know they have a good plan.
The 70 or so selections by the bottle naturally focus on Italian wines, but there are a few selections from California and Spain with a bottle or two from South Africa and even Greece thrown in for good measure. There are some nice values here (such as the Boroli Barbera d'Asti "Quattro Fratelli" for $33), and it's also good to see an excellent dry Riesling from the great Alto Adige producer Alois Lageder ($37). Many types of Italian wines, from Orvieto to Gattinara, are represented here, so this is a list that covers a broad base of Italian wine.
What's most unusual about the list is its outline. There are six categories - three white and three red - each divided into grape varieties such as Cabernet Sauvignon, Chardonnay and Merlot. While these are hardly classic Italian wines, this was done to help the public understand the style of wine they can expect when making a bottle selection. Thus if someone who has heard of Gavi but isn't quite sure what the wine is all about, they will discover this is a medium-bodied white with crisp, bright fruit, as opposed to a more full-bodied Chardonnay. It's an interesting concept, and while a few things could be changed, overall it works rather well. Aside from Pinot Grigio and Chianti Classico, Italian wines are still largely a mystery to many American consumers, so this is a convenient way to demystify the process.
The proprietors of Quartino, including John Coletti and Hugo Ralli, also own a few other restaurants in Chicago, of which Gibson's Steakhouse is the most famous (virtually every Chicagoan and thousands of conventioneers across the country know Gibson's). Given their previous successes, there was a great deal of excitement about the opening of Quartino. Just a little over a month into business, Quartino is a wonderful achievement!
January 2006
To contact Tom Hyland, visit his Website at http://www.northshorewine.com
or write him at tnapawine@aol.com

Back to Tom Hyland's Italian Wines
<!- Page Contents End Here ->