2004 Vintage Notes from Italy
Article and photos © by Tom Hyland
I recently spent a week touring three Italian wine regions to get the news on the harvest as well as taste some new releases. Here is a brief description of the good news from northern Italy!
PIEDMONT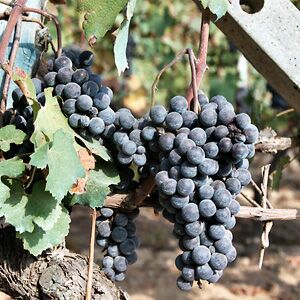 Ripe Nebbiolo grapes just before harvest in La Morra. These grapes will be used to produce Barolo.
I arrived in the Barolo zone just in time for the first Nebbiolo grapes for production of Nebbiolo to be harvested. The Dolcetto harvest had been compete for about two weeks and most of the Barbera was in, though a few vineyards were left.
Everyone I spoke with was thrilled with this year's harvest. Alessandro Locatelli of Rocche Costamagna in La Morra told me that quantity for Dolcetto and Barbera was 30-35 percent higher than normal. Alfio Cavalotto of the eponymous estate in Castiglione Falletto reported similar numbers, stating that they had to "work hard" to stay under the maximum yield permitted. Both Cavalotto and Locatelli reported that numbers are not as high on Nebbiolo, but the quality looks great, with Locatelli stating that the wines will have big tannins.
After a very difficult 2002 with plenty of rain (and extensive hail damage) and a lack of rain and troublesome heat in 2003, this is certainly welcome news for Piemonte in 2004!
As for wines, I had the chance to taste the 2001 Barolos from Marcarini that had been drawn from the barrel. Both wines - the crus Brunate and La Serra - displayed great depth of fruit and lovely perfumed aromas. The early word on the 2001 Barolos has been nothing short of magnificent (the bottlings of Dolcetto and Barbera I have tried from that year have been noteworthy) and these two wines were of the highest quality. It should be interesting to taste these wines again when they are released in the fall of 2005.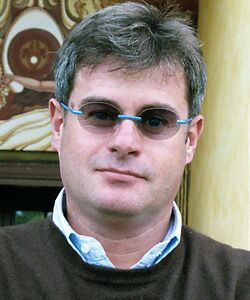 Stefano Inama - winemaker of eponymous estate in Soave Classico
VENETO
More reports of an excellent harvest in Soave and Valpolicella. My friend Guido Accordini from the Igino Accordini estate in Pedemonte in Valpolicella. Emailed me just before my trip writing, "I wish you could be in the vineyards today to see how beautiful the grapes look!" I never did make it to Valpolicella on my short trip, but apparently everything there was just fine.
I did spend a few days in Soave and the harvest was just beginning. Chiara Coffele of the eponymous estate in Soave was quite happy with the weather this summer and predicted big yields this year. Stefano Inama also told ne that things looked great, though he did report a major hail storm in the nearby Colli Berici district (about mid-way between Verona and Vicenza) that wiped out about half of his Cabernet Sauvignon.
Inama's latest releases are again excellent, with the 2002 Soave Classico "Foscarino" rating highest for me. This and the exotic Soave "Du Lot" are examples of Soave like few other producers make it, especially the latter with its tropical fruit character. If you want to experience what a great producer of Soave can do, don't miss these wines.
As for Coffele, Chiara and her brother Alberto were thrilled that they finally received a "Tre Bicchieri rating from Gambero Rosso, one of (if not the) most influential wine publications in Italy. This was for the 2003 Soave Ca'Visco", which does age in barrique and is more powerful than their regular Soave Classico. This producer is one of Soave's best-kept secrets, which may not be true much longer!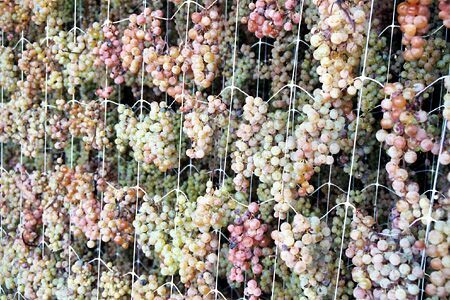 Garganega grapes hung for drying for production of Recioto di Soave
TUSCANY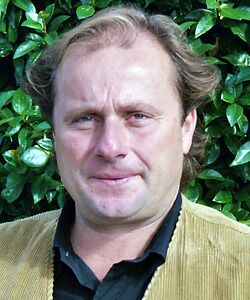 Marco Bacci - proprietor of Castello di Bossi, Chianti Classico
I had read that the rains come to Chianti Classico in mid-October and wouldn't you know it, there was a very heavy storm in Siena on October 14. The rains continued for two more days, though it never got quite as heavy as that first day.
Some producers did not complete their harvest in time, so they may have problems, but for those who did, including Marco Bacci of Castello di Bossi, things look great. Bacci smiled when he told me that he had completed his harvest on the 11th, just three days before the rains came. He reported high quantity (30 percent higher than normal) and told me that 2004 was "the most normal harvest" he could recall in ten years. "It was warm during the days, cold at night and there was just the right amount of rain," Bacci stated.
I tasted the new releases of Castello di Bossi and am happy to report all high marks for the wines. The 2001 Chianti Classico Riserva "Berardo" is a beautiful wine (the 2001 vintage was stellar in Tuscany and much of Italy) with layers of delicious fruit, lively acidity and tannins to carry the wine for another 7-10 years. This has about 15 percent Merlot blended with Sangiovese and Merlot has been a striking success for Bacci, as evidenced by the 2001 Girolamo, a 100 percent Merlot. This has excellent depth of cherry fruit along with the structure to drink well for 10-12 years.
Girolamo is one of the finest expressions of Merlot in Tuscany (the 1999 is drinking beautifully now) and though this retails for $60, it is less than the releases from a few other famous producers in Chianti Classico. Castello di Bossi is one of the finest producers in this zone (even the regular Chianti Classico is excellent), so remember this name for high quality Tuscan wines (these are brought into the United States by Winebow, a major importer of Italian wines, so they should be available in most major markets. Note that the wines from this estate that I tasted will not be available in the U.S. for a few months).

November 2004
To contact Tom Hyland, visit his Website at http://www.northshorewine.com
or write him at tnapawine@aol.com

Back to Tom Hyland's Italian Wines
<!- Page Contents End Here ->