New Tuscan reds - Eating in Montalcino
Article and photos © by Tom Hyland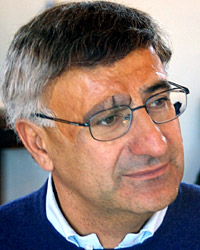 Federico Carletti, owner of Poliziano, one of Italy's finest red-wine estates. His 2004 Vino Nobile di Montepulciano is outstanding.
I have just returned from a week in Tuscany - warm, sunny Tuscany - where I tasted new releases of Chianti Classico, Vino Nobile di Montepulciano and Brunello di Montalcino. Every year I am invited to these preview tastings (known as
anteprima
) as journalists from around the world get their opportunity to taste Tuscan reds before they are released in the marketplace.
I'll touch on a few general topics here, as these wines will not be in the American market for anywhere from 3-6 months. The 2004 and 2005 reds from Tuscany are beautiful wines with the 2004s being richer with greater fruit concentration. The 2004 regular bottlings of Vino Nobile di Montepulciano are excellent, as this is a first-rate vintage that is welcome after the light 2002s and the slightly overripe 2003s. Especially recommended are the Poggio Alla Sala, Dei (especially impressive), Godiolo (a small estate whose wines are just arriving in the United States thanks to importer Paolo Boselli) and Boscarelli.
Two estates worth singling out are Lodola Nuova and Poliziano. The former is the Vino Nobile estate owned by Ruffino and this is a property that has been on quite a roll as of late. The 2004 regular bottling has lovely aromas of cherry and rose petal and offers good depth of fresh, lightly spicy Sangiovese fruit (Sangiovese is the predominant grape in this wine; the grape is known locally as Prugnolo Gentile). The 2003 Riserva is even better with greater concentration of fruit and a flavorful finish with silky tannins. 2003 was a very hot vintage and it shows in most of the releases, as the typical Vino Nobile from this year has a rough, slightly drying finish. But not with the Lodola Nuova; this was the finest 2003 Riserva Vino Nobile I tried at this event!
Poliziano is arguably the finest estate in Montepulciano, offering wines of great depth of fruit, polished tannins and wonderful intensity. These wines, made by the renowned Tuscan enologist Carlo Ferrini, show the true greatness that Vino Nobile di Montepulciano can display. The estate is owned by Federico Carletti, who carried on the great work started by his father and has made this one of Italy's greatest estates. Remarkably, these wines were almost totally unavailable in the United States for the past year. However, Carletti has chosen a great importer, Vin diVino of Chicago, to represent the wines in the United States, so you should see these wines in the coming months. The 2004 regular Vino Nobile from Poliziano is the finest he has made in my opinion and the 2004 Asinone, from a single vineyard, is a powerhouse with the concentration to age for 12-15 years.
As for Chianti Classico, the 2004 Riservas are very special wines with excellent fruit character and lively acidity to assure several years of improvement. Look for the Il Molino di Grace, Le Miccine and Volpaia. The regular 2004 Chianti Classicos are of course lighter (in the mouth and the wallet!), but are beautiful wines to enjoy tonight and over the next 3-5 years with pastas with marinara sauces, veal medallions or beef. Seek out the offerings from San Felice (Il Grigio), Castello di Bossi and the highly underrated Fattoria La Ripa, which is a nice expression of the local terroir.
The 2005 regular Chianti Classico bottlings are also impressive and if they are a bit less full than their 2004 counterparts, they do offer vibrant acidity, bright fruit and wonderful elegance. These are also remarkable food wines as they sacrifice power for drinkability. The most impressive of these were two wines that represented different styles. The Querciabella has all the refinement and velvety qualities you would expect from a Tuscan red; try this over the next 2-3 years with pork, veal or even a simple vegetable dish. The 2005 Brolio Chianti Classico is a riper, more powerful wine with excellent concentration of fruit and a big finish. Every year, this wine displays a lot more than you would expect in a Chianti Classico normale and it is a wonderful value!
As for Brunello di Montalcino, this year's offerings represented two different styles of wines. We tasted out the new 2002 Brunellos from a rather ordinary vintage. Now there have been some terrific vintages in this area as of late (1997, 1999, 2001), so a less than superb vintage is not a huge problem as producers have plenty of wine to sell. But the 2002 offerings are from a cool vintage and do not have the normal depth of fruit you would expect to find in a Brunello di Montalcino.
That said, there were many very good to excellent bottlings, as some producers, who normally would make a Riserva bottling, decided to use those grapes for the regular bottling, beefing up that wine. Most other producers cut back seriously in the vineyard, producing 40-50% less in 2002 than from a normal year.
One benefit of the 2002 Brunellos is that they can be consumed earlier than most examples. So look for most of these to be at their best in 5-7 years, while the very best should have a shelf life of 7-10 years and perhaps a few years longer. Among the best 2002 Brunellos I tried were those from Casanuova delle Cerbaie, Col d'Orcia, Caparzo, Il Palazzone and Sesta di Sopra.
It should be noted that some producers did not make a 2002 Brunello di Montalcino. It would be easy to say these producers did the right thing and others should have followed their lead, but each estate must do what is right for them. So while some producers (such as Poggio Antico and Le Chiuse) have no 2002 Brunello, other estates, knowing that their name - and thus, reputation - is on the label, made far less wine than normal.
Also tasted were the 2001 Riserva Brunello di Montalcino and here there is no difference of opinion on the quality, as these are dazzling wines from a superb year. The Consorzio ranked 2001 with a 4-star rating and there are some producers as well as journalists (myself included) who think that this should have been 5-star vintage (the highest rating).
The regular Brunellos from 2001, which I reviewed last year had excellent depth of fruit, lively acidity and outstanding structure and should age beautifully for 15-20 years. The 2001 Riservas, made from the finest, often oldest, vineyards from certain estates are quite special, with tremendous concentration and powerful aromas. The best of these wines will live for 20-30 years or perhaps longer!
I will have detailed tasting notes on both the 2001 Riserva Brunello di Montalcino as well as the 2002 regular Brunello di Montalcino in the spring issue of my newsletter, Guide to Italian Wines. This is a subscription newsletter, costing $40 per year for four quarterly issues. The spring issue incidentally will feature my list of the Best Italian Wines of 2006. To subscribe, please email me at the address at the end of the article.
Dining in Tuscany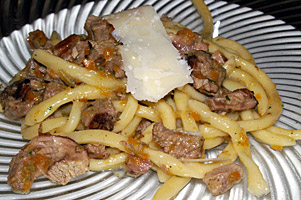 Pisce con agnitello e tartufi bianchi toscani, hand-made pasta with lamb and Tuscan white truffles, at Ristorante di Poggio Antico.
I know that millions of Americans will travel to Tuscany this summer and many of those will visit the charming hillside fortress town of Montalcino and the immediate countryside. If you will be heading there soon, you owe it to yourself to try two special eateries, one a quaint osteria right in the town and the other, a sublime gourmet restaurant just a few miles away in the countryside.
Osteria di Porta al Cassero is a small eatery serving local foods from the Montalcino area (the adjective by the way is montalcinesi) with classic offerings such as zuppa di pane (a vegetable soup with unsalted Tuscan bread) and pinci all'aglione (the local hand-made pasta with tomato sauce and garlic) as well as a wonderful cinghiale (wild boar) dish served with local beans. All of these selections are excellent and are reasonably priced from 6 Euro to 8 Euro for the wild boar. Owner Piero Cecchini is a charming man and seems to know everyone in town. His English is good, if not great, so don't hesitate to ask him questions. If you still have trouble, menus are available in English.
Start your meal off with the classic bruschette, two pieces of toasted bread, one covered with the freshest Il Poggione Extra Virgin Olive Oil (Piero's bother Paolo is one of the principals at this first-rate Brunello estate, a few miles away) and the other topped with diced tomato. This is an outstanding traditional dish and it will make you feel Tuscan with one bite! (Osteria di Porta al Cassero, Via della Liberta, 9, Montalcino, closed Wednesdays).
For dinner, you should reserve a table at Ristorante di Poggio Antico, which is located in the same country driveway as the winery offices and cellars of this famous Brunello producer. A few miles south of the town of Montalcino, not far from the town of Sant'Angelo in Colle, this restaurant has become quite renowned over the past decade with the unique food stylings of Chef Roberto Minnetti, who has his own take on the local cuisine. Portions are small to medium-size, but they are quite rich and all of them are excellent.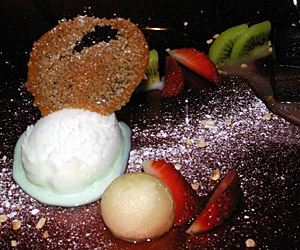 Coconut ice cream and chocolate dessert at Ristorante di Poggio Antico.
The evening I dined there with the effervescent winery owner Paola Gloder, I enjoyed an oustanding dish of
pisce con agnitello e tartufi bianchi toscani
(local hand-made pasta with lamb and white Tuscan truffles - yes there are white Truffles in Tuscany!) This was a remarkable dish with the tender flavors of the lamb accented by the piquant qualities of the truffles. I also enjoyed chicken liver served on top of a sauce made from Moscadello di Montalcino, the local dessert wine made from the Moscato grape. This had a wonderful mix of earthiness and sweetness.
Desserts include a number of flavorful ice creams, including coconut, which I enjoyed with some gorgeous chocolate. I highly recommend this restaurant not only for its elegant settings and superb service (attentive without being overly so), but also the impressive food and last, but certainly, not least, the remarkable wines of Poggio Antico. (Ristorante di Poggio Antico, open for lunch and dinner seven nights a week from April to October. Closed on Sunday nights and all days Monday between November and March, 39-0577-849200.)
March 2007
To contact Tom Hyland, visit his Website at http://www.northshorewine.com
or write him at thwinewriter@comcast.net

Back to Tom Hyland's Italian Wines
<!- Page Contents End Here ->