The Simple Pleasures of Italian Wines
Article and photos © by Tom Hyland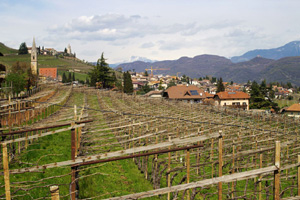 Vineyards at Tramin, Alto Adige, home of the country's best Gewurztraminer. Photos © 2008 by Tom Hyland
Too many wine publications use sound bites in their attempt to make wine a little bit easier for the public to understand. The ultimate sound bite of course is a wine's score on the 100-point scale; this is about as easy as it gets for a consumer. Why talk about the particular flavors of a wine or discuss the balance between fruit and acidity when you can tell people how good or bad a wine is with a simple score? Thus a 92-point wine must be better than one that receives 88 points, right?
Well, it's rhetorical question of course; and I think most people know that the higher the score, the more full-bodied a wine is. If that's your definition of a better wine, so be it. But I would like to believe that there are many wine lovers out there that don't necessarily think that "bigger is better" in every instance.
Would you really want a just released 95-point Super Tuscan with its super-ripe fruit to accompany your roast lamb tonight? If points matter to you, that's fine, but for me, I'll have the humble 88-point Chianti Classico, which is more elegant and approachable and plays up better to the lamb.
Another major question raised about points is that all wines are not created equal in the minds of those who score them. Ever notice that the wines that do receive scores in the mid to high 90s are usually red with very ripe fruit and plenty of oak?
This is especially true in California, Australia and other New World regions, but it's also becoming more common with some Italian wines. Thus an international style Brunello or Amarone gets a higher score than a more subdued traditionally made example.
If you blindly follow points, then you'll probably think that an Amarone such as Bertani or a gorgeous traditional Brunello from Il Poggione, Col d'Orcia or Talenti or a superb Barolo from Bartolo Mascarello, Brezza or Marcarini are old-fashioned and not as exciting as a more international approach to these wines. This clearly is not true, whatever your preference in style.
Finally, the high scores usually are reserved for what I call trophy wines, such as Barolo, Amarone or Brunello (as well as Napa Valley Cabernet Sauvignon or Bordeaux). But what about an extremely well made example of Gewurztraminer from Alto Adige or a vibrant Sauvignon from Friuli? Aren't these white wines just as impressive as the most famous red wines? Doesn't the same hold true for lighter red wines from Italy such as Dolcetto or a simple Valpolicella?
The bottom line is pleasure and as you drink most of these wines with food, you'll notice that the bigger the wine, the fewer foods they can accompany without overpowering what's on your plate. With that in mind, here are some of my favorite Italian wines that don't get the attention they deserve.
Pietro Ratti of Renato Ratti, La Morra, Piemonte, produces an excellent Dolcetto d'Alba.
GEWURZTRAMINER
The best examples of this wine in Italy are from the Alto Adige region, where the cool climate preserves snappy acidity and brings out remarkable aromatics, such as rose petal, lychee and grapefruit. These are beautifully structured wines that can age 3-5 years, which is quite impressive for an aromatic white. Look for examples from the 2007 vintage from such producers as J. Hofstatter, Elena Walch and Cantina Tramin and grab a bottle the next time you head out to a BYOB Thai restaurant (all three of these estates produce a single vineyard offering, priced in the $30 - $40 range that are sublime). The distinctive spice in the wine beautifully accompanies this style of food, especially for pork, chicken or shrimp dishes.
SOAVE
Once a huge sales success in the US, Soave hit upon hard times when Pinot Grigio became the in-demand quaffing white for millions of consumers. But lately, Soave has enjoyed a comeback as a few dozen producers in the area have decided to produce more flavorful bottlings by lowering the yield in the vineyards and emphasizing the honeydew melon and yellow flower aromatics of the Garganega grape. A few of the top examples can age for 3-5 years, but for most Soaves, drink them at 2-3 years of age. Look for these wines in the $15 - $22 range from producers such as Ca'Rugate (the Monte Fiorentine bottling is delicious and a fine bargain), Gini, Pieropan and Coffele.
DOLCETTO
While the Nebbiolo-based wines, Barolo and Barbaresco get most of the glory in Piemonte, Dolcetto gets pushed aside when it comes to the topic of serious reds in the area. This is a charming red infused with lush black raspberry and cranberry fruit, moerate acidity and fairly soft tannins that make this approachable upon release.
While there are some examples of Dolcetto that do need some time in the bottle to round out (most notably those from Dogliani), the typical Dolcetto d'Alba should be enjoyed within 2-3 years of the vintage. The best examples are from estates such as Pio Cesare, Renato Ratti, Rocche Costamagna, Ascheri and Elio Grasso and will cost you between $18-25 per bottle. Pair a Dolcetto d'Alba or a Dolcetto di Diano d'Alba (Fontanafredda makes an excellent example called "La Lepre") with dishes as varied as braised rabbit or roast chicken.
CHIANTI CLASSICO
Arguably the world's most loved red wine (I say that as it is much more affordable than most of the world's most famous reds such as Bordeaux or Napa Valley Cabernet Sauvignon), Chianti Classico seems to have become a largely forgotten wine over the past half-dozen years.
Now most Italian restaurants in this country continue to carry one or two examples on their wine lists, but the truth of the matter is that Chianti Classico has lost a lot of market share in retail. The problem here is not one of quality, but rather one of price. Consumers used to paying $12-$16 for a bottle of Chianti Classico now must get used to a price tag in the $18-22 range. For some, that's too much, so they spend their $12 or $15 on a bottle of Shiraz from Australia or a Malbec from Argentina. Nice wines, but not the same.
Thankfully the dollar has become much stronger versus the Euro, so prices for Chianti Classico should stabilize (and perhaps even drop?). Perhaps this will lead consumers to rediscover the charms of this wine, which is produced in a lovely rolling hillside zone between Florence and Siena. Made primarily with Sangiovese (minimum 80%), some producers have opted toward a more international style by aging the wine in small French oak barrels or by adding small amounts of Merlot, Cabernet Sauvignon or Syrah.
Yet there are still plenty of producers here that opt for the traditional style, aged in large casks and often blended with indigenous varieties such as Mammolo or Canaiolo. These examples are elegant with tasty red cherry fruit, lively acidity (which makes them ideal food wines) and light cedary notes. These are wines that can age for 3-7 years depending on the producer or vintage, but are also approachable upon release. Look for Chianti Classico from such producers as Badia a Coltibuono, San Felice and Castello Vicchiomaggio.
December 2008
To contact Tom Hyland, visit his Website, "Learn Italian Wines," www.learnitalianwines.com or write him at thwinewriter@comcast.net