Italian Varieties - A to Z
Article and photos © by Tom Hyland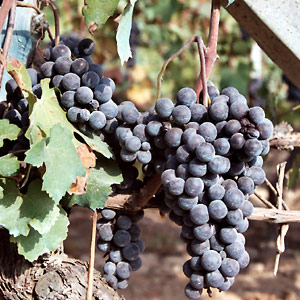 Ripe Nebbiolo bunches in vineyard in Piedmont for production of Barolo. Photo © 2007 by Tom Hyland
At the heart and soul of Italian viticulture are the wines made from indigenous varieties. These grapes - many of which are native to only one or just a few Italian regions and nowhere else - offer this country's bold answer to the claim that too many wines around the world taste alike these days.
Everyone's familiar with Chardonnay, Cabernet Sauvingon and Merlot. While these are widely planted in Italy, they are not dominant and do not represent any particular region or district. Rather, varieties such as Sangiovese, Nebbiolo, Barbera, Greco and Fiano tell the story of Italian wines in detail and with great complexity.
In today's world, where it seems everyone wants information at their fingertips in an instant, it's no surprise that the wines of the world have been dumbed down to the Big Six, as I like to call them; the six varieties that dominate plantings in many countries around the world. These six are Chardonnay and Sauvignon Blanc for white and Cabernet Sauvignon, Merlot, Pinot Noir and Syrah for red. All are wonderful varieties, but as you don't eat the same foods all the time, I'm assuming you want something different in your glass of wine as well.
So turn to Italy, as foreign sounding and as unusual their varieties may be. To help ease the confusion, here is a brief guide to some major Italian varieties (not all 2,000!) from A to Z. This is just a brief list, remember; we won't even get into some of the more exotic varieties such as Sciascinoso, Caprettone or Freisa!
Aglianico (red)
The great red grape of the South, Aglianico is most famously grown in Campania for the DOCG wine, Taurasi. The flavors are ripe black cherry with hints of chocolate (who could refuse that?) with good acidity and enough tannin to insure medium to long-term aging (anywhere from 5-25 years). Aglianico is also grown in the neighboring region of Basilicata in the underrated Aglianico del Vulture.
Barbera (red)
The most widely planted red variety in Piedmont, Barbera is spicy, ripe with blackberry fruit, light tannins and high acidity. Styles range from light and tangy to full-bodied, meant for rich meats or cellaring for 5-7 years.
Coda di Volpe (white)
A charming white grape found in Campania that is most often used in blends of Greco di Tufo or Lacryma Christi del Vesuvio Bianco. The name means, "tail of the fox,", a fanciful description of the shape of this grape's clusters.
C also means Corvina, the primary red grape in the production of Amarone, the Veneto's most distinguished red.
Dolcetto (red)
This Piemontese variety produces some of the most charming red wines anywhere in the world. Dolcetto is a juicy red with delicious boysenberry and cranberry fruit with moderate acidity and tannins and is generally consumed young, within 2-3 years of the vintage. The examples of Dolcetto from the town of Dogliani are generally more full-bodied with a bit more tannin and can age up to 5 to 7 years.
Erbaluce (white)
Grown in northern Piedmont, this is a high-acid grape used in still and sparkling wines. The most famous wine is Erbaluce di Caluso.
Fiano (white)
Fiano is found in the south of Italy, most notably in Campania and Sicily. The typical aromas and flavors are of pear and apple with notes of honey; the most famous example is Fiano di Avellino. Some versions are aged only in stainless steel, while a few producers pick the grapes late and then barrel age them and a few even make a dessert wine from Fiano.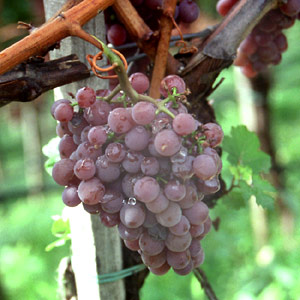 It's not indigenous Italian, but it's good: Ripe Gewurztraminer bunch in Alto Adige vineyard. Photo © 2007 by Tom Hyland
F covers two other white grapes in Italy:
Favorita
, a medium-bodied dry white from Piedmont and
Falanghina
, a high-acid grape grown primarily along the coastal vineyards of Campania.
Greco (white)
Another famous white from Campania with flavors of lemon and apple with notes of almond. The most famous example is Greco di Tufo.
Another famous "G" variety is Garganega, the wonderful white grape that is the principal variety of Soave. Garganega has lovely aromas of honeydew melon and yellow flowers.
H
As there is no letter H in the Italian alphabet, there are no varieties beginning with H (at least as far as I can tell - let me know if you discover any!)
Incrocio Manzoni (white)
Rarely seen, this is a cross between Riesling and Pinot Bianco. (Apparently there are two different types of Incrocio Manzoni, if you can believe it! This is 6.0 13.)
J
Sorry, no variety beginning with J.
Kerner (white)
A dry, medium-high acid white from Alto Adige grown by a few estates.
Lagrein (red)
A wonderful red grape from Alto Adige that should be better known. Deep purple color, aromas of black plum and black raspberry and not-too-heavy tannins make this a sumptuous red wine.
Montepulciano (red)
A famous red grape from Abruzzo, the grape is most famously seen in the region's most celebrated red, Montepulciano d'Abruzzo, which features deep color and peppery flavors. Not to be confused with the Tuscan red wine, Vino Nobile di Montepulciano, made primarily from the Sangiovese grape.
Nebbiolo (red)
Nebbiolo is Piedmont's gift to the wine world. This region's two most famous reds, Barolo and Barbaresco are produced entriely with Nebbiolo; as this grape is quite tannic, this helps explain why these two wines are so long-lived. Nebbiolo d'Alba is a lighter example meant for earlier consumption.
N also stands for Nerello Mascalese, an ancient red variety grown in the Etna district of Sicily, and Negroamaro, a spicy red variety from Puglia.
Oseleta (red)
A local red variety from the Veneto region grown by only a few producers.
Picolit (white)
A truly remarkable grape from Friuli that has difficulties producing berries (a problem known as "floral abortion"). The resulting wines, though rare, are sumptuous, exotic dessert wines that are lush and remarkably complex; in older times, Picolit was said to be a favorite of the Austria-Hungarian emperors who then ruled this region.
There are other "P" varieties as well in Italy including Pignolo, a red from Friuli; Pinot Bianco, most famously seen in Alto Adige, and Pinot Grigio. And of course, there's Prosecco, the grape that is the base of the similarly named sparking wine from the Veneto.
Q
None.
Rondinella (red)
One of the three major grapes used in Valpolicella and the production of Amarone. Light spice and red cherry fruit are its hallmarks.
Sangiovese (red)
Arguably the most famous grape - red or white - in all of Italy. Sangiovese is found in several regions such as Lazio and Umbria, but is most at home in Tuscany. Here the grape is the principal one used in Chianti Classico (as well as all other versions of Chianti), Vino Nobile di Montepulciano as well as the only grape used in Brunello di Montalcino.
There are plenty of other "S" varieties in Italy, including Schioppettino, a peppery red from Friuli, and Schiava, a light, high-acid red from Alto Adige. One of the most noteworthy is Sagrantino, a highly tannic red from Umbria. Sagrantino di Montefalco is Umbria's most distinctive, long-lived red and one of Italy's finest.
Tazzelenghe (red)
Found in Friuli, this is not a particularly famous red, but the story of the name is wonderful. The name literally manes "cut the tounge," a reference to the grape's aggressive tannins.
Uva di Troia (red)
A native grape of Puglia, associated by name and legend with ancient Troy, this violet-scented grape is made as a stand-alone variety or in blends by only a few producers today.
Vermentino (white)
This is a high-acid white grown on Sardinia as well as the coastal areas of Tuscany, such as Bolgheri. There are often aromas of the sea with these wines as well as a distinct saltiness in the finish.
Other Italian "V" varieties include Vernaccia, which is used to produce the famous dry, medium-bodied white, Vernaccia di San Gimignano in Tuscany. Also in Friuli, Verduzzo, produces one of Italy's most luscious dessert wines.
W
As there is no "W" in the Italian alphabet, there are no varieties beginning with "W."
X - Y
Sorry, no varieties beginning with X or Y either (as of this writing!)
Zibbibo (white)
This white grape is planted in Sicily, most famously on the island of Pantelleria, where the great dessert wine, Passito di Pantelleria. Zibbibo is Arabic for "raisin", which is what this grape looks like after the heat of this island during the ripening season. Zibbibo is the local name; the grape is also known as Moscato of Alessandria.
August 2007
To contact Tom Hyland, visit his Website, "Learn Italian Wines," www.learnitalianwines.com or write him at thwinewriter@comcast.net


Back to Tom Hyland's Italian Wines
<!- Page Contents End Here ->