Words About Port
Port Wine Institute's Road Show
© copyright March 2003 by Roy Hersh
Photos courtesy of I.V.P.
In early February, the Instituto do Vinho do Porto (I.V.P. or Porto Wine Institute http://www.ivp.pt) again made a swing through the Pacific Northwest to kick off its second annual gala: "A Very Special Port Tasting." From here, this traveling Port tasting heads to Atlanta, Boston, Montreal and Toronto this year. The inaugural I.V.P. tasting in 2002 also began in Oregon and Washington, and was such a huge success, with so many attendees that even the organizers were surprised by the impressive turnout. Consequently, the Pacific NW was again chosen as the starting place for this year's tasting extravaganza.
Mario Ferreira, Director of Marketing and Communications for the USA and Canada, is based out of the New York office of the IVP. Mr. Ferreira, along with assistance from Lori Randall of Randall Public Relations in Seattle http://www.randallpr.com, coordinated the event and Ms. Randall made an excellent choice of venues for this year's extravaganza. I was unable to attend the well-received first tasting in Portland that took place on Feb. 4, but I subsequently found out that there over 300 people came to learn, taste and mingle this year. In Seattle, there were in excess of 450 attendees this year at the historic Dome Room in the downtown Arctic Building.
The stunningly beautiful dome was a perfect centerpiece for the wine tasting, and the Dome Room along with an adjacent room, were perfectly sized. Unlike many other large tastings held for wine industry members and also the public, there was never a feeling of being over-crowded or having to wait in long lines to approach the tasting tables. The well-adorned tables of food in the middle of the Dome Room drew crowds away from the wine tables that lined the room's perimeter. I got a kick out of seeing many people eating while looking up in awe at the fantastic dome overhead. The strategy worked and the food was great too!
As I wanted to try to taste each and every wine, I showed up a little bit early. Mr. Ferreira, who was adeptly checking the final details and making sure everyone was ready for the five-hour marathon, greeted me at the entryway. I also greeted other friends whom had flown all the way from Portugal to pour wines and help in educating both members of the media and wine trade as well as the public. The trade tasting lasted three hours and provided retail, hotel and restaurant wine buyers direct access to over a dozen Port producers and more than 100 wine samples of various styles of Port.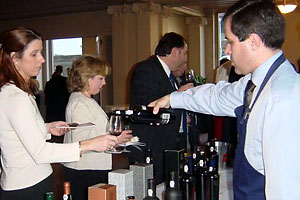 Pedro Mansilha Branco of Quinta do Portal
After the trade group departed and a short break in the action, the public was allowed in for their "session" which lasted another two hours. This gave me the additional time I needed to get to taste every wine in the room and take ample notes as well. I am fortunate to have had much prior practice participating in a plethora of Port parties and tastings. While carefully expectorating wine and making my way through a room filled with Port, keeping accurate tasting notes on over one hundred wines, was a fun, yet daunting challenge.
A couple of observations: there was a large percentage of late twenty and thirty-something's which is important for the ongoing health of the Port wine trade. Attracting young wine lovers and familiarizing them with Porto is one of the key elements to a tasting such as this one. I also noticed many more women this year at the tasting, which was refreshing. I say that because of the stigma Port used to conjure up as a man's drink, consumed in the private cigar rooms of well-heeled restaurants and clubs, etc. This must change if the Port marketeers are to succeed in reaching non-traditional consumers.
One dynamic, which I was keenly aware of, was that when the public entered the Dome Room, they flocked to the tasting tables and immediately began asking lots of great questions. I paid particular attention to the responses that were offered and was glad to observe that the presenters took their time to educate the inquisitive Port novices. It was clear that most of the people in the room were there to learn about the intricacies of Port. This was clearly NOT your "come-to-a-wine-tasting-to-catch-a-buzz-crowd." I was impressed with the level of enthusiasm by the attendees and after I finished my notes, spent some time helping to answer Port questions around the room.
Although Seattle is a pretty sophisticated wine market for its modest size and population base, it is considered a prominent Port market. Most if not all of the usual suspects are represented on retail shelves and in restaurants around town. Many of the hard to find lesser-known Port Shippers are available as well. I have heard from both Port importers and local distributors that the sales data from "off-premise" sources, suggests that Seattle is creeping up the list of the "Top Ten Port Markets in the USA."
Before I make note of some of the most interesting Ports that I encountered during the tasting, I did want to share some other observations. Although I have long been a fan of Riedel's Vinum Port Glass, I have now found the ultimate glass for consuming Port. It was introduced in Portland and Seattle at these Port events. In fact, each attendee was allowed to test drive this glass during the course of the tasting. I immediately perceived various improvements over well-known Port glassware. The "Official I.V.P. Port Wine Glass" is exclusively distributed by Ohm Design (http://www.ohmdesign.com).
One of its unique points of difference is that it has a quadrilateral stem that makes the glass much easier to hold onto compared to a round stem. Additionally, there is a notch or "dimple" in the stem, which is tailor-made for a thumb or forefinger. It fits very comfortably, adding stability, which is especially important at a tasting where you are likely to be jostled. There are other unique features of this glass (like the flat profile of the base) that separate it from its competitors. Congratulations to architect Alvaro Siza Vieira for his great design that was created at the request of the Port Wine Institute.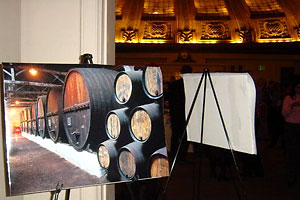 Port-related photos were placed around the tasting room
I thoroughly enjoyed this year's photo exhibition of the Douro Valley. Not only were there some excellent large scale photos of the Douro River Valley where Port grapes are grown, but also pictures of the harvest and the great terraces and many other facets of this rustic, remote part of the wine world. A short slide presentation with a guest speaker might be an interesting educational experience and something new for next year's tasting. This could take place an hour prior to the actual tasting and could serve to whet the attendee's appetites with Porto passion and information.
Instead of just inviting the major Port players, Mr. Ferreira welcomes Port Shippers great and small, which adds character and charm to this tasting event. I particularly enjoyed being introduced to the small, if not obscure rising stars of the Douro that I would otherwise just read about in wine magazines. Also, there was the full spectrum of Port styles such as Ruby, Tawny, Vintage Character (this term is being replaced by "Ruby Reserve" by the IVP), LBV's (Late Bottled Vintage), 10, 20, 30 and 40 year old Tawny Ports, Colheitas and classic Vintage Porto.
This broad spectrum of Port styles, made for a great educational experience for many people who learned a lot about this diverse beverage. Port continues to grow in popularity across the US and many other countries around the world. Lastly, I wanted to mention that rarely do I attend Port tastings that are so well organized with every detail looked after. Kudos goes to Mario Ferreira and Lori Randall for making this an extraordinary tasting event. Finally, onto the wine itself.
A dozen Ports worth mentioning: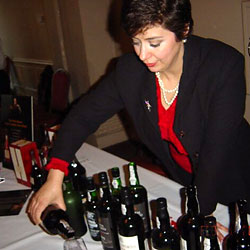 Ms. Maria Stevens of Royal Oporto
Barão de Vilar 20 year old Tawny
- not only had I never tasted this wine, I never even heard of this producer and that is not something that happens to me very often. Vilar also had a very good version of a 1994 LBV that I enjoyed, but this Tawny stood out as one of the "sleepers" of the tasting. The Vilar Tawny was more akin to the depth and complexity found in an old vintage Madeira, not just a 20 year old Tawny. It showed wonderful almond and charming roasted nutty flavors on the exquisite finish that was as long as ANY wine at this tasting. How do I get more of this?
http://www.aidilwines.com
Barros Lágrima White Port - another fine example of how good white Port can be. Until now, I have only seen and tasted Lágrima in Portugal. The Portuguese seem to like this sweet style very much and it is widely available there, but not found easily elsewhere in the world. Oak aging is normally between 3 - 5 years, and the wine is produced utilizing free run juice from a variety of white grapes. This sweet style of white Port is very unique and can double as a dessert wine, as it pairs well with a variety of cheeses. http://www.porto-barros.pt
Churchill White Port - speaking of white Port, this is always a crowd pleaser and my favorite in this category. There were two others white Ports offered by Portuguese producers (this is a family - owned British House) but this was the best white Port of the show with its unique salmon color and great acidity. It is the perfect complement to many food styles too. I am starting to see this wine sold a lot more often here in Washington State. http://www.churchills-port.com
Cockburn 2000 Vintage Porto - I never had the opportunity to taste this before I released my 2000 Vintage Porto Forecast article. I found this to be a well made vintage Porto with finesse and fruit to please wine aficionados for the near and long term. Mild, round tannins are present and allow the boysenberry fruit to express itself at this early stage. The lingering finish was impressive. http://www.allieddomecqplc.com
Ferreira 1997 Vintage Porto - this is not a monster or jammy VP like many from '97. It is full - bodied and well balanced with a soft, smooth mouthfeel and lots of charisma. This Ferreira shows mostly red fruit aromas and flavors with a nice touch of chocolate on the silky finish. A nice wine for current consumption although it will age nicely for the next decade too. http://www.broadbent-wines.com
Kopke 1950 Colheita - along with Niepoort this is my favorite producer of excellent Colheitas. This very light colored wine is not as stunning as 1952 and 1957 Colheitas from Kopke, but it is still a very solid example of the genre. Mouth filling and plentiful, this wine has wonderful flavors of marzipan and roasted chestnuts. Kopke's Colheitas are all about smooth texture and incredible length on the finish and in this way, the 1950 delivered the goods. http://www.kopkeports.com
Kopke 1980 Colheita - what a difference 3 decades make. This is showing much less evolution than the 1950, yet I prefer the softness of this wine. In the past, with comparative Kopke Colheitas such as the 1977, the younger versions do not have the same degree of nutty characters as their elder siblings. This 1980 did have a lovely caramelized character that I really enjoyed along with a superlative finish.
Porto Souza 1994 LBV - this is a late bottled vintage Porto from a vintage that speaks for itself, especially for those who love Port. Souza is not commonly known in the USA yet, and I have had very little experience with this Shipper. Their LBV is more about elegance, which is a rarity in such young versions. Bright, ripe and spicy blueberry fruit with a medium body, is shown against a backdrop of gentle tannins. It finishes strong and long with ripe raisiny flavors that linger on the palate for quite awhile. This producer deserves credit. http://www.europawines.com
Quinta do Noval Raven "Very Superior" Porto - it's no secret that I am fan of Noval Ports and I actually enjoyed their 1997 LBV (although it barely falls short of their outstanding earlier effort: 1994 LBV) more than this wine. But this was quite a popular wine at the tasting and seemed to create quite a "buzz." It is a well made Ruby Port with a unique package and I was told that it targets novices and women who prefer a genteel style of Port. Raven is aged four years in wood and is presented in a 500 m.l. bottle which is quite atypical for Porto. http://www.quintadonoval.com
Quinta do Portal 20 year old Tawny Port - although I liked many wines that were shown by this producer this was one of the finest 20 year old Tawny Ports in the room. I discovered Quinta do Portal for the first time at last year's IVP tasting here in Seattle and again at the 2002 London Wine and Spirits Trade Fair. The color is the only thing light about this wine. The Portal depicted excellent flavors of hazelnuts and a rich, exotic mandarin orange sweetness that gently caressed the palate. What I loved most was the long and succulent finish of this wine. http://www.quintadoportal.com
Quinta do Portal 1999 Vintage Port - I tasted through all of the vintage Ports and many were quite good. This was a standout for me for a couple of reasons. The 2000 is a big wine and from an extraordinary vintage, but the 1999 vintage was overlooked by most Port experts. Mistake! I have tasted well over a dozen Ports from this vintage and this is right atop the heap along with the Niepoort Secundum '99. Very approachable now, the '99 Quinta do Portal is the wine to drink while their 2000 vintage Port ages in the cellar. It shows excellent overall balance and structure for a wine from an unheralded vintage.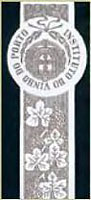 Quinta do Tedo 1997 Vintage Porto - another new kid on the block and one of the very few Port Shippers with French ownership (Noval is owned by French insurance conglomerate AXA). Vincent Bouchard from the famed Burgundy family has taken on the lead role in this new "single quinta" endeavor. 100% foot trodden in lagar, the vines average over 30 years old on this historic property that dates back ca. 200 years. Tedo has been making VP since 1995 and also has a lineup of LBVs dating back to 1994. The 1997 VP was my favorite of their wines, although the 2000 are very good too. The 1997 possessed a medium dark ruby color and had smooth and rich blackberry flavors with a touch of lively tannins. I look forward to hearing more about this producer in the future. http://www.quintadotedo.com
All in all, this was a great afternoon into evening, with fine Ports, good food and a fantastic location for this year's event. I can't wait until 2004 and the challenge of making my way through another hundred Ports. If you would like to discuss or ask Port related questions, please feel free to contact me at Portolover@aol.com

Roy Hersh
March 29, 2003
Words About Port index page