<!TODAY'S TEXT STARTS HERE!>

30 Second Wine Tasting Tip:
A Cask of Amontillado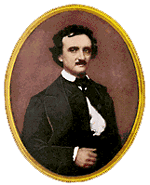 "For the love of God, Montressor!"
Who among us can hear that chilling line from Poe's "Cask of Amontillado" without feeling a curious impulse to taste this dark, strong Spanish wine? Yet for many people, even wine lovers, Amontillado is a bit of a mystery. Utterly different in style from table wines and different still from the sweet fortified wines like Port, Sherry in general and Amontillado in particular remain one of wine's undiscovered secrets for many people.
What is this wine, the mere mention of which allowed Poe's eerie protagonist to lure his rival, the connoisseur Fortunato, to the depths of his wine cellar only to be buried alive?
No fictional drink this, Amontillado is a real wine, one with a heritage that goes back many centuries, and it is available (although not commonplace) in today's wine markets.
Amontillado (pronounced "Ah-MOHN-tee-YAH-doe," meaning "in the fashion of the village of Montilla") is a Sherry from Jerez in southern Spain, a strong wine that's made by an unusual process that gives it a flavor entirely like most other wines. It is made in open barrels with a natural yeast called "flor," then aged until it takes on a brownish color and an odd oxidized flavor that reminds many people of walnuts or pecans. It is "fortified" by adding brandy, which gives it a long life and also makes much stronger as regular table wines. Some Sherries are sweet, but Amontillado is usually dry, and it is particularly full-bodied and robust.
A small neighborhood liquor store might not carry an Amontillado, but any retail shop that specializes in fine wines will almost certainly have it. One good brand (although certainly not the only one) is Emilio Lustau, whose Amontillado I review in the weekly tasting note below. Sherries aren't terribly expensive by fine-wine standards. I would expect a bottle of fine Amontillado to cost around $10 to $15.
Amontillado is generally sipped from small glasses as a cocktail or after-dinner wine, perhaps with cheese or nuts. If you try it, be sure to sip it while enjoying Poe, perhaps in front of a crackling fireplace!
A few bonus links: The Consejo Regulador DO Jerez-Sherry y Manzanilla is the official Sherry regulatory body. Its site is available in English, French and Spanish. Although the Emilio Lustau page is a commercial site with an obvious interest in selling its product, it also offers a lot of good educational information about this unusual wine. Finally, if you'd like to brush up your Poe, a private site, Pambytes' "Selected Works of Edgar Allen Poe" includes the complete text of many of his stories.
What's your take on Sherry ... or on Poe, or on the interface between good literature and fine wine? If you'd like to talk about it, send me E-mail at wine@wineloverspage.com. I regret that the growing circulation of the "Wine Advisor" makes it difficult for me to reply individually to every note, but I'll answer as many as I can; and please be assured that all your input helps me do a better job of writing about wine. Please feel free to get in touch if you'd like to comment on our topics and tasting notes, suggest a topic for a future bulletin, or just talk about wine.
If you're enjoying The 30 Second Wine Advisor, we hope you'll tell your wine-loving friends to register for their own free weekly copy at http://www.wineloverspage.com/wineadvisor.
30 Second Tasting Notes
A tasty if atypical Amontillado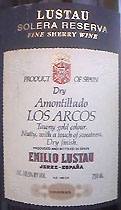 Emilio Lustau non-vintage Solera Reserva Dry Amontillado Los Arcos ($10.99)
Clear amber, with a delicious aroma of fresh cracked pecans that fills the room when a glass is poured, with subtle herbal overtones becoming more evident as the wine opens in the glass. Pecans dominate the flavor, too, in a flavor that's rich, nutlike and slightly sweet (the sweetness being a bit out of character for a usually dry Amontillado); pecans and lemon-squirt acidity linger in a long finish. U.S. importer: Europvin USA, Emeryville, Calif., selected by Christopher Cannan. (Feb. 12, 2000)

FOOD MATCH: Best served as an aperitif or for after-dinner sipping.


For notes on this and two more Lustau Sherries, see my online wine report at www.wineloverspage.com/wines/sher0213.shtml.

30 Second Wine Link

With so many winery Websites being little more than advertising messages on the 'net, it's a pleasure to see a major winery go beyond the "television commercial" model to include real wine-education content. Worthy of special note is ArtisansandEstates.com, the recently re-launched site for Kendall-Jackson Wine Estates' high-end wineries. Its "Take an online tour of the artisan winemaking process" section offers an interesting graphical outline of the ways that red and white wines are commercially made.

A survey for fanciers of wine and food

The University of Maine is conducting its annual online food and drink survey through March 7. At the conclusion of the survey, the university will randomly select five completed entries to receive an assortment of Maine specialty food products.

The survey should take approximately five minutes to complete, and all information is completely confidential. The only personal information requested is your E-mail address (so you can be contacted if you win a prize). The survey is under the direction of Dr. Greg White of the University of Maine.

If you would like to participate, the survey form is at www.ume.maine.edu/~specfood/. If you participate, naturally we hope you'll list The Wine Lovers' Page as your favorite Website!

Introducing: Wine 'Toons

It's my great pleasure to introduce a new feature on The Wine Lovers' Page, Chuck's Wine 'Toons by Georgia cartoonist, craftsman and wine lover Chuck Stoudt. Chuck is a funny guy and a prolific cartoonist, so we expect a new 'toon weekly. We hope you'll enjoy them!

30 Second Advertising Partner

California Wine Club, www.cawineclub.com, is the perfect, affordable way to get two different bottles of excellent wine every month, along with its fun and fact-filled newsletter Uncorked. Commercially unavailable, these wines are like secret treasures we hand-select from California's small, award-winning wineries. Join for as many months as you like, or use The California Wine Club as a special, unique gift for friends, family, customers and colleagues. You can reach the Club at the link above or, in the U.S., by calling 1-800-777-4443.

30 Second Administrivia

This free weekly E-mail publication is distributed to subscribers every Monday. Previous editions are archived on The Wine Lovers' Page. See www.wineloverspage.com/wineadvisor/thelist.shtml.

You are on the subscription list because our records indicate that you registered during a visit to Robin Garr's Wine Lovers' Page. If for any reason you don't want to receive this publication, simply send E-mail to 'wine@wineloverspage.com' and we'll remove your name from the list. We do not use this list for any other purpose and will never give or sell your name or E-mail to anyone.

If your E-mail program is having trouble handling the images in this edition, feel free to request that we switch you from the HTML to TEXT edition ... or vice versa. We welcome feedback, suggestions, and ideas for future columns. Send us E-mail at wine@wineloverspage.com.

All the wine-tasting reports posted here are consumer-oriented. In order to maintain objectivity and avoid conflicts of interest, I purchase all the wines I rate at my own expense in retail stores and accept no samples, gifts or other gratuities from the wine industry.

More time for wine?

You don't need to wait for Mondays to read about wine! Drop in any time on Robin Garr's Wine Lovers' Page, where we add new tasting notes several times each week and frequently expand our selection of wine-appreciation articles, tips and tutorials.

If you'd like to talk about wine online with fellow wine enthusiasts around the world, we'd be delighted to have you visit the interactive forums in our Wine Lovers' Discussion Group. If you're from another part of the world and don't feel entirely comfortable chatting in English, visit our International Forum and introduce yourself in the language of your choice.

Vol. 2, No. 5, Feb. 21, 2000

<!TODAY'S TEXT ENDS HERE!>

Subscribe (free) to The 30 Second Wine Advisor