<!TODAY'S TEXT STARTS HERE!>

30 Second Wine Tasting Tip:
Any Port in a (winter) storm

Port makes a delicious, warming after-dinner treat on a cold winter night, so now's the time to be thinking about it!

To make a long story very short, genuine Port is made in Oporto, Portugal. It is a "fortified" wine, meaning that it begins life as a regular red wine made from grapes but goes through an unusual wine-making process in which brandy is added to the fermenting juice before it is finished. The result? The brandy kills the yeast before fermentation is complete, leaving a substantial amount of natural fruit sugar in the wine and also adding a powerful alcoholic punch. Thus Port is a very sweet, very strong wine that is normally served after dinner, by itself or with cheese and nuts. It contains about 20 percent alcohol, nearly double the strength of table wines, so it's best sipped in small portions!

There are several different kinds of Port, and they vary substantially in cost and style. Vintage Port, the finest kind, is made entirely of grapes grown in a specific year, and it's not made every year, only in years when nature cooperates by providing very good grapes at harvest time. By nature, Vintage Port requires many years of age before it is ready to drink. A young one will be quite rough and harsh, and it needs time in the bottle to turn it into a mellow and wonderful treat. Vintage Port "throws" a substantial sediment with time, so it is customarily served by being transferred into a decanter, taking care to leave the muddy sediment behind. Depending on age and the reputation of the vintage, the price of Vintage Port may range from about $30 to $100 or more.

Another style, Tawny Port, is kept for many years in barrels before being bottled, a process that smooths and mellows the wine while its color turns from dark ruby red to a golden brown. Tawny Ports are deliciously sweet, usually have no sediment, and are ready to drink when you buy them. Tawnies are often labeled by the time they spend in barrel - 10, 20, even 30 years or more - and are priced accordingly, from $20 or so to $100 or more.

Ruby Port is non-vintage (usually a blend of several years), and is considered less fine; compared to a well-aged Vintage Port it's typically both simple and a bit rough. But at prices ranging from under $10 to $20 or so, it's a good starting point. You'll also see variations like Late Bottled Vintage Port, which is a sort of vintage-dated Ruby, and Colheita, a vintage-dated Tawny.

A few Port-style wines are made in the U.S., and a wealth of them - mostly in the Tawny style - come from Australia. These rarely reach the heights of quality of genuine Vintage Port, but they're relatively affordable and can make delicious dessert wines.

Do you enjoy Port? Tell us your Port experiences in an E-mail to wine@wine-lovers-page.com. I regret that the growing circulation of the "Wine Advisor" makes it difficult for me to reply individually to every note, but I'll answer as many as I can; and please be assured that all your input helps me do a better job of writing about wine. Please feel free to get in touch if you'd like to comment on our topics and tasting notes, suggest a topic for a future bulletin, or just talk about wine.

If you're enjoying The 30 Second Wine Advisor, we hope you'll tell your wine-loving friends to register for their own free weekly copy at http://www.wine-lovers-page.com/wineadvisor.

30 Second Tasting Notes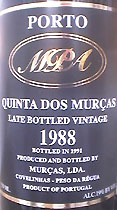 Quinta dos Murças 1988 Late Bottled Vintage Porto ($13.99)
Inky dark ruby in color, almost opaque. Fresh blackberry and "stone fruit," plums and prunes on the nose and palate. Warm and strong, a bit harsh at first but mellows and adds an aromatic note of menthol as it opens up in the glass, showing rich sweetness and tart, tannic acidity. Seems to lack the depth of the vintage style, but the price is right. U.S. importer: World Shippers & Importers Co., Philadelphia. (Dec. 25, 1999)

FOOD MATCH: A delight with a traditional British accompaniment, blue-veined Stilton cheese.


30 Second Wine Link

Speaking of Port, if you would like to learn a great deal about this subject, I know of no better online source than Keith Gabryelski's excellent Website, http://www.wildfire.com/~ag/portwine/. No tasting notes, just a good, organized site with so much content that it's almost like an online book about Port and Port-style wines.

New Year's Guide to Sparkling Wine

As a quick reminder, if you're shopping for a special sparkling wine to celebrate New Year's Eve, our New Year's Guide to Bubbly, http://www.wine-lovers-page.com/wines/wt121799.shtml, includes links to all the Champagne and sparkling-wine notes I've posted in the past year, and I intend to add at least a couple more notes between now and Dec. 31.

30 Second Advertising Partner

California Wine Club, www.cawineclub.com, is the perfect, affordable way to get two different bottles of excellent wine every month, along with its fun and fact-filled newsletter Uncorked. Commercially unavailable, these wines are like secret treasures we hand-select from California's small, award-winning wineries. Join for as many months as you like, or use The California Wine Club as a special, unique gift for friends, family, customers and colleagues. You can reach the Club at the link above or, in the U.S., by calling 1-800-777-4443.

30 Second Administrivia

This free weekly E-mail publication is distributed to subscribers every Monday. Previous editions are archived on The Wine Lovers' Page. See www.wine-lovers-page.com/wineadvisor/thelist.shtml.

You are on the subscription list because our records indicate that you registered during a visit to Robin Garr's Wine Lovers' Page. If for any reason you don't want to receive this publication, simply send E-mail to 'wine@wine-lovers-page.com' and we'll remove your name from the list. We do not use this list for any other purpose and will never give or sell your name or E-mail to anyone.

If your E-mail program is having trouble handling the images in this edition, feel free to request that we switch you from the HTML to TEXT edition ... or vice versa. We welcome feedback, suggestions, and ideas for future columns. Send us E-mail at wine@wine-lovers-page.com.

All the wine-tasting reports posted here are consumer-oriented. In order to maintain objectivity and avoid conflicts of interest, I purchase all the wines I rate at my own expense in retail stores and accept no samples, gifts or other gratuities from the wine industry.

More time for wine?

You don't need to wait for Mondays to read about wine! Drop in any time on Robin Garr's Wine Lovers' Page, where we add new tasting notes several times each week and frequently expand our selection of wine-appreciation articles, tips and tutorials.

If you'd like to talk about wine online with fellow wine enthusiasts around the world, we'd be delighted to have you visit the interactive forums in our Wine Lovers' Discussion Group. If you're from another part of the world and don't feel entirely comfortable chatting in English, visit our International Forum and introduce yourself in the language of your choice.

Vol. 1, No. 49, Dec. 27, 1999

<!TODAY'S TEXT ENDS HERE!>

Subscribe (free) to The 30 Second Wine Advisor