GETTING STARTED | WINE NOTES | SEARCH SITE | DISCUSSION FORUMS | 30 SECOND WINE ADVISOR | CONTACT US
<!TODAY'S TEXT STARTS HERE!>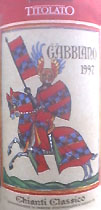 Titolato 1997 Gabbiano Chianti Classico ($11.99)
The 1997 vintage, currently widely available, was a particularly good one in Chianti, and just about every '97 I've tried has been fine. This familiar label is no exception: Clear, dark ruby with an orange glint, it shows good black-cherry aromas with hints of tar and smoke and light floral notes. Bright and juicy fruit flavors are balanced by tart acidity and a slight tannic astringency that suggests it will continue to improve with a year or two in the bottle. Balanced and structured, it's a first-rate Chianti. U.S. importer: Beringer Wine Estates, Napa, Calif. (Jan. 8, 2000)
FOOD MATCH: Excellent match with a meatless entree of boiled red-skinned potatoes tossed in Brie cheese.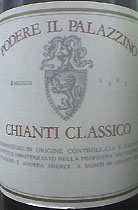 Podero il Palazzino 1997 Chianti Classico ($14.99)
Dark ruby, with fresh black-cherry aromas, a good example of typical Chianti character. Ripe, juicy and tart black-cherry fruit flavors are structured with lemon-squirt acidity and light, spicy oak in restraint. Fresh black cherries linger in a long finish. U.S. importer: Vintner Select, Cincinnati; a Marc de Grazia Selection. (Jan. 7, 2000)
FOOD MATCH: Works very well with a Marcella Hazan standard, pork chops braised in red wine and Marsala (OK, I used leftover Malmsey Madeira) with fennel seeds.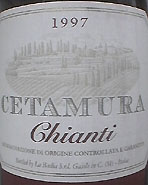 Coltibuono 1997 Cetamura Chianti ($9.99)
Clear, dark ruby, this budget-line Chianti offers light but pleasant sour-cherry aromas. Full and juicy fruit flavor are fresh and full; a fine quaffing wine, it's accessible and ready to enjoy. U.S. importer: Winebow Inc., NYC. (Jan. 4, 2000)
FOOD MATCH: Both this and its partner below make fine red-meat matches with a grilled T-bone.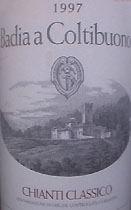 Badia a Coltibuono 1997 Chianti Classico ($15.99)
Highly regarded and relatively pricey for a Chianti, I gave this wine a second try because it showed unexpectedly poorly in my last tasting (Dec. 22). This time, presented "blind" alongside its more modest stablemate above, it was a little better, but its elevated price remains hard to justify. Clear ruby, with light black-cherry scents and a whiff of spicy oak, it's crisp and fresh with bright but simple fruit flavors, not bad but thin, with a rather sour finish. U.S. importer: Winebow Inc., NYC. (Jan. 4, 2000)

The Gabbiano Chianti Classico above was featured in The 30 Second Wine Advisor, my free weekly E-mail bulletin of quick wine tips, advice and tasting notes. Click here to join the E-mail list!

Have you tasted these wines?
E-mail me your tasting notes,
and I'll consider adding them to this page.
All my wine-tasting reports are consumer-oriented. In order to maintain objectivity and avoid conflicts of interest, I purchase all the wines I rate at my own expense in retail stores.
Back to Current Tasting Notes Index