GETTING STARTED | WINE NOTES | SEARCH SITE | DISCUSSION FORUMS | 30 SECOND WINE ADVISOR | CONTACT US
<!TODAY'S TEXT STARTS HERE!> One of the most frequent wine questions I hear comes from people who want to like wine but can't acquire a taste for dry, acidic table wines in the classic European tradition: "Isn't there a red wine that's sweet?"
Other than Port, the great dessert wine that's fortified with brandy to nearly twice the strength of table wines, and Banyuls, a rare and fairly pricey wine from the French Pyrenees, the simple truth is that red table wines are, and should be, bone-dry, fruity perhaps but never sweet.
But for the record, and with the understanding that this is not intended as a dinner wine and would go horribly with burgers or steaks, here's a Greek red wine that's modestly priced, fairly easy to find in retail wine shops, and distinctly sweet.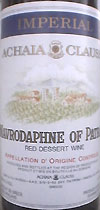 Achaia Clauss non-vintage Imperial Mavrodaphne of Patras Red Dessert Wine ($8.79)
Clear ruby with an amber-orange hue. Plummy fruit and pleasant herbaceous aromas, hay and straw, lead into a luscious flavor of sugar-sweet black raisins. Warm and full, tart acidity and 15-percent alcoholic warmth providing structure. Surprisingly appealing red dessert wine at a bargain-basement price. U.S. importer: David Sherman Corp., St. Louis. (March 1, 2000)
FOOD MATCH: Like Banyuls of the French Pyrenees, which this superficially resembles, it is a delicious partner with dark, bittersweet chocolate; a piece of Jamieson's Robust Dark Chocolate from Ghana combines with the wine in the mouth to create a burst of flavor startlingly reminiscent of the old movie-house candy called Raisinets.

This wine was featured in a special edition of The 30 Second Wine Advisor, my free weekly E-mail bulletin of quick wine tips, advice and tasting notes. Click here to join the E-mail list!

Have you tasted this wine?
E-mail me your tasting notes,
and I'll consider adding them to this page.
All my wine-tasting reports are consumer-oriented. In order to maintain objectivity and avoid conflicts of interest, I purchase all the wines I rate at my own expense in retail stores.
Back to Current Tasting Notes Index