GETTING STARTED | WINE NOTES | SEARCH SITE | DISCUSSION FORUMS | 30 SECOND WINE ADVISOR | CONTACT US
<!TODAY'S TEXT STARTS HERE!>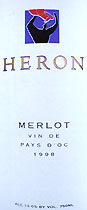 Heron 1998 Merlot Vin de Pays d'Oc ($9.99)
"Best Merlot in the World for under $10"? So said the poster in the wine shop over a display of this wine, crediting our friends at Wine Spectator for the hyperbolic prose. Heron's website trumpeted another purported Spectator quote, "In a world of values, Heron Merlot is one of the best-priced wines on planet Earth." This all seemed a bit extreme, but I couldn't resist springing the moderate price for a bottle to find out. After all, I had been surprised and pleased with the Heron 1998 Syrah.
In this case, though, it's hard to see what the Spectator was thinking of (and, to its credit, I couldn't find any of this inflated prose on the Speck's Website, where its ratings for Heron 1996, 1997 and 1998 Merlot were all in the 83-84 range, with terse, value-neutral descriptions).
It's a dark-ruby wine with distinct green-pepper vegetal notes surrounding simple plummy fruit and a dash of pepper on the nose and palate, rather thin and quite tart. Not unpleasant, and it washed down a sausage pizza nicely. But "Best Merlot in the world"?! Not at any price. U.S. importer: Heron, San Francisco. (Sept. 16, 2000)
FOOD MATCH: As noted, quaffs well with pizza.

Have you tasted this wine?
E-mail me your tasting notes,
and I'll consider adding them to this page.
All my wine-tasting reports are consumer-oriented. In order to maintain objectivity and avoid conflicts of interest, I purchase all the wines I rate at my own expense in retail stores.
Back to Current Tasting Notes Index