2004 Amarone preview
Article and photos © by Tom Hyland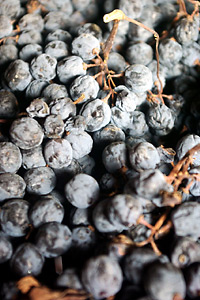 Corvina grapes drying for production of Amarone. Photo © 2008 by Tom Hyland
Amarone, big and rich, is a wine to go with game or quiet contemplation. Many wine drinkers who love Amarone do not realize that it is in fact a Valpolicella, albeit a very special one (the name of the wine is actually Amarone della Valpolicella). Amarone and Valpolicella are produced from similar grapes; the differences, however, are vast.
Valpolicella is the viticultural district just north of the charming city of Verona, in the hills above Lake Garda in Italy's Veneto region. I recently attended a special tasting in Verona of new bottlings of Amarone - the 2004 vintage. This Anteprima (preview tasting) was organized by the Consorzio Per La Tutela del Vini Valpolicella. It showcased the wines of more than 50 of the Consorzio's producers.
Three red indigenous varieties are primarily used to produce these wines: Corvina, Rondinella and Molinara. Corvina is the most important of these, as it contributes body and structure to the wine, while the other two varieties are used to add spice and acidity to the finished wine. The exact mix of these grapes varies with each producer; while Corvina is the principal grape (as much as 70%), most producers only use small amounts of the other two (around 20 to 30% Rondinella and as little as 5% Molinara). Other approved varieties include Dindarella, Oseleta and Corvinone; this last either being a clone of Corvina or a totally separate variety, depending on who you talk to (it has larger berries than Corvina and thus more juice).
When a wine maker decides to produce an Amarone, he will pick these grapes one week prior to the normal harvest for a regular Valpolicella wine. This is done is because these grapes will accumulate additional sugar in a unique process known as appassimento. During this method, the grapes are dried on straw or bamboo mats or in plastic bins in special temperature-controlled rooms for 60 to 90 days. During this time of drying, the grapes naturally acquire more sugar as they shrivel in size, losing almost half of their water. This results in grapes that are intense in flavor and deeply concentrated; alcohol naturally is higher in a wine made in this process, as a typical Amarone carries 14.5% alcohol, with a few examples at 15% or even 15%.
The grapes at the end of this process look a bit like raisins, which explains the ripe, spicy character of Amarone. Some producers try to hide this, believing consumers do not want this feature in their wine, by aging their wines in small French oak barrels to heighten the wood flavors. Many of these same makers often pick their grapes a bit riper to fashion a wine more in today's style of big, forward black fruit. This is in contrast to many producers that favor aging in large Slavonian oak barrels, which have only minor wood influence. A similar distinction in styles - small versus large oak - is going on in several Italian regions as it is in Amarone.
The 2004 vintage was a success throughout much of Italy, and it was certainly an accomplishment in Valpolicella. Daniele Accordini, one of the area's leading enologists, said the weather was quite cooperative during the growing season. Not only were temperatures moderate during spring and summer, but also the humidity during the fall and early winter was ideal for drying the grapes, a factor often overlooked by many wine critics. This means that volatile acidity, often a problem in these wines, was quite limited, assuring wines that for the most part will emphasize more of the cherry, currant and strawberry flavors of the Corvina grape. In Accordini's words, 2004 is a "classic vintage" for the wines from the Valpolicella district.
What were the best wines of the tasting? Subscribers to my Guide to Italian Wines will read detailed tasting notes of these wines in the upcoming Spring issue (to subscribe, contact me at the email at the end of this article). I will list a few favorites here. Cesari, a veteran producer, made a traditional, elegant regular bottling that has great subtlety and a lengthy finish. This producer also made a single-vineyard offering named Bosan that is riper with a bit more tannin and oak influence that is also notable, but will need a bit more time in the bottle to lose its youthful edge. Both wines should drink well over the next 7-10 years.
Tommasi, another experienced producer, made two bottlings of 2004 Amarone. The engaging normale has tasty red raspberry fruit and lively acidity while their "Ca Florian" bottling, from a single vineyard, has more of a black plum, raisiny profile with hints of bitter chocolate in the finish. Giuseppe Campagnola also offered two bottlings: a very good standard Amarone that is ripe and forward and a highly recommended effort, "Caterina Zardini" that has plenty of spice and a rich finish with excellent fruit persistence.
The "Acinatico" bottling from Stefano Accordini has been one of my favorite examples of Amarone for some time and the 2004 is outstanding with rich, ripe black fruit and light plum jam aromas and pinpoint acidity; this wine has 10-12 years of life ahead of it. The Igino Accordini (these are neighboring properties that are owned by cousins) is also impressive with its light raisin and chocolate character and delicate use of wood.
One of my top wines was from Antolini, a small estate established in 2000 by Pier Paolo Antolini and his brother Stefano. Their Amarone labeled "Moṛpio" was a true find with its sensual aromas of black raspberry, violets, a hint of chocolate and even a note of rum. This has beautiful balance with vibrant acidity and is a graceful wine with plenty of finesse. How nice to taste such a young Amarone that is this supple and soft!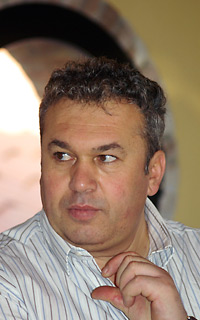 Armando Castagnedi, co-owner of Tenuta Sant'Antonio, one of the msot impressive producers of Amarone. Photo © 2008 by Tom Hyland
There are many other very excellent wines I tasted, but not enough room here to detail (check out my newsletter), but I did want to mention one producer in particular that truly impressed me. Tenuta Sant'Antonio is a relatively new estate (the first wines were from 1995) located in the hills of Mezzane di Sotto, in the eastern reaches of the Valpolicella zone. The winery is owned by four Castagnedi brothers who along with their enologist Paolo Grigolli have made this into of the area's most consistent and respected producers.
They produce two separate bottlings of Amarone that are quite distinct in their approach. The first labeled "Selezione Antonio Castagnedi" (named in honor of their father, a grape grower) is the more approachable of the two, as the drying period for the grapes is shorter. There are beautiful aromas of red cherry and coriander with hints of lavender and tobacco that is backed by a graceful, lengthy finish with precise acidity and excellent fruit persistence. What an elegant wine!
The second, labeled "Campo dei Gigli", is riper and more forward with appealing aromas of milk chocolate and black cherry, while the tannins are firmer and the acidity just a touch lower. This wine will need more time to settle down, but it is extremely well made and should drink well for at least 10-12 years, perhaps longer. Tenuta Sant'Antonio may not yet be a household name, but it is definitely a winery to keep an eye on if you are a lover of Amarone.
A final note: a few of the 2004 Amarones that I sampled are currently available in the market, though most will be released in the fall of this year, while a handful of them will be for sale in early 2009. That's enough time for all of us to save enough money to purchase the beautifully styled wines and enjoy them with veal, duck or most game or even by itself as a vino di meditazione!
February 2008
To contact Tom Hyland, visit his Website, "Learn Italian Wines," www.learnitalianwines.com or write him at thwinewriter@comcast.net


Back to Tom Hyland's Italian Wines
<!- Page Contents End Here ->