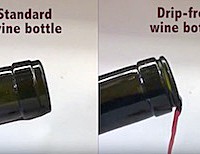 You pour your wine, you lift the bottle gently and, splat! A dark red Rorschach blot stains the tablecloth.
Has this ever happened to you? Heck, can any of you claim this has never happened to you? I've even seen certified sommeliers do it in fancy restaurants, and they are supposed to know all the tricks.
Archives | Subscribe (free!) | Previous article: Open that bottle! Read article.