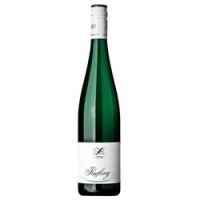 At just 8.5% alcohol, this Mosel Riesling falls near the lower end of the alcoholic spectrum. Very pale, clear gold in color, its light carbonation shows as a quiet pop when the screw cap is cracked and as tiny bubbles that line the glass when the wine is poured. Ripe aromas of peaches and melon fill the nose, and carry over on the palate in a juicy, gently sweet fruit flavor with brisk, cleansing acidity and subtle stone and slate minerality in the finish.
FIND THIS WINE ONLINE:
Locate vendors and check prices for Loosen Bros. "Dr. L" Mosel Riesling on Wine-Searcher.com.
Read more about the Mosel and find links to more than 500 good Mosel wines and vendors at this Wine-Searcher.com link. Read article.