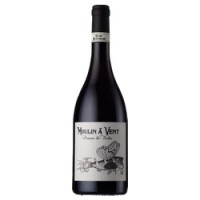 This 2018 Domaine des Foudres is 100 percent Gamay from the Beaujolais Cru Moulin à Vent. It's dark reddish-purple, with good black-plum and mixed berry aromas and appealing earthy mineral notes of damp clay. Tart plums and berries fill the mouth, shaped by zippy fresh-fruit acidity and light, gently astringent tannins. It's on the rustic side, but certainly approachable, a good wine with food.
FIND THIS WINE ONLINE:
Check prices and find vendors for Domaine des Foudres Moulin à Vent on Wine-Searcher.com; unfortunately, Wine-Searcher is showing only a few vendors for this wine.
Check this Wine-Searcher link to find information and listings for a wide variety of Moulin à Vent. Read article.