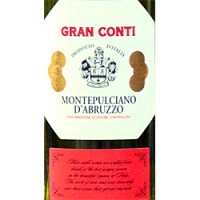 Dark purple, almost black, shading to a thin garnet rim. high-tone cherries and blackberries on the nose with a hint of spice in the background. Tart plums and berries on the palate, shaped by zippy acidity, with a buzz of tannins becoming more evident in the finish. Alcohol not disclosed, but it's clearly in the normal 12-13 percent range.
FIND THIS WINE ONLINE:
Only a few U.S. vendors currently offer Gran Conti 2016 Montepulciano d'Abruzzo on Wine-Searcher.com, but keep checking.
You can also browse Wine-Searcher.com for dozens of other good wines of Montepulciano d'Abruzzo. Read article.