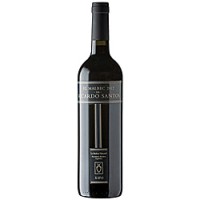 Deep, dark purple, with just a thin line of lighter garnet at the edge. Plums and black cherries on the nose with a whiff of oaky spice. Tart and a distinct edge of heat on the palate, a claimed 14 percent alcohol (or perhaps a little more) making itself manifest in a gentle burn that gains more emphasis from distinct tannic astringency. This may sound less than pleasant, but it disappears in context with food and mellows as ripe blackberries and a touch of minerality become more evident along with the oaky spice in the finish.
FIND THIS WINE ONLINE:
Search for vendors and compare prices for "El Malbec" de Ricardo Santos La Madras Vineyard Mendoza Malbec on Wine-Searcher.com.
Want to browse more Argentine wines from Ricardo Santos Bodega y Vinedos? This Wine-Searcher.com page offers links to vendor information for all its wines.
Read article.