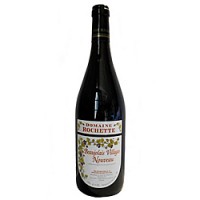 Deeply hued clear garnet color. Attractive red-fruit scents over a base of loamy earth, an appealing minerality on the nose. The flavor wakes up to bright and fresh red-berry, plum and cranberry flavors nicely balanced by palate-cleansing acidity and moderate 12.5% alcohol, with soft tannins building gentle astringency harmonizing with tart red plums in the long finish. This shows the distance a Beaujolais can reach when a decent model stretches out.
FIND THIS WINE ONLINE:
Find vendors and compare prices for Henry Fessy Château des Reyssiers Régnié on Wine-Searcher.com.
Use this Wine-searcher link to browse all the wines of Henry Fessy and find vendors that carry them.
Finally, here is Wine-searcher's list of many wines of Régnié, ranked by quality. Read through the short article discussing the region to get to the lengthy shop list. Read article.