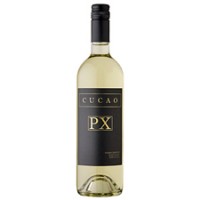 Transparent straw color with a golden hue. It seems to show a nutty whiff of oxidation at first, but this blows off to reveal heavy and complex aromatics of pears, mangoes and green figs. It's fresh and dry on the palate, a far cry from the intensely sweet PX Sherries, but a good, rich mouthfeel balanced by bright acidity, and aromatic white-fruit flavors that follow the nose. Gentle 12 percent alcohol with a hint of peach-pit bitterness in a long finish that works as a pleasant aperitif or versatile food wine.
FIND THIS WINE ONLINE:
Wine-Searcher.com doesn't offer us much help on this one, with only one vendor found on the free service. You might try this link, though, for other Elqui Valley wines including a couple of Pedro Ximenez.
You might also check in with regional distributors Regal Wines and Vintner Select for information about retail sources near you.
Read article.