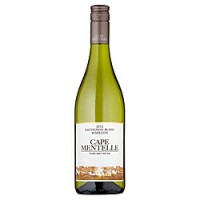 Clear, pale straw color with a distinct greenish hue. Attractive fresh-fruit aromas rise from the glass, focused on pears and apples at first, shifting to bright lime and lemon citrus scents as the wine warms from refrigerator temperature. Snappy citrus moves to the fore in the flavor, with a prickly touch that suggests light carbonation. It's bone-dry and crisply acidic, medium weight and body likely contributed by the Semillon, with just a hint of stony minerality joining citrus notes in a long finish. Light 12 percent alcohol makes it an easy sipper.
FIND THIS WINE ONLINE:
Find vendors and compare prices for Cape Mentelle Margaret River Sauvignon Blanc-Semillon on Wine-Searcher.com.
Read article.