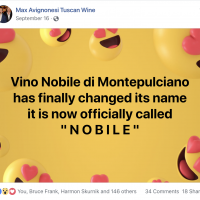 If you want to argue that the world of fine wine is never confusing, you should probably avert your eyes from Vino Nobile di Montepulciano and Montepulciano d'Abruzzo.
But here's interesting news: Frustrated at last with the ongoing confusion, wine makers in Vino Nobile's home village are taking "Montepulciano" off the front label.
Archives | Subscribe (free!) | Previous article: Rehabilitating Beaujolais … and gin Read article.