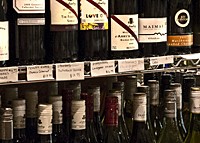 Good morning! I hope you had a good Thanksgiving Day. I'm enjoying the opportunity to relax a bit after enjoying two holiday feasts yesterday, joining a group of about 50 for lunch and about 15 for dinner.
When friends know you write about food and wine, they ask you to do wine things; and so it was that I loaded a couple of boxes of reds and whites into my car yesterday morning.
Archives | Subscribe (free!) | Previous article: Two for Thanksgiving
Read article.