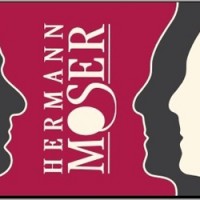 This clear, light straw-colored wine shows surprisingly bold and aromatic scents for a GV, perhaps hinting at the wine maker's placement of "The Spark" bottling as an introduction to wine lovers unfamiliar with the grape. It's pleasant, though, with luscious aromas of peach and melon and perhaps a floral back note of gardenia. It's rather full-bodied on the palate, but crisp, zippy acidity holds it in balance and positions it as an excellent food wine. Stone fruit and tangy citrus come together in the flavor, with that classic "stony" minerality so typical of Austrian whites showing up alongside the fruit in a very long finish. A gentle 12% makes the decision to have a second glass, or possibly a third, an easy one.
FIND THIS WINE ONLINE:
Find vendors and compare prices for Hermann Moser Kremstal Grüner Veltliner "Per Due" "The Spark"on Wine-Searcher.com. Read article.