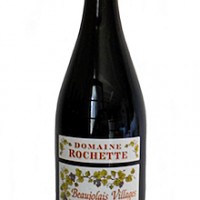 Dark reddish-purple with a clear garnet edge. The aroma is exuberantly fruity, as you would expect from a Nouveau, but it's a fresh, clean fruit – juicy, ripe strawberries and tart black plums – in an aroma and flavor that's indisputably "grapey," but we're talking about European-style Gamay grapes here, not your grandmother's Concord. Abundant fruit pours over on the palate, too, crisp and freshly acidic, 13% alcohol, with a fresh, ripe and palate-cleansing finish that lasts and lasts. U.S. importer: Wines of France Inc., Mountainside, N.J.; Alain Junguenet Selections.
FIND THIS WINE ONLINE:
The production run for Domaine Rochette 2016 Beaujolais Villages Nouveau was apparently limited, with only a couple of U.S. vendors.
Try this link, though, for a broader selection of Beaujolais wines from Domaine Rochette. Also, Alain Junguenet's portfolio is widely distributed, so it might be worth contacting the importer to ask about retailers near you who handle these wines. Read article.