The Latest from Barolo
© by Tom Hyland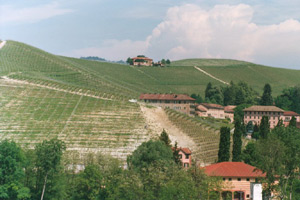 If you have only recently discovered the charms of Barolo, your timing couldn't be better. Not only are we in the midst of seven great vintages, but the wines today are just better made than a decade ago.
If you tasted Barolos from the 1970s or '80s, you had to love tannins. Barolo and tannins are a natural match, as the wine is exclusively made from Nebbiolo, one of the world's most tannic grapes. So with Barolo, you get tannin.
But that doesn't have to mean you taste tannin. That is what many of the Barolos of the past were all about. These wines were quite bitter in their youth and we were told that with time, the wines would lose their rough edge and soften into a great wine.
Well sometimes that happened and sometimes it didn't. Nebbiolo does not have a lot of color and tends to ripen late, and unfortunately not too many years in the decades of the '70s and '80s were all that concentrated. Also as Barolo must age in wood for several years, the fruit when it did ripen was covered up.
Thankfully, the Barolos of today are a different ballgame. Thanks to modern viticultural practices, such as new training methods, which ensure more sunshine and thus riper grapes, the wines are better. By law, Barolo requires several years of aging in wood, so ripe fruit is essential to a balanced wine.
It has also helped that Piemonte has enjoyed a string of favorable vintages. From 1995 all the way through to 2001, the conditions have been favorable for making great Barolo. Some years have been hotter and drier (1997 and 1999), while others have been more moderate (1996 and 1998). Different styles, but all splendid wines.
The current releases are from the 1998 vintage. I had the chance to try several dozen on a recent trip to Barolo and was quite impressed. The 1997s may have more power, but I am more taken with the grace and finesse of the 1998s. I believe these wines are truly great as they have an overall balance one finds only in the very best vintages. (I feel the same way about the 1998 Barbarescos - wait until you try the 1998 Pio Cesare Barbaresco Bricco to be released in September – it is an elegant powerhouse of a wine!)
Just in case you think that finesse means early drinking, think again. The 1998 Barolos will age fine, with an average bottling drinking well for a decade and some of the best for twenty years or more. This is still Barolo after all, and despite a less powerful vintage, the 1998 Barolos are glorious proof that Barolo can still be called "the king of wines."
TASTING NOTES
MARCHESI DI BAROLO
1998 BAROLO "CANNUBI"
Marchesi di Barolo owns the most hectares on this famous hill in Barolo and routinely produces an excellent version. Ruby red color with lots of oak in the aroma along with ripe black cherry and a slightly charred wood note. Medium-full to full body with excellent concentration. This is a modern style Barolo with rich, ripe fruit and young, but balanced tannins and moderate acidity. This should hold well for 10-15 years. ($50) ****
RENATO RATTI
1998 BAROLO MARCENASCO
Deep garnet, light ruby red with a beautiful aroma of orange peel, caraway seed, licorice, dried cherry, cedar and oak. Medium-full with a lovely mouthfeel and an elegant finish. Very good acidity. Drinkable now and over the next 10-12 years. ($55) ****
1998 BAROLO MARCENASCO "ROCCHE"
Rocche is a single vineyard Barolo made from old vines. Light ruby red with an aroma of cedar, cigar box, dried cherry, vanilla and caraway seed. Medium-full with excellent concentration. Supple mouthfeel and a long, elegant finish with round tannins, a distinct earthiness and persistent fruit. Although both of these Barolos receive some aging in small French barriques (they are also aged in large Slavonian oak), the oak is subtle and does not overwhelm the fruit. The Rocche is truly a wine of place and should drink well for 12-20 years. ($70) *****
PIO CESARE
1998 BAROLO
Brick, light ruby red with an aroma of cedar, caraway seed and cherry. Medium-full with very good concentration. Lovely balance with a finish that offers sleek tannins and fine acidity. Best enjoyed in another year and should drink well for 10-12 years more. ($58) ****
1998 BAROLO "ORNATO"
Ruby red with very ripe black cherry fruit along with black licorice, fresh roses and noticeable oak in the aroma. Medium full to full body with excellent concentration. This is a modern-style Barolo with its ultra ripe fruit, but is very well made and extremely enjoyable. This will drink well for 12-15 years- possibly more. ($110) ****
GIOVANNI VIBERTI
1998 BAROLO "BUON PADRE"
This is the regular Viberti Barolo. Deep garnet-light ruby red. Aroma of dried roses, orange peel, perfume and cedar. Medium-full with excellent concentration. Elegant finish with fine acidity and gentle tannins. Delicious-very refined. Drink now or over the next 10-12 years. Excellent value. ($37) ****
VIETTI
1998 BAROLO "ROCCHE"
Brick, deep garnet with an aroma of dried cherry, cedar and oregano. Medium-full to full body with excellent concentration. Long finish with fine acidity. This is an elegant Barolo that should drink well for 15-20 years. Give this some time to round out. ($85) ****
1998 BAROLO "LAZZARITO"
Brick, garnet color with a gorgeous aroma of dried cherry, thyme, oregano, tobacco and cedar chest. Medium-full to full body with excellent concentration. Long finish with excellent acidity and well-integrated tannins. This is a Barolo of great harmony and subtlety. This may not be quite as long-lived as the "Rocche" bottling, but it has a refined quality to it that earns it the highest rating. Drinkable now, it will be at its best in 12-15 years. ($77) *****
PRICES ARE APPROXIMATE U.S. RETAIL
***** OUTSTANDING **** EXCELLENT *** VERY GOOD
June 6, 2002
To contact Tom Hyland, visit his Website at http://www.northshorewine.com
or write him at tnapawine@aol.com

Back to Tom Hyland's Italian Wines
<!- Page Contents End Here ->