Words About Port
Roy's Port Wine Cellar Reduction Party
Six Decades of Vintage Port (April 18, 2004)
Article and photos © copyright 2004 by Roy Hersh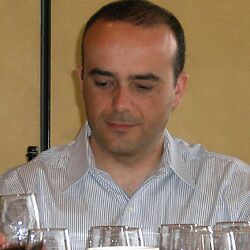 Mário Ferreira of the I.V.D.P.
Each year since 1994, I have opened my cellar and hosted a Vintage Port tasting with a unique twist in the theme. Over the past three years this has turned into an entire weekend of vinous events that has attracted folks from far and wide. This year I wanted to mix things up a little and introduce my local friends from our infamous Seattle Tasting Group, not only to the fun involved with a sampling of fine Vintage Port, but also a few other thematic wine experiences, followed by scrumptious wine dinners.
Initially, I had been planning a great week of wine dinners and outings for my close friend Nicos' annual visit. I met Nicos Neocleous several years ago in London and although he was eager to learn about Port, his true expertise was in the Southern Rhone and Chateauneuf du Pape in particular. Over the last 3 years, his enthusiasm and knowledge of Port has grown exponentially, as has his Vintage Port collection. His visit was the perfect excuse to create an entire weekend of events around my annual "Port Wine Cellar Reduction Party" as it used to be called.
The first dinner featured a thorough sampling of two dozen of the finest wines ever produced in Washington State. We dined at my favorite Seattle eatery, wine-friendly Kaspar's Restaurant and Wine Bar, http://www.kaspars.com. Twenty of us feasted on a fantastic seven course menu specifically designed to pair with our wines. Many thanks to the masterful job Chef Donier and his brother Markus, the affable GM and Sommelier, performed that evening, and the impeccable service from their staff.
Our invited guest that evening is one of the brightest stars on the Washington State wine horizon, winemaker Lance Baer of Baer Winery, http://www.baerwinery.com. Speaking of stars, the focal point of Baer's bottle label is a silver star and his own brand, Ursa is named for the great bear constellation. Having the smarts to release this Bordeaux blend at under $30, given the fine quality in the bottle, I am very sure Baer will be one of the names we hear for a long time to come. I strongly suggest getting on his mailing list while it is still open!
The following night was a fabulous and deep vertical which included 22 vintages of the greatest bottlings of Joseph Phelps Vineyards Insignia, to honor their 30th anniversary. This was to date, one of the broadest lineups of Insignia ever tasted in the USA. I offered up ten vintages from my cellar and asked everybody else to bring one too. I invited Tom Shelton, President of Joseph Phelps Vineyards based in the Stags Leap District of Napa, CA to join in the festivities. Tom generously brought a slide presentation that showed each vintage we were trying, along with other information about the vineyards and history of Phelps. He made the evening a much more fun and educational experience and we were very appreciative that he would come to Seattle to join us!
This was one of those once-in-a-lifetime tastings, with an opportunity to try JPV's Insignia back to their very first vintage (1974), with quite a few others from the '70s and '80s. Comparing and contrasting vintages, it was a great learning experience to try every vintage from 1989 right on through to 2002 cask samples. When we were all done with the Insignia tasting it was time for dinner, at Bellevue's best steakhouse, Daniel's Broiler; http://www.schwartzbros.com/daniels.cfm and the USDA Prime steaks along with our private and cozy room were perfect for this type of event. Believe it or not, our dinner was accompanied by another slew of great wines from the Rhone, CA and Bordeaux. A stunning lineup on its own!
As if 70 wines over the course of the first two evenings was not enough, our group mustered up the courage for a Sunday afternoon Port "diagonal" (a horizontal-vertical). There would be a dozen Ports to compare, all but one of which was Vintage Port (VP). Of course there was a wine dinner afterwards and since we were at the Spazzo Italian Grill, http://www.schwartzbros.com/spazzo.cfm which was recently converted from a Mediterranean restaurant to an Italian one, the wine theme was upper end Italian wines. After the rigors of consuming 18 oz. of Port, I give the troopers lots of kudos for their intestinal fortitude and stamina.
Back to the Port tasting though. As mentioned, I have held these annual Port "cellar reduction" parties for over a decade now. I was running out of themes and told my buddy Nicos to go into my wine cellar and hand pick 11 VPs that he had "never tried before and really would like to." I was waiting to see if he would pull something from the 19th century or some of the other very old Ports, but Nicos came up with a brilliant theme - just two days before the tasting. He liked the idea of trying wines from every major declared vintage of Port from the last six decades. He then went to town selecting the 1955 up and through 2000 VP.
I loved his suggestion as I had not given much thought to the theme in advance but there were few that I have not tried at one time or another. Nicos's idea was great and he picked one of the very top wines of each and every vintage. I had full faith in Nicos' judgment and was delighted at his great picks, as I felt this would make for an exceptionally educational themed tasting.
In keeping with tradition of inviting special guests to these tasting events, I turned to Mario Ferreira from the Instituto do Vinhos do Douro e do Porto (The Port and Douro Wine Institute). Mario flew in to join us for this tasting and was a great addition. Mario handles the marketing and educational efforts in North America for the I.V.D.P. Each year he organizes Port tastings in many cities around the continent and is well known in Portugal by the Port producers, as well as all the major importers in North America.
The Ports were organized in three flights of four wines. I chose to offer the older Ports first, so that the younger wines that offer riper tannins and more primary fruit would not dull or fatigue our palates. After tasting through each flight, Mario, Nicos and I began an interactive discussion of the wines with the other participants. Many in this group had limited knowledge and previous exposure to Vintage Ports and most had never sat with a dozen Ports before them. There were also a few, very experienced Port enthusiasts who have been to many of these annual tastings.
Now, onto the actual Port tasting and specific tasting notes:
First flight of 4 wines:
1955 Sandeman - light ruby with an orange edge, this elegant Sandeman which has long been one of my favorites of the vintage offered sweet floral, brown sugar and confectionary aromas. Most of the group of 18 loved this wine and waxed poetic. Very silky and generous cherry fruit danced in the mouth. Drinking beautifully at "peak" (at 49 years old) and there is no need to wait to break one out of the cellar. The Sandeman '55 showed its grace and exceptional balance with depth and length on the finish along with a touch of toffee and almond nuances. I've long been a fan of this wine and it will last on this "plateau" for quite awhile. 93 pts.
1963 Graham - this was certainly the best showing of the Graham's '63 I have had in several years. I've experienced significant variation in past bottles from this exalted vintage, always from UK bottlings. This was bottled at the Graham's cellars and was in pristine condition with a mid-neck fill. Fine medium ruby with some light pinking on the edge, this showed a seductive nuance akin to Sophia Loren in her 30s. Deliciously sweet and full-bodied with fully resolved tannins, the soft plum flavors were complemented by distinctive hazelnuts on the long aftertaste. 95 pts.
1966 Sandeman - Dark ruby and showing beautifully with a mouth filling, full-bodied richness and density and expressive smooth texture. This is a slightly drier wine than what I normally experience with this '66, but that can happen in bottles that are nearly 40 years old. There is a touch of alcohol that shows up on the nose and again on the finish but it is not too prevalent nor did it detract from the overall enjoyment. A well-made VP, offering great mid-palate complexity and has developed wonderful and sweet nutty nuances on the fine finish. It is in no rush to be consumed and has not reached its peak. Some thought it may have been corked, but even an hour later it showed no signs of taint whatsoever. 93 pts.
1970 Dow - Compared to the previous three wines in this flight, this is a baby. Youthful looking dark, vibrant purplish-ruby color with enticing mint, licorice and raspberry fruit intertwined on the nose and palate. The '70 Dow is still on the upswing and the structure depicts that this VP will only continue its fine evolution and actually improve. Great depth of flavors and a streak of tobacco leaf barely perceptible on the unbelievably lengthy finish. There is a drop of spirit that will certainly integrate as the rest of this beast mellows. 94 pts.
Second flight:
1977 Taylor - One of my all time favorites and certainly a strong recommendation for a case buy, as this wine will last for many decades. In fact, in the middle of the tasting - one of the participants stepped away and placed an order with his favorite retailer. I am sure that others will follow. The Taylor showed only a medium ruby in color, but it's so rich and full-bodied with succulent red fruit along with sweet purple plums, figs and spice. The '77 is a vibrant wine depicting some spirity essence which is solely due to its youth. The tannins come across as mild but ripe, as the fruit is so impressive and brawny. No longer awkward, this Taylor will be best to drink after 2012 and should continue to drink well for another 40 years thereafter. This is one for the ages, a fantastic wine that is smooth and pleasing on the persistent, sweet strawberry finish. It may prove to upstage the 1927 in its lifetime. 97 pts.
1980 Dow - I am a big fan of the Dow from this under-appreciated vintage that outperforms any scores applied by the Port pundits. This was my first disappointing bottle, but only due to the fact that it was badly corked. What a shame! It looked like black beauty and then - Not rated.
1983 Cockburn - It has never happened to me before. Two consecutive corked bottles of Vintage Port?!? To make matters worse, I asked Nicos to pull another bottle from the cellar the next day and it too was corked. They say that bad things come in threes and I found out exactly what this means. The bottle at the tasting was initially, barely perceptible as being corked, for at least the first half hour and in that early time frame there was still much to enjoy. Very dark red ruby with pine needles, licorice and an earthy note to this VP. Spicy, with a sweet plum and prune character and bittersweet chocolate. In possession of a coarsely tannic but very long finish. Within 30 minutes this was a very different wine and continued downhill quickly from there. Not rated.
1985 Fonseca - showing an opaque ruby hue with bing cherry and pomegranate syrup aromas and a touch of cocoa. Youthful, rich, "class-in-a-glass, this Fonseca really kicks it. It appears now to have surpassed the Graham's for top honors (besides the Nacional) of 1985. It was possibly the best balanced wine of the entire tasting. Huge and expressive rush of juice on the finish that is just starting to gain complexity. A solid powerhouse of a Port with lively tannins and a superb finish. It's still such a toddler! 96 pts.
1994 Fonseca - Totally black/purple in color showing wild flowers, lush violets and a mild lactic nuance on the nose. As much as I liked the 1985 this was another breed altogether. It has a more classic Fonseca structure and poise, given its decade in the bottle. Dense, chewy blackberry flavors that tail off to the plum spectrum and provide waves of juicy, ripe fruit that is filled with glycerin. This Fonseca 1994 is a tannic monster which is atypical of how this has shown in the past when I've found it more approachable. It finished with gobs of mouth filling viscous Porty flavors - and brought a smile to my face. TOP HONORS of the tasting; with twenty+ more years before it will truly offer up its best showing! 98 pts.
1997 Niepoort - I am glad Nicos picked this wine out of the cellar as I wouldn't have touched this one for at least another 3 years. I had this '97 early on but I've still never had the Noval from this vintage, which got the nod from the Wine Spectator as tops of the vintage. Very dark color and showing some intriguing orange peel and exotic spices on the nose. Massive, yet finely balanced and showing much more approachability then the preceding wine due to the round tannins. This is in a fruit forward stage at the moment with sweet blue and boysenberry jam flavors, although the Port itself is not jammy. The '97 Niepoort never did quite finish, it just lingered until it was time to try the next wine. WOW! If you don't like this wine, you don't like great young Vintage Port. 97 pts.
2000 Quinta do Vesuvio - Well this made for four consecutive beauties and had the '83 not been tainted, the string would have been even longer. It looked like black ink in the glass. I opened a bottle of this fairly recently for our Seattle Tasting Group but it was the first time for Nicos and since I had talked him into buying some cases too, I thought he deserved to try it. I could conclude by saying, 'what more could you possibly ask from an infant VP'? I heard others in the room that were not as impressed and kept my comments to myself. This delivers such ripe, boisterous and slightly jammy, viscous juice that overwhelms the palate, if not the brain. Moderate tannins show up on the surreal finish. Port on steroids or was this actually a young Harlan? Neither, just a top notch young 2000, which is way high in the pecking order from this wonderful vintage. Given the big fruit, the balance is impressive and the overall structure, near perfect. If you don't own any of these - shame on you. 96 pts.
Three Centuries of Porto Rocha - Dark amber with a yellow edge. It enlightens with a gracefully smooth and seductive mouth feel and a toasty, smoky, slight salty/nutty nuance with layers of coconut, hazelnut and mandarin orange providing profound complexity. The finish is what legends are made of. One of the most unique bottles of Port in that it is shaped like a sail, or as if someone cut the bottle in half lengthwise. The blend, a small amount of very old Colheita (ca. 1900) but mostly other Rocha Colheitas from 1937-1950s, was created by Port expert Todd Cromwell, a local Seattle area importer of Portuguese wines. Thanks Todd! 93 pts.
In addition to having a lot of fun, we all learned more about Port and it was interesting to see how the wines developed with age versus some of the much younger vintages we tasted. It seemed like everybody came away with a better understanding of Port and I could tell that a few folks who had been sitting on the sidelines were now fully hooked. Yes!
A wonderful weekend came to an end after the Italian wine dinner that followed the Port tasting. Three tastings, three dinners, 100 bottles of wine and 18,000 calories later, it was all over. Thanks to Mr. Mario Ferreira for sharing his knowledge of Port and bringing some excellent brochures from the IVDP. I know that everyone benefited from his presence.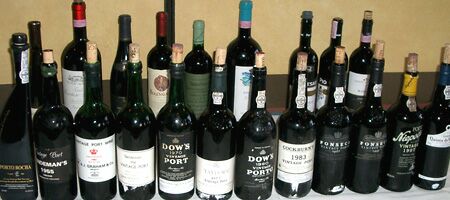 The Douro Dozen
April 2004
Words About Port index page