Words About Port
The Fladgate Partnership Port Tasting
Article and photos © copyright 2004 by Roy Hersh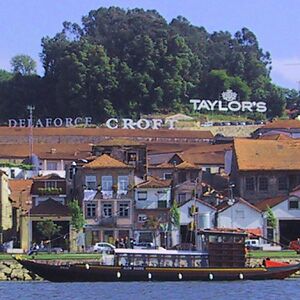 Port Lodges in Vila Nova de Gaia
It was February of 2004; the long dreary and rainy winter that is typical of Seattle was starting to take its toll on my spirit. It was time for a glimpse of sun, and the opportunity to drink fine Port in Southern California was the perfect excuse for a quick getaway. Kobrand Corporation was sponsoring a special Port trade tasting in various venues around the USA and the closest and sunniest spot was LA. Southern California, here I come!
Upon my arrival, I noticed a strange yellow orb in the sky and took off my jacket which was superfluous. In a moment of déjà vu, I remembered that it was actually the sun that was lighting up the afternoon sky, something I had not seen in nearly six months. I headed over to the Palm Restaurant where Kobrand was holding their tasting event. For the benefit of those from overseas, the Palm Restaurants number nearly 30 steakhouses across North America, and have been under family control for almost 80 years. The walls are lined with caricatures of rich, famous and influential people that have dined at each location. My last Palm experience was in Washington, DC as I watched a friend devour a 5 pound lobster with much aplomb, while I had a much easier time with a great steak.
Not only was there a fine assortment of Ports from The Fladgate Partnership, (Taylor, Fonseca, Croft and Delaforce) but Adrian Bridge, the Managing Director of the Partnership, as well as Robert Bower, one of the next generation of family members in the business, were visiting from Portugal and London respectively. Given the great venue, the looks of the lineup as well as the two aforementioned Port experts, this was going to be a wonderful afternoon.
Taylor and Fonseca have been conjoined for the past 56 years, actually the post-WWII consolidation took place during what was to become one of the legendary Port vintages for both Shippers, 1948. It was the start of many good things to come. The late and great Bruce Guimaraens who made and blended the Port for both Fonseca and Taylor for well over three decades, passed the reigns to his Port savvy son David, a decade ago. David became an instant star when his first vintage of Taylor and Fonseca (in 1994) received 100-point ratings from the Wine Spectator and later shared top honors for "co-wines of the year." Both father and son are known for two outstanding traits: their uncanny propensity for frequently producing awe inspiring Vintage Ports … and their sincere warmth and quality of character. I have been most fortunate to get to know both father and son over the years, and it's been a wonderful privilege.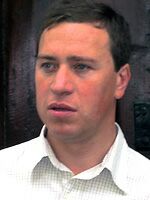 David Guimaraens
In 2002, Taylor and Fonseca purchased Croft and Delaforce, two well-respected Port companies (Delaforce had become a part of Croft some years ago). The rationale for this historic acquisition mostly revolved around The Fladgate Partnership's desire to obtain specific vineyard sites that were part of the purchase agreement. Delaforce owned Quinta da Côrte with its stunning vineyard that is set back into a horseshoe curve on a steep and beautifully terraced site in close proximity to the Rio Torto (Twisted River), a tributary of the Rio Douro (River of Gold, better known today as the Douro River). Grapes grown here used to supply Cockburn decades ago but have since become the backbone of Delaforce Port. The vine age of Côrte's vineyard averages nearly fifty years old, which have always, contained "field blends" of grapes. Due to topographical challenges this vineyard has always been hand harvested as the steep terraces do not allow mechanized harvesting methods. This may change with the new ownership, although this is probably not an essential part of their modernization plan.
The diamond in the rough and the crux of the purchase of the properties was to obtain Croft's crown jewel, Quinta da Roêda. This property dates back ca. 1811 and was purchased in 1844 by Sr. John Fladgate of Taylor Fladgate & Yeatman fame and fortune. He managed Taylor at this point in the company's history. Roêda which in Portuguese means "noise" was an apt description for the river's wildness (before the dams were built over a century later) in this twist of the Douro River near the Pinhao River. Fladgate turned the property over to Croft when one of his daughter's wed Croft's agent stationed in Oporto. It is a distinct property with some old ungrafted vines, similar to that used by Quinta do Noval's Nacional vineyard, except Roêda's are only about 26 years old. The fact that many excellent VPs were produced for Taylor from this property, including some reputedly superb Single Quinta Vintage Ports (long before SQVPs became trendy) was the impetus for Taylor to procure this hallowed ground from beverage giant, UDV. Under the stewardship of The Fladgate Partnership, it is a certainty that Quinta da Roêda will return to a property of prominence.

On to the tasting of the fruits of these four Shipper's all of which now make up The Fladgate Partnership. Although I did miss the sun, to be more honest, my reason for heading down to LA was for the opportunity to try a couple more Vintage Ports from the 2001 crop. I had tasted less than a handful of VPs from this fine vintage, which was obscured by one of the most deservedly hyped vintages in the past fifty years, the "legend-in-the-making" 2000. There were about 20 Ports served but I was heading directly to an "offline" wine dinner following the Port tasting, so my notes reflect my judicious selection of only 17. (Note: although I will provide scores as a benchmark, in fairness to the wines, they could not all be decanted far enough in advance to show their best). Due to the large number of attendees and the duration of the tasting, my tasting notes are more rustic than usual.
1977 Delaforce Vintage Port - light ruby color with a brick edge and aromas of anisette and sweet fig, with alcohol wafting from the glass, but not overwhelming. Smooth, sweet and a toasty/nutty finish with good length and just a touch too much alcohol protruding, for my liking. 85 pts.
1977 Taylor Vintage Port - I was surprised to find this bottle corked. I brought it to Robert's attention and shockingly I had to tell him the subsequent bottle was corked as well. This was a first for me, as I have never seen back-to-back corked bottles of VP. Fortunately, the 3rd attempt was a winner. Light to medium ruby and the Taylor would have even been considerably darker with more time to sit in decanter and bloom properly. The body weight was a bit lighter than I am accustomed to, but again, this had just been opened in front of me. The persistent finish here highlights not only the fine grip of this Taylor but also the boisterous youth. 95 pts. (typically higher).
1983 Quinta da Roêda Vintage Port - Light on color and viscosity but big on flavor. This Roêda shows all the signs of early maturation with distinct evolved raisiny, cherry and nutty nuances. Slightly coarse textured and some spirit showing on the finish. Still, it was a very pleasant wine. 87 pts.
1984 Fonseca Guimaraens Vintage Port - strawberry color, sweet nose of candied walnuts and a nice anise nuance too. Ripe tannins prevail and along with a bit too much alcohol showing up on the finish, this wine needs more time to come into focus. Is it still too young or was it just in need of much more time in decanter? 86 pts.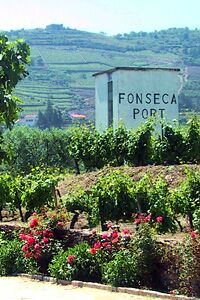 1985 Fonseca Vintage Port - BEST OF SHOW (regardless of score). Yes, this is everything you can ask for of a wine that is quite youthful at nearly 20 years old. This Fonseca is an outstanding 1985 VP, which offers great upside potential. If you don't have any in your cellar, there is one short question to ask yourself: why not? This Port shows extremely dark ruby in color and every bit as dark as Graham's '85; with a woodsy aroma of pine and a backdrop of cinnamon spice. The '85 Fonseca is all about balance and has the supporting characters in its structure to keep stride with the intense blueberry fruit and glimpse of chocolate that carries on the finish. For all the delicious fruit that is packed in here, it is not a huge jammy style, but more of a Charlize Theron of a wine. In a phrase, understated elegance. Drink and enjoy today or over the next 3 decades. The best showing of this wine, I have had to date and it is still a very young Port. 96 pts.
1986 Delaforce Colheita - this was Delaforce's 2nd release of a Colheita and a fine effort. It shows more evolution and complexity than what I expected from this older teenager. Full-bodied, rich, exotic notes, good depth and long length. A very classy wine. 93 pts.
1988 Quinta de Vargellas Vintage Port (Taylor's Quinta) - I am a very big fan of Vargellas and this was one of the few to disappoint me. Vargellas is reputed to contain the highest percentage of old vines of any quinta in the Douro (60 percent are over 75 years old). Unfortunately, this bottle is seemingly past its prime, with prune, raisin and a sweet sun-dried tomato note. It possesses a medium length finish with too much heat present. 83 pts.
2000 Croft Vintage Port - probably best for consuming over the next 15 years as this is soft and very approachable now and may lack the grip to go the distance. So what, it is one delicious wine today. It provides violet and floral notes along with some cedar aromas. Sweet, ripe plum fruit stands out and is smooth in a "come hither" style. Its strong suit is the phenomenal balance and awesome finish. 92 pts.
2000 Delaforce Vintage Port - it had been 20 months since I last tried this Port. In possession of a very dark ruby color. The Delaforce continues to improve and is a big and juicy wine with sweet, ripe and approachable blackberry flavors that shows how balanced this wine is. From earlier examples the evolution so far shows how good this wine will become over the coming decades. This 2000 is complemented by a refined finish that is smooth and elegant. 93 pts.
2000 Fonseca Vintage Port - I am so confused! 80% of the time, I prefer this to the Taylor even though the 2000 Taylor is "bigger." But the seductive elegance of this wine baby is not hard to fall in love with. This Fonseca is all about class and breeding, like its winemaker. It shows spicy aromatics and lush dark berry fruit and incredible focus. This is still as amazing as the first time I had it (poured for me by Bruce Guimaraens). This will be one phenomenal VP in its maturity, sometime after 2040. 98 pts.
2000 Taylor Vintage Port - This wine evokes memories of a primal Cassius Clay in its brash and bold, smash-mouth, youthful style. This is not for the meek of heart. If only this had the luxury of having been decanted a few more hours it would have been even better. Jeez, this is a monster and the epitome of a masculine Port. Today it is showing vibrant, primary blackberry that zings with both acidity and to a slightly lesser extent, iron-fisted grip. This will see 2100 and will be the perfect gift for your grandchildren's kids. This Taylor will only get better, much better as it matures. Wow! 96+ pts.
2001 Port growing conditions:
The 2000 harvest obviously yielded some amazing grapes and produced one of the great vintages in recent history, along with 1994, of course. 2001 was almost an aberration in terms of its weather. The winter had so much continuous rain that it seemingly did not stop for nearly five months. The Douro River crested above its banks six times in Oporto, and farther up river 59 people were killed when a bridge collapsed in Penafiel on March 5th due to the excessive level and velocity of the river. Fortunately, conditions slowly improved and bud break took place a few weeks later.
In May 2001, the flowering began and due to the vast moisture still in the ground, large crops were expected. This forecast changed considerably when a significant heat wave hit in mid-June which had an adverse effect on the vineyards due to insufficient canopy cover. The good news was that the reduction in fruit translated into improved concentration levels. The summer months were moderately warm and there was just enough rain to keep things well-balanced. There was virtually no rain for the last month of the growing season and this dynamic did not help the acid levels in the grapes which were otherwise concentrated with sweet juice.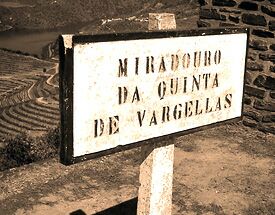 Harvest took place under clear but warm skies and night time temperatures remained warm too. Those with temperature controlled lagares and autovinifiers were able to keep their fermentation temperatures in check. The young 2001 Ports I have tasted so far show a sublime, sweet style and also have good structure. I have not noticed deficiencies in acidity and have paid attention to this issue. I believe that had 2001 not followed the historic Millennium Vintage, it may have been generally declared in its own right. More importantly, information flowing out of Portugal is quite bullish on the 2003 vintage and although it is still very early in the game, it would surprise no one if this was the next generally declared vintage in the Douro.
2001 Quinta de Vargellas Vintage Port (Taylor's Quinta) - dark and opaque purple, Intense lavender and violets on the nose present a fresh bouquet of flowers. It is actually TOO big for enjoying now and is more similar to a cask sample, so keep these in the cellar for a few years ... like 20! Massive and mouthfilling and with a tannic grip that begs for a good tooth brushing when you are done. I can't say it was fun, but a wild ride at this stage. It boldly goes where few Ports have gone before. 93-95 pts.

2001 Quinta do Panascal Vintage Port (Fonseca's Quinta) - dark ruby that falls short of opacity and is the feminine opposite of the Vargellas. Medium-bodied and far more approachable today than its brother, with black and blueberry fruit that is soft and smooth, with refined tannins. The Panascal possesses a well developed structure but at this stage offers an easy-to-drink-now style. 90 pts.
1997 Croft LBV - Adrian's wife Natasha actually did the blending of this Late Bottled Vintage Port. The Croft depicts a bright, dark ruby color which is just short of opaque. Nice young and floral, violet aromas delight the senses. Round and opulent mouthfeel with a fine balance of blackberry fruit and acidity. Good length on the finish. A gorgeous and reasonably priced Port and I can't remember having any LBVs by Croft before. 91 pts.
1999 Taylor LBV - this wine shows very dark ruby with a purple edge. The Taylor is obviously a very young and massive Port. It is so young and primary that it simply overwhelms the palate with big sweet boysenberry fruit and plum on the aftertaste. Although it is mostly approachable upfront, it finished with "in-your-face' cheek sucking tannin that along with the bold fruit, promise to keep this wine appealing to anyone who likes dense, jammy Port flavors. What's not to like? 92 pts.
Delaforce "Curious and Ancient" 20 Year Tawny - this Tawny shows pinkish-orange in color and a light body weight to match the light color of this Port. The nutty flavors here are most pleasant and offer a good mouthfeel. Medium length on the finish, it is not what I would call a "complex" 20 year old, albeit enjoyable. 87 pts.
Fonseca 20 Year Old Tawny - this Fonseca offers a mahogany hue and shows richness and depth of candied pralines and brown sugar flavors. I very much enjoyed the mouth coating and multi-layered waves of fruit, with a great lingering finish. A very good 20 year old Tawny! 92 pts.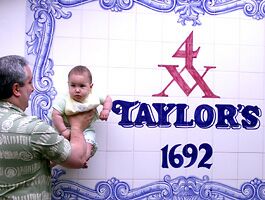 Taylor vintage 2002, at Taylor's in Gaia where she spoke her first word, "Dada."
My special thanks to Kobrand Corporation for sponsoring such a wonderful trade tasting of The Fladgate Partnership's Ports. This was a first class event, held in a great venue and was made even more enjoyable by the attendance of Adrian Bridge and Robert Bowers.
Please feel free to email me any feedback, questions or suggestions regarding this article or Port wine in general. If you would like to be included on my Port e-newsletter mailing list, (free for the asking) please e-mail me at PortoLover@aol.com and include your first/last name, as well as the city, state and country in which you reside. You will then receive: FOR THE LOVE OF PORT © copyright 2004.
Roy Hersh
March 26, 2004
"In Port We Trust"
Words About Port index page