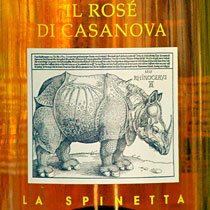 This Sangiovese-based pink wine may be labeled as a rosé, but it looks an awful lot like a white: It's a clear, pale gold wine with only the faintest hint of bronze. Its fresh, complex aromas are light but appealing fresh fruit including golden raisins and figs, adding an intriguing, unexpected hint of blackberry. Mouth-filling and ripe, full fruit flavors amplify the nose. Crisp, palate-cleansing acidity and berry fruit linger in a very long finish; 12.5% alcohol. This is one excellent wine, whether it's white or rosé. U.S. importer: Indigenous Selections LLC, Fort Lauderdale, Fla. (April 5, 2015)
FOOD MATCH: Treat this as a high-quality, balanced-fruit white wine and go with a broad range of "white meat" options from grilled chicken to pork or veal, or go meatless with egg, cheese or bean dishes. It would surely sing with fettuccine all'Alfredo. And, of course, its refreshing complexity makes it a natural for aperitif sipping.
WHEN TO DRINK: It would be very hard to resist drinking it up now, while it's so delicious and fresh. That said, however, the winery suggests that it will do fine with "a bit of aging," and still recommends the 2012 and 2013 vintages.
VALUE: The $20 point might seem a bit spendy for a pink wine, but this top-rank rosé more than justifies comparison with quality whites in the $20 to $30 range. That said, however, my local price is on the high side. Wine-Searcher.com reports a $17 average U.S. retail price, and it can be found for $15 with careful shopping.)
WEB LINKS Here is a link to Giorgio Rivetti's La Casanova page in English. This winery fact sheet offers detailed information on the Rosé. For more information, check importer Indigenous Selections' La Rivetta Tuscany page.
FIND THIS WINE ONLINE:
Find vendors and check prices for Casanova Della Spinetta 2014 "Il Rosé di Casanova" Toscana Rosato on Wine-Searcher.com.
The importer also offers a directory of U.S. wholesale distributors. Although they can't sell direct to the public in most states, they should be able to direct you to a local retailer.