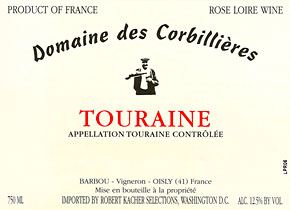 Here's a tart and food-friendly Loire rosé made from a blend of 70% Pinot Noir and 30% Pineau d'Aunis. It's a clear, pale salmon color, light pink with an orange hue. Gentle red berries and fresh green herbs, faintly reminiscent of basil leaves, make for an inviting aroma. Crisp and dry, a touch of strawberry meets a squirt of lemon on the palate, tart and refreshing, 13% alcohol. Very good with food. U.S. importer: Robert Kacher Selections, NYC. (June 3, 2015)
FOOD MATCH: For food pairing, think of it as a crisp, tart white wine and take it just about anywhere an acidic white would go: seafood and fish, lighter chicken dishes, summer salads. It was fine with a dinner salad with a vinaigrette (generous with the oil, light with the lemon) and thin slices of Parmigiano-Reggiano.
WHEN TO DRINK: In general, rosé wines are most delicious when fresh, best drunk up the year after the vintage. There's no need to dump older pinks; though. A year or two stored in a cool place might not help it, but it won't hurt it, either.
VALUE: I'd like its value a bit more in the lower teens (Wine-Searcher.com lista a $14 average U.S. retail price), but I'm not actively wailing about this price point.
WEB LINKS The winery website is available in French and English. Here's a fact sheet on the Touraine Rosé.
The importer's site also offers lots of great info on the fact sheet at this link.
FIND THIS WINE ONLINE:
Compare prices and find vendors for Domaine des Corbillières 2014 Touraine Rosé on Wine-Searcher.com.