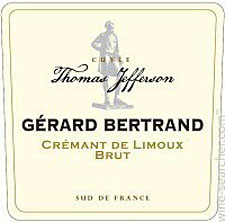 This sparkling blend of Chardonnay (70%), Chenin Blanc (15%), Mauzac (10%) and Pinot Noir (5%) shows a clear, pale straw color in the glass. A frothy white mousse bubbles up but falls back fast; but a steady stream of pinpoint bubbles lasts and lasts. Delicate, pleasant white fruit on the nose: Green figs, maybe, and a hint of dates, with subtle pears in the background. Carbonation and crisp acidity start the flavor with a palate-cleansing effect, then simple white fruit follows the nose, with just a hint of fresh green herbs that lingers into a long, clean finish. U.S. importer: Wine West LLC, Sausalito, Calif. (Jan. 7, 2016)
FOOD MATCH: Good dry sparkling wines go with just about anything. I might not suggest it first with a juicy rare steak, but it would work even there. It was excellent with the flavors of a garlicky spinach and walnut pesto with goat cheese over farfalle pasta.
WHEN TO DRINK: I wouldn't recommend cellaring this simple French sparkler, but you don't have to rush to drink it up. This 2012 model is doing just fine.
VALUE: My local price is within reach of the $16 average U.S. retail price shown onWine-Searcher.com. This wine is competitive with many basic non-vintage Champagnes that start around $50 or so, so I'd call it an excellent value at any point below $20 or so.
WEB LINK
This fact sheet (PDF) offers good information on Gérard Bertrand "Cuvee Thomas Jefferson" Cremant de Limoux Brut.
FIND THIS WINE ONLINE:
Check prices and find vendors for Gérard Bertrand "Cuvee Thomas Jefferson" Cremant de Limoux Brut on Wine-Searcher.com.
Learn more about Cremant de Limoux and browse dozens of producers and merchants on Wine-Searcher.com.