Does this sound a little like a bad country and western song? I can hear a tune in the back of my mind, a wailing tenor, acoustic guitar, maybe a harmonica. "Riesling, I want to love you. Oh, Riesling, my baaay-bee, why won't you love me?" Or something like that.
I want to love Riesling, I truly do. I know that it ranks among the world's greatest wine grapes. I have friends with acute palates who love Riesling so much that they include it in their email names. I am not kidding about this.
As I've written before, I get all the reasons why Riesling is beloved. It makes wines of rare clarity, transparency, minerality; wines that drink well young and age into things of beauty; wines that, more than almost any other, carry a sense of place, that elusive "terroir," that reflects the nature of the soil in which they grew. Rieslings boast an ancient heritage, back to Charlemagne and beyond. They are among the world's most food-friendly wines.
I know all this. I swear I do! But Rieslings never quite do it for me. Maybe it's that they're so aromatic. That sounds like a good thing, but to my taste buds they ramp it up too much, like a television that's had its color and brightness kicked up a notch, or background music in a nice restaurant that's tuned just a bit too loud. I compare them to the traditional wine styles of Italy and France (and their New World counterparts) that I grew up loving, and Riesling just seems like the odd person out. Good, sure, but different from my heart's true passion.
But I keep trying. I won't give up. Inspired recently by a fascinating interview with Terry Theise, one of the world's most ardent Riesling advocates, I committed myself to try again.
(The Wine Advisor continues below this message from our friends at The California Wine Club.)
Today's Sponsor:
Stock Your Cellar with Amazing Deals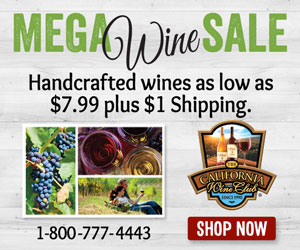 The California Wine Club invites you to check out their Super Savers during their Mega Wine Sale.
Delicious, handcrafted wines for as low as $7.99? They have them.
Highly rated gems at deep, deep discounts? Those are available too, but in small quantities, so don't wait.
Half, full and/or mixed cases all ship via ground for $1.
Shop Now
Mega Wine Sale ends on March 31, 2016.
 About The California Wine Club:
There are thousands of small family wineries handcrafting extraordinary wine in quantities too limited to be found in local stores or shops. In 1990 wine club founders Bruce and Pam Boring discovered that these winemaking families were the most passionate in the wine world and that their wines were the hidden gems of wine country! Together Bruce and Pam embarked on a journey to help these artisan wineries introduce their exquisite wines to the world. Learn more.
www.cawineclub.com 1-800-777-4443
Riesling, I wish I could love you
(Continued)
Just to stack the odds in my favor, I went hunting for a Riesling from Terry Theise's portfolio; and to make the deal even more enticing, I found one by a producer, Johannes Selbach of J & H Selbach, who according to the importer is "Terry Theise's man-on-the-ground in Germany."
Herr Selbach, writing on the importer's page, said things that really resonated with me, too: "You may have noticed our wines are a bit drier the last two vintages than they used to be. We know how to make reductive fruit-bombs that get high scores and stand out in big tastings, but the problem is everyone writes about those wines but nobody drinks them. We want to make wines for food, that people can use in their everyday lives."
Everything about it looked right, except possibly my somewhat spendy local price, $22, a full five bucks above Wine-Searcher.com's $17 national median for this wine; but even that didn't leave too bad a taste in my mouth.
How could I go wrong?
Indeed, I'll rate J & H Selbach 2014 Riesling Spätlese among the most enjoyable Rieslings I've tried, ever. A Pradikätswein from the Saar Valley, a tributary of the Mosel, it came from prime Riesling ground, and it displayed much of the character that drives Riesling-lovers' passion: Clear, fresh, aromatic, delicious, with aromas and flavors shifting from apples and pears to tangerines and grapefruit. Light, fresh-fruit sweetness but not enough to cloy, held in place with steely acidity, and whispering in the background, lovely "stony" minerality.
I'd definitely drink more. But I'm still trying to sense whether it touches my heart with the same depth of love that surrounds a Brunello, say, or a Chateauneuf-du-Pape.
We'll see. I'll definitely try again, and you should too. You'll find my detailed tasting report below.
Would you like to join us in conversation on this topic? You're most welcome to take part online, either in the WineLovers Discussion Group (WLDG) or on our WineLoversPage Facebook page.
You can read the discussion on the forum without registering, but if you'd like to participate in our conversations, you can quickly and easily join the forum via Facebook, using the "Social Login" button at the upper right corner of any forum page to log in.
I look forward to seeing you on our wine social media. Welcome!
Today's Tasting Reports
J & H Selbach 2014 Saar Riesling Spätlese ($21.99)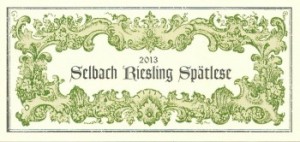 This pretty Saar Riesling shows a clear straw color in the glass, with a slight brassy-green hue. Appealing scents of mixed white fruits show apples and pears at first, then open up to something more citrusy, juicy grapefruit and a distinct note of something bright like tangerine. Flavors carry over to the palate, fresh, gently sweet fruit nicely balanced by steely acidity, with a subtle, intriguing "rainwater over rocks" minerality lurking shyly in the background. Light and refreshing at a low 9% alcohol. U.S. importer: Michael Skurnik Wines, NYC; A Terry Theise Estate Selection (Feb. 16, 2016).
FOOD MATCH: Riesling is one of the most food-friendly wines, serving as flexibly among white wines as Pinot Noir does with reds. It's a wine of choice with freshwater fish, a variety of chicken, veal or pork dishes, and cheese. We enjoyed it with a plate of mixed cheeses, Cheddar and Parmigiano-Reggiano, sliced and also toasted on grilled artisan baguettes.
WHEN TO DRINK: Riesling is also one of the most ageworthy whites, and, assuming good cellar conditions, even a modest Spätlese should hold up and improve over at least five years or more. Still, it's drinking nicely now, so there's no need to wait.
VALUE: Wine-Searcher.com reports an average $17 U.S. retail price for this appealing Spätlese, with some vendors offering it at $15, so my local price almost reads like an error. It's good, but price variation like this strongly suggests shopping for the better buy.
WEB LINK
This page from importer Michael Skurnik provides basic information about the Saar Riesling Spätlese. For information about the winery and its producer, Johannes Selbach, head for this importer page.
FIND THIS WINE ONLINE:
Find sources and compare prices for J & H Selbach Saar Riesling Spätlese on Wine-Searcher.com.
For more information about the Mosel and its wines, including an exhaustive list of representative wines and their vendors, check this page on Wine-Searcher.com.
Social Media
If you use Facebook, we'd be delighted to have you "Like" our WineLovers Facebook Page. This way you can get Facebook notifications when there's a new The 30 Second Wine Advisor issue or a topic of particular interest on the WineLovers Discussion Group (WLDG).
If you're a Facebook user, you can join our forum with a single click! All you need to do is visit the forum and click the "Social Login" link at upper right.
Finally, I welcome social media connections, but if I won't recognize your name, I suggest that you contact me via Email to wine@wineloverspage.com to let me know that you've requested a connection.
Connect with Robin Garr on LinkedIn
Talk About Wine Online
If you have questions, comments or ideas to share about today's article or wine in general, you're always welcome to drop by our online WineLovers Discussion Group, the Internet's first and still the most civil online community. To find our forums, click:
Discussions are open for public viewing, but you must register to post. If you're a Facebook user, you can also now join our forum with a single click! All you need to do is visit the forum and click the "Social Login" link at upper right.
We use only your name and Email to identify you and make no other claim on your Facebook information or privacy. However, if you prefer not to use Facebook, contact me at wine@wineloverspage.com for information about registration.
Subscriptions and Administrivia
Unsubscribe:
We're sorry if you must leave us, but simply click the "unsubscribe" link at the bottom of your Email edition to be instantly removed from the mailing list.
Change address:
The quickest and easiest way to change your Email address is simply to register anew, using the link below. If you are keeping your old address but no longer wish to get the Wine Advisor there, click the unsubscribe link below to take it off our list; if you are closing the mailbox, you needn't take any action, as our system will delete your old address as soon as the mail to your old address starts to "bounce."
Subscribe to this weekly E-letter (free)
Sponsorship Opportunities:
For information, E-mail wine@wineloverspage.com