Several years ago we visited the island of Sicily and stopped in several excellent wineries. During our visit to the island we tasted a number of different types of the predominant red wine, Nero D'Avola (in Italian this translates as "the black of Avola", a town in the eastern part of the island). In addition to the elegant higher-level offerings from the wineries, we also tasted a variety of Nero D'Avola wines that were served as the house wine all across the island. The difference in taste by location was eye-opening.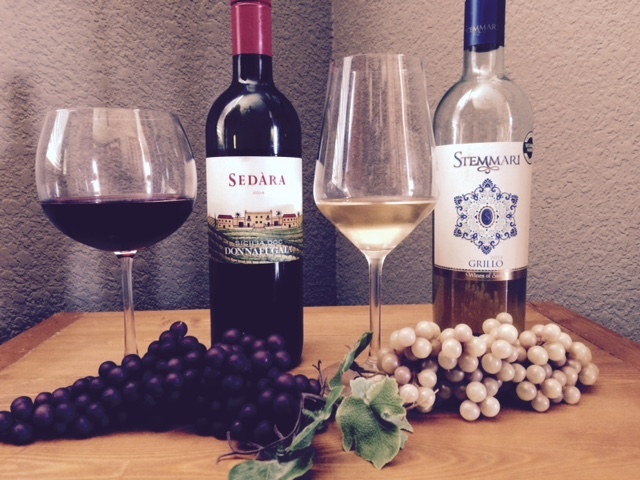 A friend in the business, Lauren Vahldick at Current Marketing, recently sent me a bottle of Sedara, a Nero D'Avola produced by the Donnafugata winery located in the western part of Sicily near Marsala. Donnafugata has been making wine there for 160 years.
Lauren had suggested trying this on Valentine's Day with chocolate, but I really like to drink Italian wines with a meal. We drank the Sedara with a simple meal of pork chops and fresh vegetables. The Sedara, aged in cement tanks and then six months in the bottle, was a very nice 13.5% alcohol, medium body, dry red wine that went well with this meal. At less than $20.00 per bottle this is a wine that goes well with red meat dishes, pastas and even fish. I rated it an 89.
Lauren also sent a Sicilian white wine, a Grillo, from the Stemmari winery. Stemmari is a subsidiary of Mezzacorona, the Dolomite winery that produces a very good and very reasonably priced Pinot Grigio. Grillo is a native Sicilian grape that is made into a very nice dry white wine. If you drink the house white in Sicily it is often a Grillo.
The Stemmari offering was a 13% alcohol, pale yellow wine that paired well with a fish dish that was a hit with everyone. At about $10.00 per bottle this Grillo was a bargain and I rated it an 88.
Drinking these two wines makes me want to return to Sicily again.