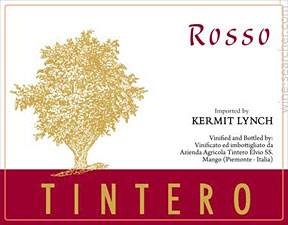 Dark purple, with garnet glints against the light. Appealing scents of black plums and black cherries carry over intact to the palate in a fresh, clean acidic flavor with distinct notes of fragrant, almost floral black pepper in a longish finish. Palate-cleansing and food friendly, fresh flavors and fine fruit-acid balance backed by gentle 12.5% alcohol. Its blend of 40% Nebbiolo, 40% Barbera, 10% Dolcetto and 10% Cabernet Franc mixes varieties not traditionally used together, grown in regions within Piemonte that aren't normally put together. Accordingly, it may claim neither geographical designation nor vintage. It's a fine wine, though, and its non-traditional mix nevertheless yields a flavor that's all Piemonte. U.S. importer: Kermit Lynch Wine Merchant, Berkeley, Calif. (Feb. 5, 2016)
FOOD MATCH: We enjoyed it with a simple take on Marcella Hazan's Ragù Bolognese. The back label suggests "soups, cold cuts, white meat, medium to hard cheeses," and recommends serving it cool, not chilled, ideally at "cellar temperature" (55F). To achieve this without a cellar, simply pop the bottle in the fridge for 30 to 45 minutes before dinner.
WHEN TO DRINK: I don't know that it will improve with age, but it's in a perfect spot for enjoying with food right now. It won't go around the bend in the next year or two, but – especially since the vintage isn't given – I'd buy it and drink it when I find it.
VALUE:
An exceptional table wine in a price range where such a thing is no longer easy to find. Wine-Searcher.com reports an average $10 retail price.
WEB LINK
Kermit Lymch Wine Merchant, the importer, has an info page on Elvio Tintero, the producer, at this link.
FIND THIS WINE ONLINE:
Find sources and compare prices for Tintero Rosso on Wine-Searcher.com.