My recent rumination on red wines that satisfy during summer heat mysteriously brought us a brief cool spell.
But we're back into the 90s today, so let's consider another light, simple but appealing red wine that can be served gently chilled.
Berger 2013 Niederösterreich Zweigelt, a light, food-friendly Austrian red that comes in a liter bottle with a beer-bottle cap, isn't intended for cellaring or, perhaps, for fancy dining. But if any of your friends snicker about its downscale look and feel, offer them a glass and watch them recalibrate their attitude.
No, it's not a classic variety from a sought-after territory. It's not a wine that will make you hear choirs of angels sing. But it's a fresh, drinkable and food-friendly red that you can enjoy with dinner on a steamy night, then put back in the fridge and draw from again for a few more nights before it begins to show the inexorable effects of time.
At a price of $10 to $15 for a liter in most markets – which works out to well under $10 if it were a standard-size 750 ml bottle – it's quite a buy. See my tasting report below for the details.
While we're at it, let's have a look at a familiar little wine book that catches our eye with an annual update: Hugh Johnson's Pocket Wine Book is coming out with its 2017 update in about two weeks. It's the 40th anniversary edition, a fact that is somewhat alarming to me, since I've been following it from almost the very start, and it doesn't feel as if I've been writing about wine and food for quite that long.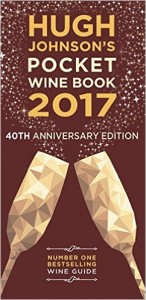 This little pocket guide has grown quite a bit over the years: It's up to 336 pages now in a volume that's still technically "pocket size" but that might be a tight fit in a small pocket, and the tiny type has grown even smaller to make that possible. But it still offers a quick and easy way to look up short details about almost any wine, grape or wine region you could imagine.
Content has come quite a way over those years, too, reflecting similar changes in the world of wine. As I recall, the books in the early 1980s had a lot about France, and broke out a separate section on Bordeaux. It still does. It had a section on Italy, a section on Germany, and a few pages each about California, South America, South Africa and Down Under. Now it truly ranges the world, with sections on 20 separate U.S. states, Canada and Mexico, North Africa and the Near East, and even essays on the emerging wine scenes in India and China.
Even in the age of the Internet when you can use Google to find just about anything, including all the details you can imagine about any wine in the world, I still enjoy having this little book in hand, and getting my updated edition every year to see what's new with Hugh.
But if you just have to have the info in your portable device, you can do that, too: Hugh Johnson's Pocket Wine Book is also available for Kindle or the Kindle app on your smartphone.
You can pre-order Hugh Johnson's Pocket Wine Book 2017 from Amazon.com for $12.74, a 25 percent discount off its $16.99 list price, for shipment on September 6, 2016.
The Kindle Edition is $7.99, and will be delivered to your Kindle reader or app on September 8.
If you buy the book or Kindle using the links above, WineLoversPage.com will receive a small commission to help us pay the rent, and for that we will be grateful.
Today's Sponsor:
$1 Shipping Harvest Wine Sale!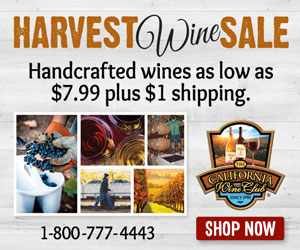 You are invited to shop The California Wine Club's Harvest Wine Sale. Stock up with savings of up to 67% on award-winning, handcrafted wines priced as low as $7.99. Plus get $1 shipping on every case or half case purchase. Shop early for best selection. Be sure to check out the Super Savers category for the best values.
Click Here to Shop Now.
Harvest Wine Sale ends on September 30, 2016. Half, full and/or mixed cases all ship via ground for $1.
About The California Wine Club
There are thousands of small family wineries handcrafting extraordinary wine in quantities too limited to be found in local stores or shops. In 1990 wine club founders Bruce and Pam Boring discovered that these winemaking families were the most passionate in the wine world and that their wines were the hidden gems of wine country! Together Bruce and Pam embarked on a journey to help these artisan wineries introduce their exquisite wines to the world. Learn more.
www.cawineclub.com 1-800-777-4443
Berger 2013 Niederösterreich Zweigelt ($16.99/1 liter)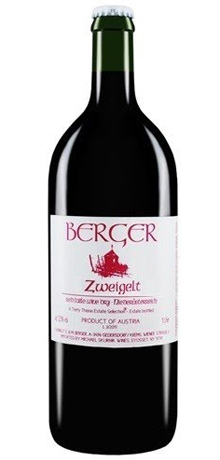 Here's a tasty introduction to Zweigelt ("Tsvy-gelt"), a modern Austrian grape developed in 1922 as a red grape that would produce well in Austria's climate. It's a clear cherry red color, not overly dark. Pleasant aromas of cherries and red berries lead into a mouth-watering flavor, fresh and tart, cranberries with hints of fresh cherry and raspberry. Mouth-filling and ripe, 12.5% alcohol, it has a distinct edge of tannic astringency that lingers with tart berry fruit in a very long finish. U.S. importer: Skurnik Wines, NYC., a Terry Theise Estate Selection. (Aug. 10, 2016)
FOOD MATCH: Fine with fennel-scented Italian-style sausages sauteed with green peppers and onions.
WHEN TO DRINK: With its simple style and beer-bottle cap, I wouldn't cellar it long-term, but this 2013 is holding up well and should last another couple of years without losing its pleasant flavor.
VALUE:
My local price is well above the $12 U.S. average retail price reported by Wine-Searcher.com, but my $17 liter price translates to $12.75 for a standard bottle, and I have to admit I'd pay that price again.
WEB LINK
Here's an importer's fact sheet on Weingut Erich & Maria Berger. This page offers links to all the Berger wines, including the 2013 and 2014 Zweigelt.
FIND THIS WINE ONLINE:
Check prices and find vendors for Berger Zweigelt on Wine-Searcher.com
Social Media
If you use Facebook, we'd be delighted to have you "Like" our WineLovers Facebook Page. This way you can get Facebook notifications when there's a new The 30 Second Wine Advisor issue or a topic of particular interest on the WineLovers Discussion Group (WLDG).
If you're a Facebook user, you can join our forum with a single click! All you need to do is visit the forum and click the "Social Login" link at upper right.
Finally, I welcome social media connections, but if I won't recognize your name, I suggest that you contact me via Email to wine@wineloverspage.com to let me know that you've requested a connection.
Connect with Robin Garr on LinkedIn
Talk About Wine Online
If you have questions, comments or ideas to share about today's article or wine in general, you're always welcome to drop by our online WineLovers Discussion Group, the Internet's first and still the most civil online community. To find our forums, click:
Discussions are open for public viewing, but you must register to post. If you're a Facebook user, you can also now join our forum with a single click! All you need to do is visit the forum and click the "Social Login" link at upper right.
We use only your name and Email to identify you and make no other claim on your Facebook information or privacy. However, if you prefer not to use Facebook, contact me at wine@wineloverspage.com for information about registration.
Subscriptions and Administrivia
Unsubscribe:
We're sorry if you must leave us, but simply click the "unsubscribe" link at the bottom of your Email edition to be instantly removed from the mailing list.
Change address:
The quickest and easiest way to change your Email address is simply to register anew, using the link below. If you are keeping your old address but no longer wish to get the Wine Advisor there, click the unsubscribe link below to take it off our list; if you are closing the mailbox, you needn't take any action, as our system will delete your old address as soon as the mail to your old address starts to "bounce."
Subscribe to this weekly E-letter (free)
Sponsorship Opportunities:
For information, E-mail wine@wineloverspage.com