A funny thought crossed my mind as I was twisting the screw cap off a bottle of Italian wine the other day: There are young adults reaching legal drinking age this year who weren't born yet when many of us older wine geeks were startled to see metal screw caps turning up on bottles of fine wine.
It's true, young 'uns! As recently as the 1990s, the idea of closing quality wine with a metal cap seemed about as ridiculous as putting wine in six-packs of cans.
I can still hear the surprise in my voice as I wrote, in the July 25, 2001 edition of The 30 Second Wine Advisor, "particularly in Australia and New Zealand, some respected wine makers are experimenting with a closure that would have been unthinkable for quality wines a few years ago: The metal 'screwcap,' which many people associate only with inexpensive wines that come in large jugs."
Plastic stoppers had already become fairly common by that time, all in the service of avoiding the musty, stinky "cork taint" that afflicts a percentage of bottles closed with natural cork. But screw caps were a harder sell, because their reputation was firmly associated with cheap wines sold in fat jugs, and that was that.
As time went by, though, the Stelvin brand screw cap was perfected with its long, sturdy "skirt" firmly attached to a tightly perforated cap fixed with technological liners. Stelvin had been making metal caps for 50 years, but when the modern innovation proved as capable for long-term storage as corks, and without the cork-taint disadvantage, the brand took off, perhaps boosted by the finding that plastic stoppers weren't working out for longer-term storage.
And now those young folks we addressed at the beginning probably don't even realize that screw caps used to be a bad thing. With up to 90 percent of wine from Australia and New Zealand bearing screw caps and the rest of the world catching up fast, screw caps are the new normal. Worldwide, about 30 percent of all wines are closed by screw cap, according to Mike Veseth's June 2015 article in The Wine Economist. About half of all U.S. wines are screw-capped, but Europe still trails, perhaps because of tradition and the power of the Portuguese cork industry within the European Union.
I don't complain at all any more when I see a screw-capped wine. If anything, I may choose it in preference to natural cork because of the enduring taint problem. (A new kind of processed "technological" cork, headed by the DIAM brand, is also taint-free, but for reasons that aren't clear to me, this information isn't usually available on the label. As long as I can't know in advance whether my bottle has a clean DIAM or a possibly tainted cork, I'm dubious.)
Which brings me finally to one of today's wines: I brought home a modest but reliable Italian red (Vitiano Umbria Rosso), and was mildly surprised to find that what at first appeared to be a standard Stelvin screw cap was actually something less. What appeared to be the screw cap sleeve turned out to be a thin plastic capsule, which, when peeled off, revealed a short screw cap that looked like the screw-off end of a Stelvin, only shorter. It worked fine to keep the wine inside the bottle, but I'd be skeptical of its long-term use. It was the first such thing I've seen, and if any of you know more about these mini-caps and the purpose behind them, assuming it's anything other than saving money, I'd love to hear from you.
You'll find my tasting notes below on the Vitiano and a very pleasant red from far northeastern Italy, San Pietro Schiava (an indigenous grape also known in Germany and Austria as Vernatsch, Trollinger or Black Hamburg) from Alto Adige in the Italian Alps. FYI, it's closed with a cork.
Today's Sponsor:
Savor California's Finest Wines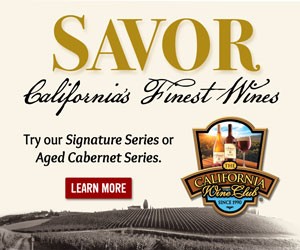 The California Wine Club offers access to California's most coveted and prestigious wines with two upper-level club options for collectors and connoisseurs.
Our Signature Series offers hand-selected, extremely limited-production gems that are covered in gold medals and 90+ point ratings.
Our Aged Cabernet Series is the ultimate reward in fine viticulture, featuring Napa's finest Cabernet Sauvignons carefully aged for 8 to 12 years and ready to savor now.
These exquisite wines are guaranteed to please the most discerning palates. Click to try either series.
About The California Wine Club
California is home to thousands of small family wineries handcrafting extraordinary wine in quantities too limited to be found in local stores or shops. Since 1990 it has been our mission to help these artisan wineries introduce their award-winning wines to wine lovers across the U.S. Learn more.
www.cawineclub.com 1-800-777-4443
Today's Tasting Reports
San Pietro 2015 Alto Adige Schiava ($12.99)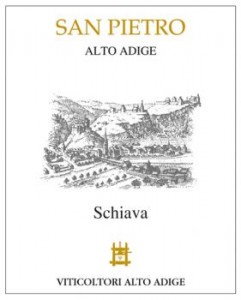 This Northern Italian Alpine blend of 95 percent Schiava and 5 percent Lagrein is a pretty, rather light garnet color. Simple but appealing on the nose and palate, it offers a lightly spicy raspberry and cranberry scent and tart red-fruit flavor shaped by crisp, food-friendly acidity. It doesn't seem tannic at first, but some astringency becomes more apparent with subtle red berries and a hint of stony minerality in the long, clean finish. On the light side at 12.5 percent alcohol, enhancing its versatility at the table. U.S. importer: De Grazia Imports LLC, Evanston, Ill. (Oct. 15, 2016)
FOOD MATCH: The light red nicely complements the rich dairy flavors of a light Manchego cheese sauce over spaghetti. For a more traditional match, look to roast or grilled chicken or lean beef.
WHEN TO DRINK: This lighter-style wine is best enjoyed within a few years of the vintage, but I wouldn't worry about holding it for a year or two.
VALUE:
It's a great buy at my local price, which matches the $13 average retail price reported on Wine-Searcher.com
WEB LINK
Here's a link to a page about San Pietro from distributor Michael Skurnik, with links to all its wines.
Here's more on San Pietro Schiava from importer Marc De Grazia.
FIND THIS WINE ONLINE:
Here's a link to vendors and prices for San Pietro Alto Adige Schiava on Wine-Searcher.com. If you'd like to try Schiava/Trollinger/Vernatch from other producers and parts of the vine-growing world, try this Schiava page on Wine-Searcher.com. Page down past the grape information to find links to a couple of dozen examples.
Vitiano 2013 Umbria Rosso ($11.99)
A blend of equal parts of Merlot, Cabernet Sauvignon and Sangiovese, this is a dark purplish-garnet wine, with a clear ring at the edge. Lush black-fruit flavors show on the nose, plums and Bing cherries and a subtle but distinct whiff of black licorice. Fresh black-fruit flavors carry over on the nose, clean and balanced, framed by tart, zippy acidity that refreshes the palate and 13 percent alcohol, adding up to a good food wine. There's just a wisp of tannic astringency along with plums and distant anise in a fairly long finish. U.S. importer: Winebow Inc., NYC, Leonardo Locascio Selections. (Oct. 19, 2016)
FOOD MATCH: The back label suggests matching it with "red meat and tomato-sauced dishes," so we complied and were very happy pairing it with bowls of spaghetti with a tomato-meat sauce topped with plenty of grated Parmigiano Reggiano.
WHEN TO DRINK: Its varietal blend suggests a few years' aging potential, but its short, lightweight metal screw cap under a red plastic capsule doesn't look as sturdy as the heavier screwcaps in more common use. I'd be wary of cellaring it for longer periods.
VALUE:
My local retail price is a buck or two over the $10 average reported on Wine-Searcher.com, but I'd still call it a good value.
WEB LINK
Here's the importer's detailed fact sheet on this vintage.
FIND THIS WINE ONLINE:
Locate vendors and check prices for Vitiano Umbria Rosso on Wine-Searcher.com
Social Media
If you use Facebook, we'd be delighted to have you "Like" our WineLovers Facebook Page. This way you can get Facebook notifications when there's a new The 30 Second Wine Advisor issue or a topic of particular interest on the WineLovers Discussion Group (WLDG).
If you're a Facebook user, you can join our forum with a single click! All you need to do is visit the forum and click the "Social Login" link at upper right.
Finally, I welcome social media connections, but if I won't recognize your name, I suggest that you contact me via Email to wine@wineloverspage.com to let me know that you've requested a connection.
Connect with Robin Garr on LinkedIn
Talk About Wine Online
If you have questions, comments or ideas to share about today's article or wine in general, you're always welcome to drop by our online WineLovers Discussion Group, the Internet's first and still the most civil online community. To find our forums, click:
Discussions are open for public viewing, but you must register to post. If you're a Facebook user, you can also now join our forum with a single click! All you need to do is visit the forum and click the "Social Login" link at upper right.
We use only your name and Email to identify you and make no other claim on your Facebook information or privacy. However, if you prefer not to use Facebook, contact me at wine@wineloverspage.com for information about registration.
Subscriptions and Administrivia
Unsubscribe:
We're sorry if you must leave us, but simply click the "unsubscribe" link at the bottom of your Email edition to be instantly removed from the mailing list.
Change address:
The quickest and easiest way to change your Email address is simply to register anew, using the link below. If you are keeping your old address but no longer wish to get the Wine Advisor there, click the unsubscribe link below to take it off our list; if you are closing the mailbox, you needn't take any action, as our system will delete your old address as soon as the mail to your old address starts to "bounce."
Subscribe to this weekly E-letter (free)
Sponsorship Opportunities:
For information, E-mail wine@wineloverspage.com