A powerful hurricane is brushing the Florida coast, and NASA tells us that 10 of the warmest years of all time have come during the past 12 years.
Give More
Treat someone to a fun and tasteful California Wine Club subscription, and we'll include bonus gifts worth $70 in their first delivery.
Give a gift subscription of 2 months or more and the first delivery will also include these bonus gifts: A third bottle of handcrafted wine, a $25 credit voucher and an elegant bottle stopper.
Get this Offer
Offer expires October 31, 2016.
But does all this have anything to do with wine?
Well, actually, the answer is almost certainly "yes." Without getting into the debate about what's causing it (although I have my opinions about that), the fact is that global temperatures are going up and events like hurricanes are becoming more powerful, as the NASA link above spells out with graphs and charts.
As I've written often over the years, significantly warmer climate is not necessarily a good thing for fine wine. Over-ripening in unaccustomed heat yields grapes that make highly alcoholic wines with too much fruit, too little acid, lacking the ideal balance that wine lovers seek and prize.
It's no coincidence that most of the world's top wine regions are located in Mediterranean-style climates protected from hard winter freezes and fierce summer heat. Wine grapes are finicky creatures, and they don't thrive in extreme conditions.
As global temperatures warm, regions that were once perfect for Cabernet Sauvignon, Pinot Noir, Nebbiolo and other top-rank varieties may reach the point where they simply can't grow them well. At some point, growers may have to choose between holding on to tradition at the risk of losing quality, or throwing out tradition, ripping out beloved vineyards, and replanting with different varieties, not traditional in the region, that can stand the heat. In short, they may have to start all over again.
It's already happening in the Alto Adige in Alpine northern Italy, writer Brad Japhe reported on the Munchies blog this week. There, where the Lageder family has been growing the region's cool-climate German and Austrian varieties for many generations, they've gradually been replacing the traditional grapes with warm-climate Roussanne, Marsanne, and Assyrtiko varieties.
California faces a similar climate challenge, Chris Howell of Cain Vineyard in St. Helena, California, told Japhe. "Locally, we can't combat climate change—only adapt," Howell said. "In Europe, I no longer hear alarm but rather acceptance, even resignation."
It's a good article. I recommend reading it in full at the Munchies blog, "How Climate Change Will Completely Transform Wine as We Know It."
For another interesting article on this topic, take a look at Alastair Bland's March 2016 report on National Public Radio, "An Upside To Climate Change? Better French Wine."
Meanwhile, stay safe out there. We wish our Florida readers and their families and friends well, and take some hope from reports that the hurricane may be losing some of its strength and staying offshore.
Today's Sponsor:
Give More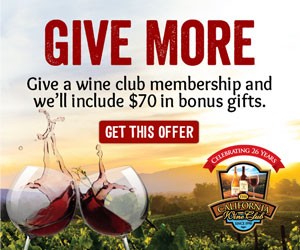 Treat someone to a fun and tasteful California Wine Club subscription, and we'll include bonus gifts worth $70 in their first delivery.
A different small-batch California winery is featured each month, making this a true wine adventure! We hand-select two award-winning wines and ship these direct along with Uncorked®, our beautiful guide to the winery. Uncorked includes winemaker comments, tasting notes, wine tips and insight into California's wine scene.
Give a gift subscription of 2 months or more and the first delivery will also include these bonus gifts:
• A third bottle of handcrafted wine
• A $25 credit voucher
• An elegant bottle stopper
Get this Offer
Offer expires October 31, 2016.
About The California Wine Club
There are thousands of small family wineries handcrafting extraordinary wine in quantities too limited to be found in local stores or shops. In 1990 wine club founders Bruce and Pam Boring discovered that these winemaking families were the most passionate in the wine world and that their wines were the hidden gems of wine country! Together Bruce and Pam embarked on a journey to help these artisan wineries introduce their exquisite wines to the world. Learn more.
www.cawineclub.com 1-800-777-4443
Today's Tasting Reports
We're talking about Grenache and the grape varieties that work and play well with it in this month's Wine Focus in our WineLovers Discussion Group. You're warmly welcome to join in as we discuss Grenache, along with Mourvèdre, Syrah, Carignan and the other grapes that work well with Grenache in blends. To participate in the conversation, simply click to October Wine Focus: Grenache, etc..
Sort of like Neapolitan ice cream, Grenache comes in red, pink and white all three. For today's tasting reports, enjoy a Grenache-based red blend from Provence and a predominantly Grenache Blanc white from the Côtes du Rhône.
Mas de Gourgonnier 2014 Les Baux de Provence ($18.99)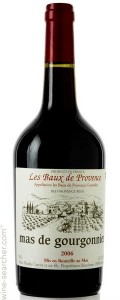 This Provence red is made with organically grown grapes, with Grenache dominant in a blend with Syrah, Carignan and an unexpected splash of Cabernet Sauvignon. It's a medium-dense reddish-purple color, clear at the edge. A good, ripe scent of fresh raspberries signals its Grenache component, but there's a lot more going on here, too. A faint but intriguing hint of fresh basil hides shyly behind the red fruit, and shows up again in a flavor that's bright and clean, shaped by fresh but not excessive acidity that lasts into a long finish with raspberries and soft tannins. A reasonable 13% alcohol doesn't war with food. U.S. importer: Vintner Select, Mason, Ohio. (Oct. 6, 2016)
FOOD MATCH: It was a good match with a rich mushroom risotto, but it finds its natural home with steaks and burgers or grilled chicken.
WHEN TO DRINK: It should keep for a few years on its side at cool temperature, but I like to drink up Provence wines in this happy, easy style within three or four years of the vintage, then look for newer models.
VALUE:
I paid a fair bit above Wine-Searcher.com's $15 U.S. average retail, so if you can find a better price online or locally, go for it. Still, it's a good value under $20 and a fine value under $15.
WEB LINK
There's a good summary of Mas de Gourgonnier and its wines at this importer's link.
FIND THIS WINE ONLINE:
Find vendors and check prices for Mas de Gourgonnier Les Baux de Provence on Wine-Searcher.com.
Famille Perrin 2015 Côtes du Rhône Blanc "Reserve" ($11.99)
Clear straw color with just a hint of a greenish brassy hue. The Viognier in the mix shows itself first in an aromatic floral note, luscious flowers with back notes of pear. On the palate it's full and bright, with a medium-full body shaped by good acidic structure; the floral character gives way to something like fresh orange blossoms that accentuate a citric snap and hint of "rainwater" minerality in a very long finish; 13% alcohol. U.S. importer: Vineyard Brands, Birmingham, Ala. (Oct. 5, 2016)
FOOD MATCH: Good with simple fried white fish fillets (and their plant-based equivalent), but its floral hint of Viognier really calls for something a little more robust. Sweet crab or lobster, perhaps, or pastured pork or dark-meat poultry should be fine.
WHEN TO DRINK: It's not a wine meant for keeping, and its fresh floral aromas and bright flavors call for drinking it up with reasonable dispatch. It's probably at its best within three to four years after the vintage.
VALUE:
My local price is just a buck over the $11.99 average U.S. retail shown on Wine-Searcher.com, but quite a few vendors offer it for $10 or less, so it may be worth shopping around, especially if you'd like to buy it by the case.
WEB LINK
Famille Perrin has an information page about the Reserve Blanc at this link. You'll find a similar fact sheet in PDF form on the importer's page here.
FIND THIS WINE ONLINE:
Compare prices and find vendors for Famille Perrin Côtes du Rhône Blanc "Reserve"Wine-Searcher.com.
Social Media
If you use Facebook, we'd be delighted to have you "Like" our WineLovers Facebook Page. This way you can get Facebook notifications when there's a new The 30 Second Wine Advisor issue or a topic of particular interest on the WineLovers Discussion Group (WLDG).
If you're a Facebook user, you can join our forum with a single click! All you need to do is visit the forum and click the "Social Login" link at upper right.
Finally, I welcome social media connections, but if I won't recognize your name, I suggest that you contact me via Email to wine@wineloverspage.com to let me know that you've requested a connection.
Connect with Robin Garr on LinkedIn
Talk About Wine Online
If you have questions, comments or ideas to share about today's article or wine in general, you're always welcome to drop by our online WineLovers Discussion Group, the Internet's first and still the most civil online community. To find our forums, click:
Discussions are open for public viewing, but you must register to post. If you're a Facebook user, you can also now join our forum with a single click! All you need to do is visit the forum and click the "Social Login" link at upper right.
We use only your name and Email to identify you and make no other claim on your Facebook information or privacy. However, if you prefer not to use Facebook, contact me at wine@wineloverspage.com for information about registration.
Subscriptions and Administrivia
Unsubscribe:
We're sorry if you must leave us, but simply click the "unsubscribe" link at the bottom of your Email edition to be instantly removed from the mailing list.
Change address:
The quickest and easiest way to change your Email address is simply to register anew, using the link below. If you are keeping your old address but no longer wish to get the Wine Advisor there, click the unsubscribe link below to take it off our list; if you are closing the mailbox, you needn't take any action, as our system will delete your old address as soon as the mail to your old address starts to "bounce."
Subscribe to this weekly E-letter (free)
Sponsorship Opportunities:
For information, E-mail wine@wineloverspage.com