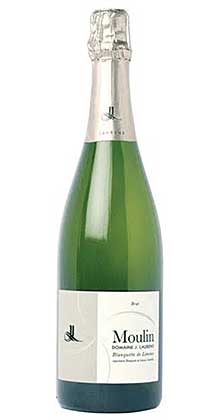 A blend of 90% Mauzac with Chardonnay, this is a clear, light straw-color sparkling wine, with a foamy mousse that falls back to leave multiple streams of lasting bubbles. Simple, pleasantly earthy note behind light scents of pears and green apples. Effervescent prickliness and tart acidity dominate a palate impression backed by simple white fruit and a touch of chalky minerality. The label claims a relatively gentle 12 percent alcohol by volume. It seems simple at first, but gains intriguing notes of Champagne-like "cocoa" and "biscuit" as it warms in the glass. U.S. importer: Vintner Select, Mason, Ohio; a écoltant Wines selection. (Nov. 20, 2016)
FOOD MATCH: Good anywhere an acidic white wine would go. It seems a particularly good companion with white-fleshed fish, shrimp, oysters or clams.
WHEN TO DRINK: It's non-vintage, but probably best not held for long-term aging. There's no open or coded bottling date, so check with a trustworthy retailer if you're in doubt.
VALUE:
My local price is a few bucks above the $12 U.S. retail shown on Wine-Searcher.com. Even at the mid-teens, it's a good value at a price substantially below the cheapest Champagne..
WEB LINK
The estimable Jancis Robinson has a good article about Limoux' little bargains, including a mention of J. Laurens and some of his wines.
FIND THIS WINE ONLINE:
Unfortunately, Wine-Searcher.com lists only a few European vendors for Domaine J. Laurens "le Moulin" Blanquette de Limoux Brut.
For a wider selection of Blanquette de Limoux and some information about the region and its wines, see this Wine-Searcher.com link.
You might also try checking in with U.S. importer Vintner Select to ask where the wine can be found at retail.