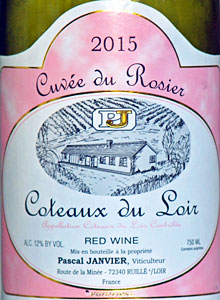 This wine of 100 percent Pineau d'Aunis grapes is a very light garnet color, almost bordering on a dark rosé. There's nothing pale about the flavor, though, which is bright and fresh, cranberries wrapped in a fragrant cloak of aromatic white pepper. Tart cranberries dance with abundant white pepper on the palate, too, with plenty of fresh, food-friendly acidity, firm tannins, gentle 12 percent acidity, and a distinct sense of intriguing "rainwater-over-granite" minerality to lend flavor interest in a subtle but complex Loire red. U.S. importer: Kermit Lynch Wine Merchant, Berkeley, Calif. (Nov. 2, 2016)
FOOD MATCH: Subtle, acidic Loire reds like this will work with simple red meat, cheese and egg dishes, and earthy flavors like truffles or goat cheese make them sing. It was excellent with a lightly curried chicken salad with walnuts, working equally well with a batch made from locally pastured chicken and another made with Beyond Meat plant-based "chicken-free strips."
WHEN TO DRINK: Our experience with another Pineau d'Aunis, from Thierry Puzelat, suggests that the variety will keep will for up to five years under good storage conditions. We've never let any last longer than that, but realistically, I would not put it down for long-term aging. Buy it, enjoy it over the next few years, and move on to the next vintage.
VALUE:
Limited listings on Wine-Searcher.com show a $20 average U.S. retail, a bit under my $24 price. Still, as an intriguing table red made from an obscure grape that I enjoy, it's worth it to me to buy a bottle or two, if not a case.
WEB LINK
Here's a link to importer Kermit Lynch's page about Pascal Janvier, with information about the producer and all his wines including Cuvée du Rosier Coteaux du Loir Rouge.
FIND THIS WINE ONLINE:
Check prices and find vendors for Cuvée du Rosier Coteaux du Loir Rouge on Wine-Searcher.com
For more examples of the rare Pineau d'Aunis, page down on this info page about the grape on Wine-Searcher.com.