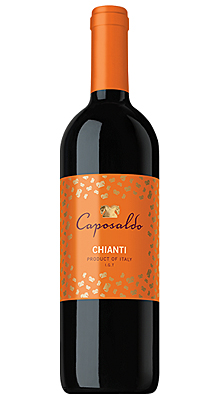 Dark reddish-purple with a clear edge, showing bright ruby glints against the light. Abundant black-cherry aromas, a touch of fresh cherry and more obvious dried fruit. It's fresh and bright on the palate, tart cherries and a hint of something like cedar wood, all framed with zippy acidity, moderate 12.5% alcohol, and just a hint of soft, fuzzy tannins. Fresh fruit and subtle aromatic cedar persist in a long finish. It's not the most complex wine in the world, but it would be hard to find a Chianti of better value for well under 10 bucks. A blend of the traditional Sangiovese (75%) with the not-so-traditional Cabernet Sauvignon and Merlot (10% each), and Malvasia (5%). U.S. importer: Kobrand Corp., NYC. (Nov. 27, 2016)
FOOD MATCH: The importer suggests traditional Italian-American family fare, pizza and pasta with tomato sauce or chicken or eggplant Parmigiana. We went with another iconic Italian family dish, fennel-scented sausages with sauteed green peppers and onions, and it made a fine match.
WHEN TO DRINK: There's no rush to drink it over the next year or three, assuming cool storage on its side, but it's not intended for long aging and certainly won't gain value with time.
VALUE:
For a change, my local price was close to the lower end of the $8 to $14 range of prices reported by U.S. retailers on Wine-Searcher.com. At this price it's a no-brainer to pick up a bottle or several if you can find it.
WEB LINK
Click this link for a fairly detailed fact sheet on this vintage from importer Kobrand.
FIND THIS WINE ONLINE:
Check prices and find vendors for Caposaldo Chianti on Wine-Searcher.com.
If you can't find a local vendor or one that will ship to you there, you might check in with Kobrand, the importer, to locate distributors near you.