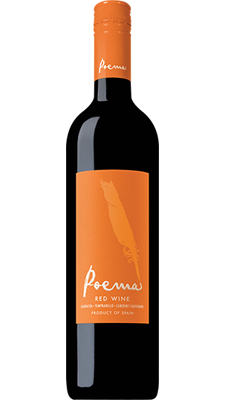 A blend of Garnacha, Tempranillo and Cabernet Sauvignon, this is a clear, dark reddish-purple wine with a clear garnet edge. The simple aroma is focused on raspberries and strawberries, leading into a fresh, crisp red-fruit flavor. It's light in weight on the palate, with clean fruit flavors structured by tart, zingy acidity, soft but persistent tannic astringency, and balanced 13 percent alcohol. U.S. importer: Kobrand Corp., Purchase, N.Y. (March 24, 2017)
FOOD MATCH: The back label suggests pairing it with "full-flavored foods and spicy cuisines." We tried it with a rich, lightly spicy roasted-vegetable and barley soup.
WHEN TO DRINK: This doesn't strike me as a long-term ager. I'd drink it up over the next year or two while the fruit is fresh, and look for later vintages to drink next year.
VALUE:
My local price was a blowout sale compared with the $11 U.S. retail shown on Wine-Searcher.com, but it's certainly a decent value in the $10 range.
WEB LINK
Here's an importer fact sheet on the Poema wine.
FIND THIS WINE ONLINE:
Find vendors and check prices for Poema Catalyuna Red on Wine-Searcher.com.